It's a Kennedy Space Center Summer at Real Florida Adventures! The historic Kennedy Space Center at Cape Canaveral has been a Florida icon since March 1962, when the Launch Operations Center was established as an official NASA field center on Merritt Island.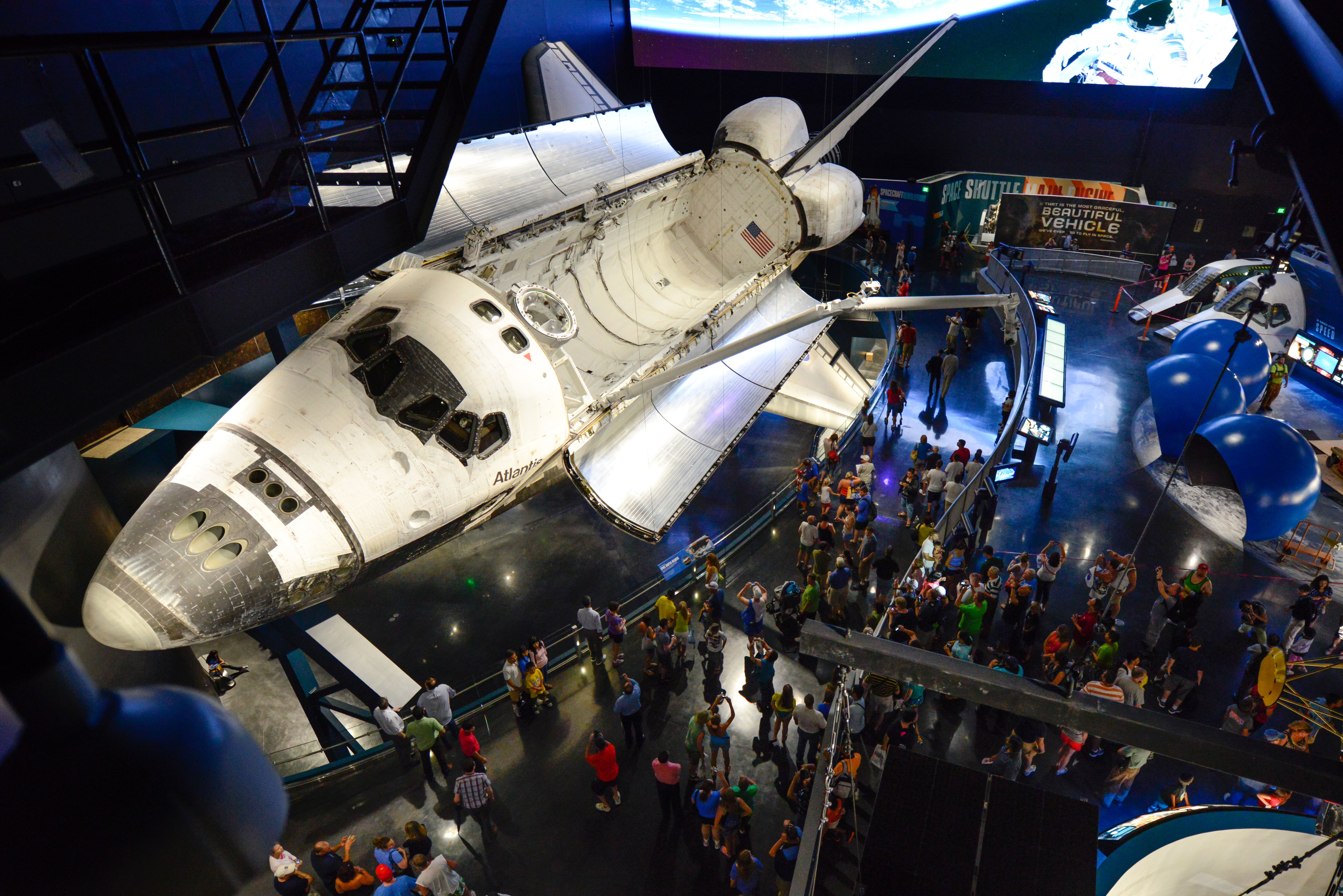 Renamed the John F Kennedy Space Center by President Johnson in 1963, the headquarters building was opened in 1965, followed by the first public bus tours in 1966 and the official 42-acre Visitor Complex in 1967.
By 1969, it was the second-most visited attraction in Florida, after Tampa Bay's Busch Gardens, and it grew slowly. Still, surely until 1996, when Delaware North Companies were selected to be the Visitor Center operators, and we saw a major investment in new attractions and services.
Those changes, updates, and new exhibits have continued ever since, and there is now always something new to enjoy at this superb showcase for NASA's space program, enhanced as it is by partners such as SpaceX, Boeing, Blue Origin, and United Launch Alliance.
And this year sees even more to experience at the home of One Small Step For Man, so much so, in fact, that here at Real Florida Adventures we've decided to name this the Summer of the Space Center.
And, if you haven't been to the KSC in recent years, you will surely be surprised at just how much is new and fresh at this essential venue.
Of course, the Center remains true to its core history and mission to highlight the full history of NASA's space exploration, but there is also something inherently creative about the KSC's modern face.
The Visitor Complex is divided into five Mission Zones. Within these zones, attractions and tours are grouped by chronological era. From the inception of space exploration to current and ongoing missions, visitors get an up-close experience of the stories of humans in space. The Complex also contains historic spacecraft and memorabilia, two IMAX theaters, and a range of bus tours of the spaceport, among many other exhibits.
And this summer it also goes a step further, with a special (and probably long-overdue) tribute to women in the space program, including astronaut pioneers like Sally Ride, Anna Fisher, and Kathy Thornton.
Guests are invited to join trailblazing, veteran astronauts, and space industry leaders for a Women in Space Panel in the IMAX Theater on June 15 and 16. The first day features veteran astronauts Fisher and Thornton and Caley Burke, flight design analyst, NASA's Launch Services Program, while the second offers astronauts Fisher and Kay Hire, Noelle Zietsman, chief engineer for Boeing Exploration Systems, and Nancy Cuty, partnership development manager, NASA KSC Center Planning.
The astronauts and panelists will share their personal accounts of the space program and how they helped to advance the industry.
The Visitor Complex will also host a special, separately priced Women in Space Afternoon Tea with select panel participants each afternoon inside Chat with an Astronaut. During the tea, guests will enjoy hors d'oeuvres, tea and champagne as space pioneers share their experiences with the audience in a small-group setting.
Following the presentation, guests are invited to ask questions before a photo op.
The Women in Space Panel and Women in Space Afternoon Tea are just two of several events planned throughout the summer to celebrate women in space. For more information and future events, look up KennedySpaceCenter.com.
Also new this year is All Systems Are Go, a brilliant live-action puppetry performance featuring the Peanuts characters, with special lighting, sound, and original music. Snoopy, Woodstock, and the gang are called on to help NASA with their latest launch, and that's the cue for this all-new 20-minute immersive experience in the Universe Theater that is guaranteed fun for all the family.
It adds an amusing element of popular appeal to the Center's serious side and should appeal to children of all ages.
The futuristic Gateway: The Deep Space Launch Complex opened last year, and provided another interactive adventure, presenting current and future space exploration ventures, including NASA's commercial partners such as Space X, Boeing, United Launch Alliance, Sierra Space, and Lockheed Martin.
It also features the excitement of Spaceport KSC, which offers four clever, simulated journeys into deep space to explore the likes of Mars, the moons of Saturn and Jupiter, and the distant Trappist-1 system.
Space Bowl Bistro is the complex's new restaurant, serving up Bistro Bowls such as acai bowls and choose-your-own-protein bowls created with quinoa, rice, greens, or noodles, and proteins such as barbecue short rib, marinated ahi tuna, jackfruit, and more. Soft drinks, coconut water, coffee, tea, and domestic beer are also on offer.
All this is on top of the magnificent array of exhibits, IMAX movies, and the long-running bus tours that continue to provide the only regular guest access to many of the behind-the-scenes areas that provide the bulk of the KSC's work.
The Bus Tours leave the Complex every 15 minutes or so, traveling around iconic sights like the massive Vehicle Assembly Building, the colossal Crawler transport, and Launch Pad 39A, which sent Apollo astronauts to the Moon. They also provide access to the awe-inspiring Apollo/Saturn V Center, where you disembark and can easily while away two hours exploring the achievements of the Apollo program, including a heart-pounding recreation of the first Moon landing and a close-up of a mighty Saturn V rocket.
The undoubted highlight, though, remains Space Shuttle Atlantis, a towering exhibit and monument to the achievements of the 30-year Shuttle program that far surpassed its expected operational lifetime.
The preamble and 'big reveal' of Atlantis usually make audiences gasp, and there is no disguising the close-up impact that it represents. It also includes the clever Shuttle Launch Experience, another simulated journey into space, and the highly moving Forever Remembered display that memorializes the crews of the two shuttle tragedies.
Of course, all this is available on our essential #1 Kennedy Space Center Tour, which provides a full day to enjoy this magnificent attraction, or if you just want a Transport to the Kennedy Space Center. Either way, you will be on the right track for the past, present, AND future of this essential experience.
Be sure to ask about RFA's Price Match Guarantee. If you find a lower qualified price for an identical tour on another site, they will match it, no questions asked.
And don't forget to Follow us on Facebook, YouTube, and Instagram!