If you have a passion for trying food from around the globe and find yourself on International Drive, you're in luck! As you explore Orlando's Most Dynamic Neighborhood, you'll find expertly prepared, authentic cuisine from countries around the world.
If you'll be on I-Drive this month, be sure to get the information about FusionFest's Diversitastic! Dining Experiences that happen monthly.
FusionFest puts together events in the area to celebrate the people and many different cultures that make Central Florida awesome by showcasing talent, sharing stories, collaborating, and educating.
This month's Diversitastic! Dining event features Korea! Head to Oshio Korean BBQ on Sunday, March 27th, to enjoy a unique full-course meal and drink, along with live entertainment, storytelling, and chef talk. Get more details about this and other Fusion Fest events, and purchase your ticket to this special dining experience, here.
Whether you're looking to try something new or have a few favorite International cuisines to indulge in, I-Drive has plenty of options to choose from. Get ready to take your taste buds on a trip around the globe during your next visit to International Drive with a stop at these 5 dining destinations!
Korea

Want to enjoy an authentic hot pot dining experience? Head to Oshio Korean BBQ to enjoy a wide selection of Japanese and Korean specialties, from Asian-style BBQ dishes, noodles, stir-fries, sashimi, hot pots, meats grilled right at your table, and more!
Enjoy your meal under paper lanterns in a casual and welcoming atmosphere that is sure to have you wanting to try new food items for a meal to remember on I-Drive.
Africa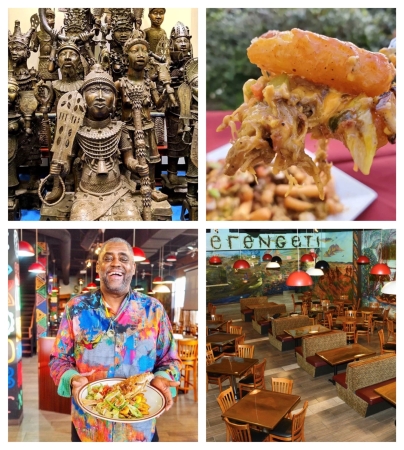 Serengeti Restaurant and Bar is located inside the Bronze Kingdom, a 27,000 square foot art museum! Spend an afternoon or evening walking through their galleries featuring an important spectrum of African bronze, beaded, and wood sculptures from all over the continent, and then head to Serengeti to enjoy a delicious African-inspired meal.
Their menu features signature American dishes with an African twist, take a peek today and be sure to order something delicious during your next visit.
India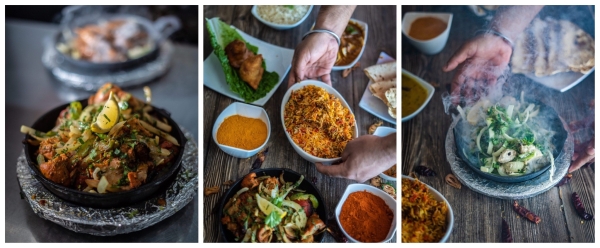 Known for being one of the best Indian restaurants in Orlando, Curry Mantra offers up various curry dishes and Indian delicacies. Curry Mantra works hard to offer a wide selection of authentic Indian cuisine featuring everything from different breads, chicken dishes, goat, Indo Chinese, Punjabi specials, shrimp, Tandoor, vegetarian curry dishes and so much more!
If you're looking for lots of authentic and delicious options to enjoy alongside excellent service, a meal at Curry Mantra is a must during your next visit to I-Drive.
Brazil

Camila's Restaurante Brasileiro is a buffet-style restaurant serving authentic Brazilian food – making it a perfect place to try out multiple flavors in one delicious dining experience!
Enjoy choosing from menu items including; chicken legs, fettuccine alfredo, grilled tri-tip, beef stew, beef parmesan, grilled top sirloin, beef stroganoff, chicken stroganoff, grilled salmon, Picanha supreme, oxtail, and more!
They offer a rotating buffet menu featuring different items each day of the week, so take a look at their offerings and plan to enjoy authentic Brazilian cuisine at Camila's on I-Drive!
Peru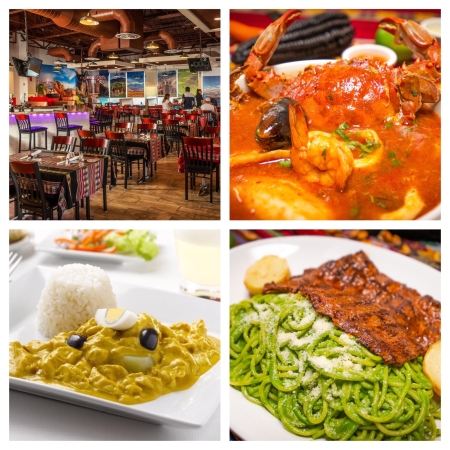 Family-owned, and known for being the best Peruvian restaurant in Orlando with two locations; Memories of Peru is a can't miss dining experience when visiting I-Drive.
The authentic flavors served at Memories of Peru take the owners themselves back to their childhood and homeland and hope that from the atmosphere to the quality ingredients, guests feel like they too have experienced a piece of Peru.
Their menu is full of traditional Peruvian dishes, each prepared by experienced chefs who give attention to every detail of the dish. See their whole menu of authentic Peruvian entrees and get ready to enjoy a true Peruvian dining experience.
If you're hoping to take your taste buds on a trip around the globe, I-Drive boasts delicious International Cuisine. Browse a full list of dining destinations in Orlando's Most Dynamic Neighborhood here, and during your next visit be sure to stop at one of these favorite local spots!