Orlando Attractions Update – Ihus Breakaway Falls is open and ready for you to drop in – and oh boy do we mean drop! Intrepid riders climb 126 steps to the top of the eight-story tower (nearly 80 feet), stepping into one of three colorful breakaway boxes. As the door closes, riders cross their arms and give a thumbs up as a sign that they are as ready as they are ever going to be for the floor beneath to just disappear! But the catch is nobody knows exactly when it's going to happen. Facing each other, riders watch as their fellow riders fall. – what a treat! Adding to the anticipation is the sound of a heartbeat, which can be heard in the background while bracing yourself for the drop.  Once the floor disappears, riders drop 20-24 feet per second launching them into a spiraling speed slide culminating in a final splashdown.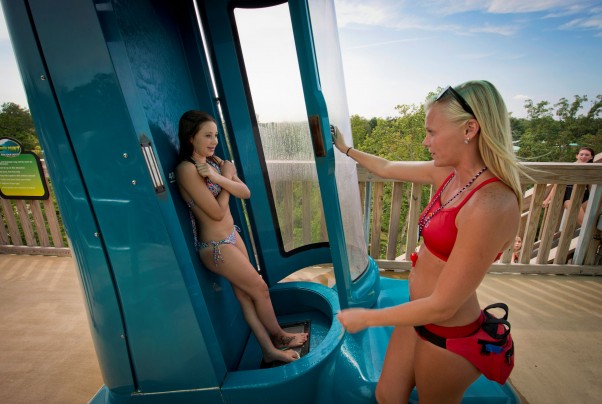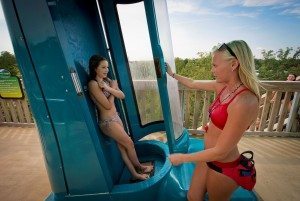 Riders who are not quite brave enough for the breakaway boxes can try the open slide. But don't be fooled, this is not an ordinary slide; it's actually the steepest of the four slides and many riders are calling it the most intense. In other words the biggest wedgie!
Fear the Falls … Fun Facts
Ihu's Breakaway Falls™ features the tallest, steepest, andonly multi-drop tower slide of its kind in Orlando.
Those who dare to brave Ihu's Breakaway Falls™ will experience an almost vertical drop for nearly 40 feet, thesteepest slide of its kind in Orlando.
Ihu's Breakaway Falls™ is the longest water thrill slide of its kind featuring three "breakaway boxes" – orange, green, and blue — and one open slide – purple – offering four completely different slide paths.
Drop more than three stories and slide for 420 feet, the longest of the four slides, on the orange slide.
The green slide path has the shortest drop, but it's still a 28-foot fall – that's the same as four seven-foot tall basketball players!
Fall from the blue slide if you're looking for the steepest slide with a breakaway box.
While the purple slide isn't a true drop slide, it is by no means a "chicken slide". In fact, this open-aired slide is the steepest of all four slides.
Once the floor disappears, riders will drop 20-24 feet per second.
Ihu's Breakaway Falls™ is theonly high-speed water thrill slide in the world with three breakaway boxes that face each other so riders can share the full experience.