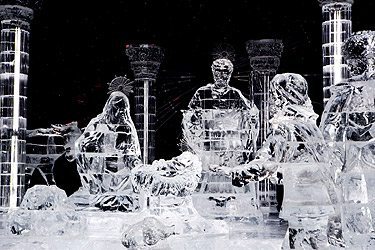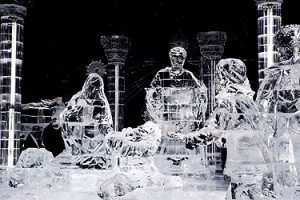 Orlando Attractions Update – This year the ICE attraction at the Gaylord Palms Resort will have a "Nutcracker" theme in 2014.
The Kissimmee hotel's annual ice-sculpture event will feature scenes inspired by the ballet, known for the sugar plum fairy and the mouse king.  ICE will also have four ice slides and carving stations showing the artisans at work. The exhibit will be accompanied by the original Tchaikovsky score. The attraction again will conclude with a ice-sculpture version of the Nativity scene.
Gaylord also will offer Alpine Rush Snow Tubing, an eight-lane snow hill made of 1.5 pound of "real Florida snow," the resort says. It will debut Nov. 21. Guests will get 10 runs down the hill for $18.95.
ICE will operate daily between Nov. 15 and Jan. 4. Admission is $29.99 ($26.99 for ages 4-12). There are discounts for advance purchases and Florida residents.