Happy National Ice Cream Month! Ice Cream is a favorite refreshing sweet treat that has been helping us stay cool while satisfying our taste buds since it's creation in China during 617-97AD! A sweet treat that dates back that far in history, it's no wonder that what was once a rare treat before modern refrigeration, had become a mainstay in American cuisine, and around the globe, by the 19th century!
International Drive has more than a few ice cream destinations to choose from, each offering up their own delicious versions of the popular sweet treat we all know as Ice Cream! So, while you're visiting this summer, be sure to check out one of these International Drive Ice Cream stops for a sweet way to cool down!
King's Point Ice Cream and Burger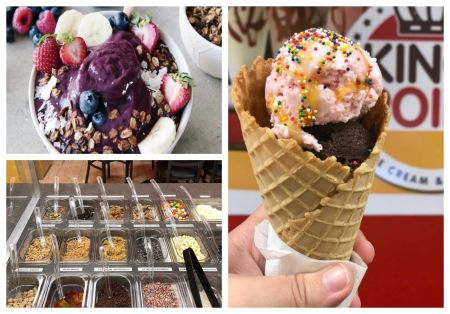 Across the street from the Titanic Exhibit, in Dowdy Plaza, you'll find a local joint that is serving up breakfast, lunch, and dinner. A place that is open late… or should we say early, to satisfy any craving you have, at almost any time! Plus, offers delivery, dine-in, and takeout! But their ice cream selection is not something you'll be able to pass up! King's Point Ice Cream and Burger offer a full line-up of classic ice cream options like mint chocolate chip, chocolate, vanilla, and birthday cake, and also has a full self-service Acai' section. If toppings are an important part of your ice cream experience, this is the stop for you!
Be cool!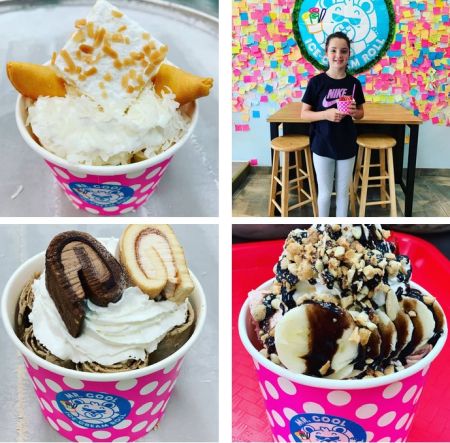 Mr. Cool Ice Cream is taking ice cream back to its origins with its unique Thai rolled ice cream paired perfectly with fresh fruit and other enjoyable options! Their goal is to offer the perfect combination of a unique dine-in experience that is a ton of fun too, and they certainly do deliver! You'll be pleasantly surprised by some of the unique creations on their menu of ice cream rolls, but it gets even better! They also serve 15 different flavors of Chinese Boba Tea and Fruit Tea to quench your thirst during the summer months, too! Boba Tea is a milk tea with chewy tapioca spheres at the bottom and is an Asian mainstay. So, next time you're looking to satisfy your ice cream craving with something uniquely delicious, Mr. Cool Ice Cream needs to be your next stop!
Keeping it Classic

With modern ice cream and frozen custard being so popular, sometimes the classics are just what you need to hit the spot! Freddy's Frozen Custard & Steakburgers offers delicious sundae and concrete options of all your favorite flavors! We're talking Signature Turtle, Chocolate Brownie Delight and Hawaiian Delight to Oreo custard sandwiches, cake cones, and milkshakes that are sure to satisfy your craving while keeping you cool this summer! Plus, you'll have over 30 toppings to choose from to make a creation that is tailored to your taste buds! The classics have never tasted so good.
Ben & Jerrys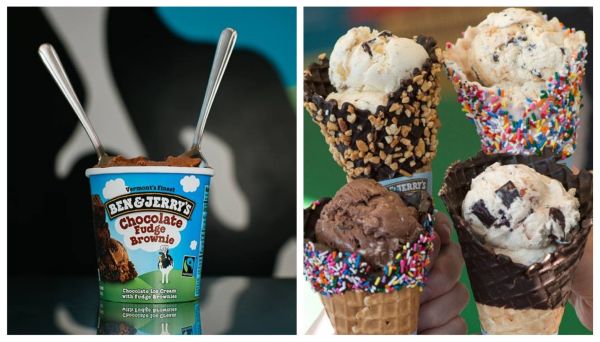 A name in the ice cream game that everyone knows, Ben & Jerry's, has been serving up your favorite flavors of ice cream since it was founded in 1978. No matter where you are on I-Drive, you're never far from a fresh scoop of Ben & Jerry's Ice Cream, with three locations to choose from! Purchase a pint to bring home and enjoy or scoop up your friends and family and enjoy your favorite sweet treat in the heart of I-Drive; we promise it will taste just as amazing as you remember, no matter where you choose to indulge!
We all know the saying, "I scream, you scream, we all scream for ice cream," and here on I-Drive, we can assure you that you won't have to scream to get ice cream. We've got plenty of ice cream stops that will satisfy that ice cream craving in no time! So, while you're visiting, be sure to indulge in a delicious scoop at one of the ice cream destinations right here on I-Drive!