Orlando Attractions Update – The weather outside in Orlando right now may be delightful, but oh, the weather inside is frightful.  That is, if you find 9-degree temperatures and 2 million pounds of ice inside the Gaylord Palms Resort and Convention Center a bit scary. Both are part of 'Ice' –  a key attraction of the resort's annual Christmas at the Palms.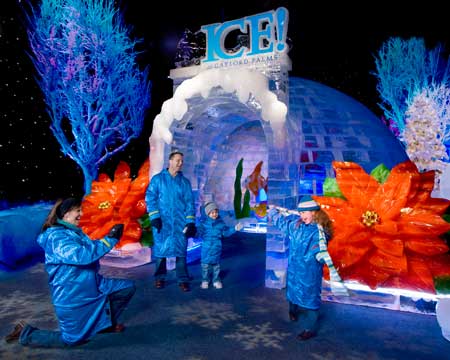 "It's the coolest," Gaylord spokesman Keith Salwoski said. "We don't recommend flip-flops." The show, which runs daily through Jan. 2, features huge detailed ice sculptures of winter and holiday
scenes. Among the new features this year is a life-size Nativity scene. Guests are given winter coats to walk through the show, which is housed in a cooler dubbed the Florida Fridge. Guests also receive a coupon
 for a cup of hot cocoa when they leave and walk into the resort's 41/2-acre atrium, which also is filled with holiday decorations. There, guests can listen to live music. The half-hour "Home for the Holidays" show, presented several times a day, features singers and musicians and, of course, Santa and the Mrs. The atrium stays at 72 degrees year-round and features replicas of St. Augustine, Key West and the Everglades under its dome. Tickets to Ice! are $16.95 for adults and $7.95 for children 4 to 12 years old. The resort offers holiday packages that include a stay and the show, starting at $189 a night.