Spring has officially sprung, and April is right around the corner! If you'll be springing into action on International Drive this month, be sure to round up your family and friends and check out these exciting events going down right here in the heart of Orlando!
Delicious Easter meal on I-Drive
Many dining destinations along I-Drive have created special Easter menus for you and your family to enjoy this Easter.
Rosen Hotels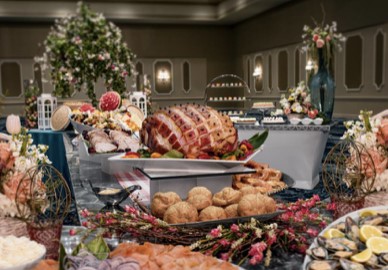 Two of Rosen's extraordinary hotels here on I-Drive have put together Easter Day Buffets that are sure to satisfy.
Dreaming of traditional Easter favorites? Hop over to Rosen Plaza for their Easter Buffet that will have all of your traditional Easter feast menu items, from the roasted leg of lamb, baked salmon glazed with honey, garlic and herb beef sirloin, and more… plus, special items for little ones, and sweets galore; because an Easter meal just isn't complete without a sweet treat! Fill up your plate, sip on a complimentary glass of wine or champagne, and take a seat at your table in their beautiful festive ballroom to enjoy a stress-free Easter meal with the family!
Looking to spice things up? Rosen Shingle Creek has put together one of Orlando's most spectacular Easter Day Buffets full of unique menu items. Enjoy unlimited champagne and mimosas amid a lavish spread featuring Florida-Fresh Osceola Ceviche, Nashville's Hot Chicken and Waffles, Paella Valencia, Morrocan Lamb Stew, and more! But don't forget the dessert and a lot of it! From delectable cakes and fresh from the oven pies to a flowing chocolate fountain – you'll find the perfect final sweet touch to your unforgettable Easter Feast.
Tapa Toro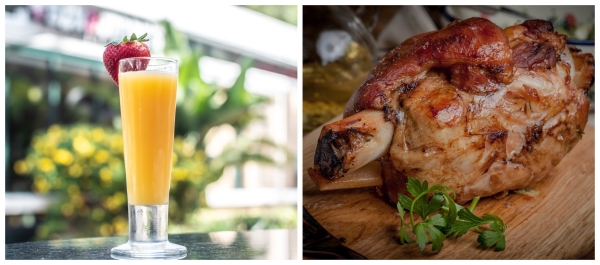 Whether you're an Easter Brunch or Easter Dinner kind of person, Tapa Toro has a delicious option that will fit your family's schedule just right!
Tapa Toro is adding some flair to Easter this year, with their Brunch Buffet being offered 11 am to 3 pm on Easter. Just some of the menu items include Bread & Pastries, Pork Mojo, Prime with au jus & horseradish, Truffle Mash, Garlic Shrimp & Goats, Salmon, Seafood Paella, Eggs your Way, Waffles, Seasonal Desserts, Kids Mac & Cheese, Kids Chicken Tenders & Fries.
Dinner starts at 4 pm and features a 3-course prix-fixe meal boasting flavor! Enjoy a beef empanada appetizer, followed by a roasted suckling pig with Tapa Toro rice and a Hawaiian roll for the entree, and tres leches for dessert. If you're looking to enjoy some entertainment too, Flamenco dancing starts at 7 pm, and their full menu will be available for purchase as well.
Taverna Opa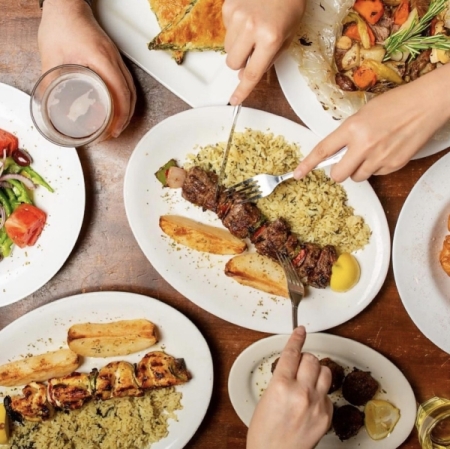 Looking to switch things up this Easter? Celebrate with wine and lamb at Taverna Opa. Their full menu will be available, but from 12 pm to 10 pm, when you order any lamb entree, you'll receive a free glass of house wine! Enjoy sipping your wine as the sounds of Greece fill the air, with live belly dancing entertainment starting at 7 pm.
Want to say OPA at home? You can order your Taverna Opa favorites for Pickup via chow now. Details can be found here.
Steak for Easter?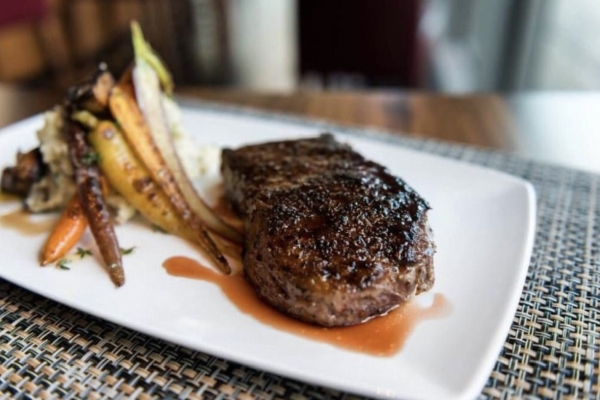 If you're craving a perfectly seasoned and cooked piece of steak, two popular steakhouses on I-Drive are also offering Easter specials, so be sure to check out Del Frisco's and Texas De Brazil before booking your Easter meal in Orlando.
See a full list of Easter dining offers on I-Drive here.
Spring Photos at ICON

Park What's a better way to remember Easter 2021 in Orlando than with award-winning spring pictures!? The Easter Bunny Garden Experience is taking on ICON Park through April 4th to bring the heart of Orlando amazing Spring photos with the brown bunny we've all come to know and love.
Each child who visits the bunny will receive a golden ticket to hop aboard The Wheel for free, making it the perfect way to get some adorable Spring photos, and make an afternoon of it at Orlando's favorite gate-free open-air entertainment district!
Indulge Your Inner Foodie on I-Drive

SeaWorld Orlando's Seven Seas Food Festival will continue for the entire month of April, which means you've still got time to dive into an ocean of flavor at one of your favorite major Orlando theme parks!
From foodies to families, everyone will find tasty delights among over 200 distinct offerings at this popular annual event. Enjoy the Florida sunshine as you sip from a selection of 75 wine and cocktail options and 75 craft beers, as the sounds of live entertainment fill the air! A trip to SeaWorld during their Seven Seas Food Festival is a voyage that will stir the soul – and warm the belly!
Mardi Gras on I-Drive

The party isn't over just yet! Mardi Gras celebrations are still going strong as we enter April on I-Drive, so if you haven't had a chance to get in on the festivities, there's still time!
Fun Spot's HUGE Mardi Gras
Experience your family's favorite local attraction like never before! Fun Spot America is bringing a French Quarter feel to their popular park. Enjoy exciting jazz music, photo spots for you and your "Krewe", mouthwatering Bayou Bites & Nawlins Spirits, a mysterious Backwater Bayou Escape Room and more. The festivities will be going strong until April 11th, so make plans before it is too late!
Mardi Gras at Universal Orlando
It's an International Food Fest of an event! Enjoy cuisine from across the globe, including samples of flavors from Puerto Rico, Trinidad, Tobago, Germany, Spain, New Orleans, and other regions! But of course, we can't forget about the spectacular floats on display, street entertainment, music, beads, and more festivities that will be going on throughout the park.
An event with cuisine and entertainment inspired by international Carnaval celebrations, you simply don't want to miss this event. They've extended the celebrations to April 11th, so get the details!

As always, I-Drive is boasting with nightly events, from dinner shows full of laughs at Orlando Improv, to nightly live music at Ole Red Orlando, Tin Roof Orlando, Hard Rock Live, and more! Whatever brings you to I-Drive this April, there are tons of events going down to make your visit an epic one. Check out our upcoming events calendar for a full listing of events and make plans to spring into action this Spring at your favorite destination – International Drive.