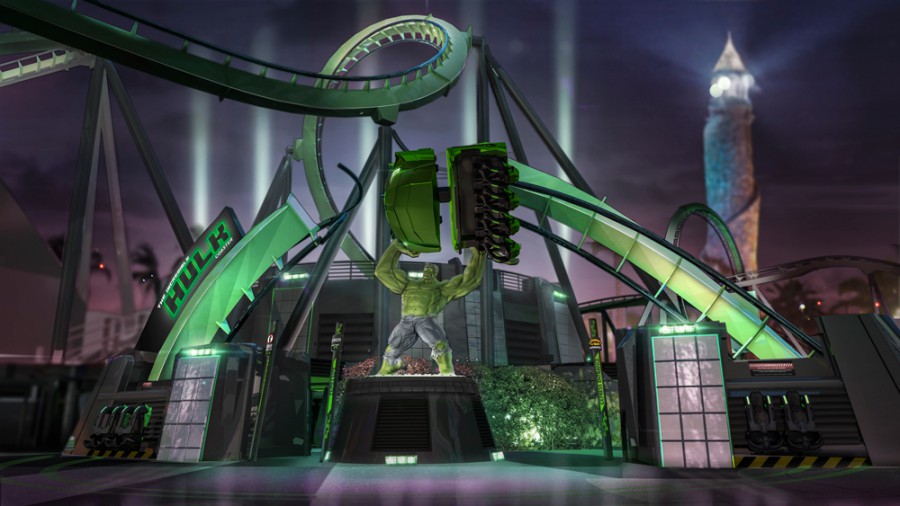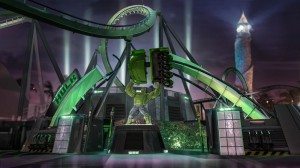 It was a busy weekend for folks on Hulk watch. The Incredible Hulk roller coaster at Universal's Islands of Adventure has been undergoing extreme renovations since September of 2015, but there are more signs that the thrill ride could return to action soon.
The testing of ride vehicles has amped up. The theme park has put select people on board. On Sunday, we could see uniformed Hulk workers riding. And team members report that Universal Orlando workers will be able to experience the new version of the coaster during select hours today.
The construction walls have been removed from around the wall, giving IOA guests a clear look at the new entrance, of the Hulk ride which features a statue of Hulk hoisting a ride vehicle above his head.  New sound effects — including a distinctive "arrrrrrrrrg" when the cars emerge from the chute — could be heard.
Social-media posts from the weekend reported new lighting — rings of green around the lift hill.
Universal has not shared many details of the rehab, which included the complete removal of the steel track, except noting that there will be enhancements, including in the queue. The attraction is also sporting new ride vehicles. The new rail looks to be the same pattern as when the ride debuted with the opening of Islands of Adventure in 1999.
The park has been featuring a "virtual" preview at the theater in Toon Lagoon. Visitors can don goggles and headset to replicate parts of the Hulk ride
experience without leaving solid ground. (Best quote of narration: "Gamma radiation is not for everyone.")
Neither soft-opening nor grand-opening dates have been announced for the Hulk ride. When the park's Skull Island: Reign of Kong ride debuted last month, it had had several weeks of limited hours of operation.