If you have ever been to Orlando's International Drive you have surely seen the happy "faces" of I-Drive's iconic green I-Ride Trolley shuttling up and down the street. After a COVID-19 induced hiatus, those smiling faces will once again be making their way along the tourist corridor, and that's good news as the theme parks and attractions are opening up and the area is ready to welcome visitors again.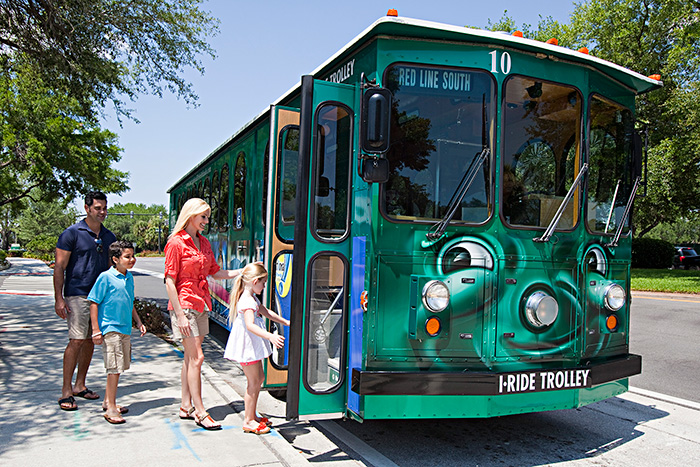 Starting June 8, the I-Ride Trolley will begin transporting visitors with a 50% on-board capacity and 100% of their usual yesteryear charm, with the modern-day comfort of air conditioning to combat Florida's summertime heat.
There are designated stops all along the main thoroughfares, and trolleys come along every 20 minutes or so. Not sure when the last one passed? You can check for the next arrival by texting 41411 and the trolley map at each station shows the Stop Code for that location.
The I-Ride Trolley will resume regular hours of 8:00am to 10:30pm (county curfews permitting), and fares will remain at the pre-pandemic cash payment rate of $2 per ride for adults, $1 ages 3-9 with paying adult, and 50 cents for riders 65 and over (take note, cash payment is by exact change only and may not be available during initial opening phases).
One Day I-Ride Trolley Passes are $5 per person, while consecutive-day use 3-Day Passes are $7pp; 7-Day Passes are $12pp; and 14-Day Passes are $18 pp. These rates will apply through September 30, 2021.
Which attractions can you reach as they trundle along their International Drive Orlando routes? SeaWorld and Aquatica, for a start, and that's a major boon for visitors who prefer not to use a rental car. They also stop at ICON Park, Fun Spot America, Ripley's Believe It Or Not, WonderWorks, the Orange County Convention Center, and all the main shopping areas in the I-Drive Resort area.
More than 275 restaurants, 100-plus shops, 120 hotels, and more than 30 attractions also make their home along I-Drive, and the Red Line trolleys have stops that allow visitors to alight just a 10-15 minute walk from Universal Orlando's property.
For your safety, face coverings are encouraged during your I-Ride Trolley ride, physical distancing and capacity considerations are in place, and hand sanitizer is available on board for all riders.
Full details: internationaldriveorlando.com/iride-trolley/