The Kennedy Space Center Visitor Complex's Holidays in Space event returns to the extremely popular family attraction later this month on Dec. 14th.
This cleverly designed celebration will feature a new, reimagined "kinetic light show" to go with the holiday decor spread throughout the Kennedy visitor center complex.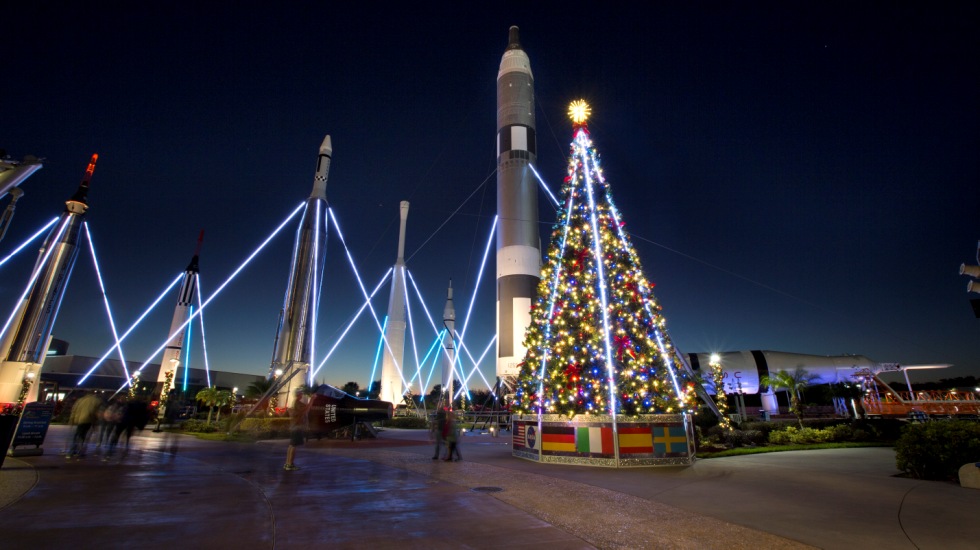 The production will take place on the Atlantis North Lawn at 5 p.m. every evening. The show will have "jaw-dropping surprises and a rainbow of colors and special effects second only to the planets, comets, and stars in the galaxy," a news release reads.
"It's an exciting time for space exploration with the recent 60th anniversary of NASA, and the upcoming 50th anniversary of the moon landing and our holiday season here is designed to share our pride and excitement," said Therrin Protze, chief operating officer of the visitors complex.
The show will occur nightly from Dec. 14th through Dec. 30th (with the exception of Dec. 25th)
Holidays in Space is included in regular KSC admission – BUY TICKETS
There will also be a holiday-themed kids activity area in the Atlantis West Pavilion from Dec. 26 to Dec. 30.