According to the Orlando Business Journal Universal Orlando Resort's work on the new Harry Potter ride at Islands of Adventure still is being kept secret, but two permits filed give a peek at what crews may be tackling next.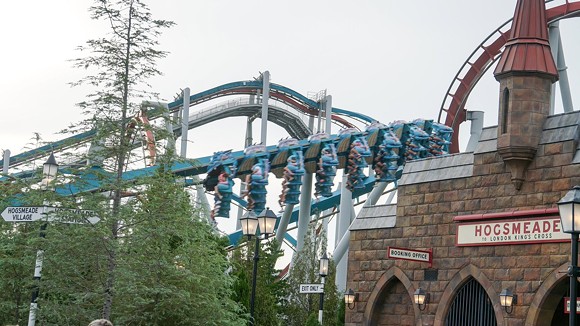 The old Dragon Challenge 'dueling' coaster pictured here  next to Hogsmeade is now closed – so what will replace it?
A pair of new permits show some work already underway for Universal's "Project 942," which is the moniker expected to represent the new Harry Potter ride replacing the now-closed Dragon Challenge — or former Duel Dragons — coaster.
The two permits are for:
Foundation design for future facility
Construction of re-engineered metal building, full building design
Universal has described the ride as "one of the most highly-themed coaster experiences we've created. It will combine a new level of storytelling with an action-packed adventure, and a few surprises along the way." Universal's creative team has been working with Harry Potter creator J.K. Rowling, Warner Bros. and the Harry Potter production team to help bring the new attraction to life.
Chatter in the theme park world suggests the ride may have begun or is nearing vertical construction, but there's no official word as of yet from Universal. However, the permits show the attraction's main building or possible support buildings are slated to come together soon.
Construction on the attraction has been moving forward quickly since the ride closed late last year. Permits filed in August included the demolition of the existing structure and the construction of office trailers that most likely will house the teams building the new project.
Harry Potter has proved to be the superstar for Universal Orlando Resort. Attendance for the theme parks jumped double-digits when the first Wizarding World of Harry Potter area opened at Islands of Adventure in 2010. That created success for Universal — and parent company, Comcast Corp. — which has resulted in annual major investments in new attractions and hotels.
Further investing into the Harry Potter brand with new experiences is vital for Universal as it continues to battle for marketshare from Walt Disney World. Universal owns roughly 25 percent of the tourism marketshare in Orlando, compared to Disney's 60 percent.