Here is the review in full…
"Whooooooooaaaa!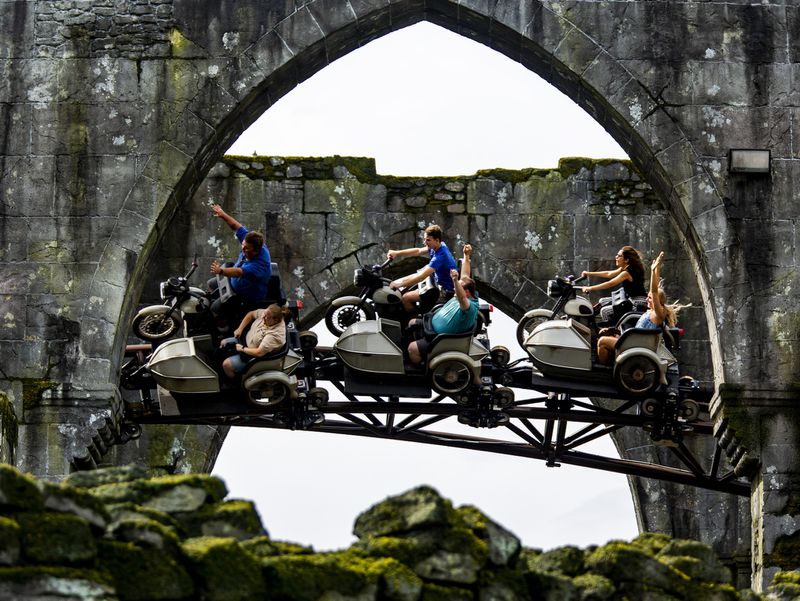 Guests ride Hagrid's Magical Creatures Motorbike Adventure during a preview event at Universal's Islands of Adventures in Orlando on Tuesday, June 11, 2019. (Patrick Connolly / Orlando Sentinel)
That was the overwhelming reaction/wail from its riders during a preview of the energetic thrill ride on Tuesday afternoon. The coaster, built in the Wizarding World of Harry Potter at Universal's Islands of Adventure theme park, features sudden accelerations, sharp turns, long stretches with twisting maneuvers and surprises, including a speedy backwards maneuver.
And, as the coaster name indicates, the ride – which opens to the public Thursday – showcases creatures that passengers encounter whilst aboard a two-tiered, motorcycle-inspired vehicle.
After wandering through a queue that's incorporated into mossy ruins, visitors choose between two riding options: atop a motorbike or inside its sidecar. Folks on the motorbike have a slightly elevated experience, and it may feel a little less secure. It also makes flailing arms more of an in-your-face adventure.
Hagrid's boarding area is continuous load, although it's a slow one on a conveyor belt, where riders climb aboard and pull down a safety bar. Sound effects create rumbles and tension.
The pace picks up dramatically as the train curves into the Forbidden Forest, where Universal has planted 1,200 tall trees that the rail runs through. (Top speed is about 50 mph, Universal says.)
From here the ride rollicks, rocking side-to-side while running parallel to the trail that leads to the attraction's entrance. That walkway is a good standing spot for non-riders who want to snap photos of motorbiking friends.
The bikes soon circle around the 7-foot-6 animatronic figure of Hagrid and his big ol' blast-ended skrewt (said to be a cross between a scorpion and an elongated crab) that spins in place.
Each of the ride's featured creatures, sprinkled along the way, is presented in different ways as riders fly by. Fluffy, the three-headed dog is an enormous presence. A centaur strikes a pose. Riders get a sinking feeling when they come across the viney Devil's Snare.
There are no upside-down moments on the new ride, but there are on-your-side moments between launches.
Universal has packed a lot of visual content into the ride, including a calming awwwww moment near the conclusion.
The track is nearly a mile long, making the Hagrid ride the longest coaster in Florida."