This week the 'Great Florida Road Trip' made it's debut at IconPark on International Drive  – The Wheel at Icon Park now has this new onboard gaming element for guests to enjoy.
The premise of the game is built upon Sunshine State history, carries a retro postcard theme, features the Flamingo Family characters and is played with a faux vintage style camera outfitted with a distinctly modern infrared beam.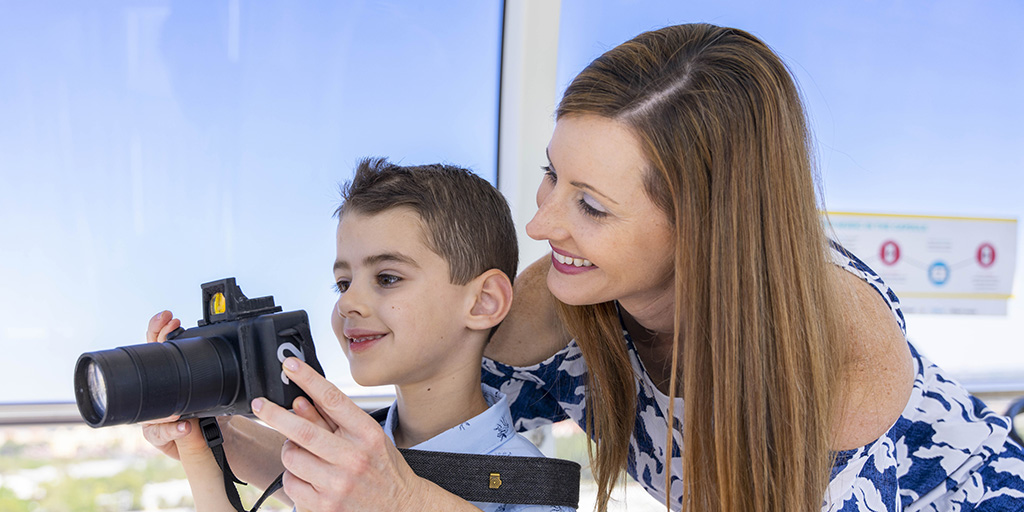 "It can capture, if you click it, markers that we have on the rooftop. And it actually records your score and lets you know when you have a good picture," Chris Jaskiewicz, president and CEO of Icon Park, said before the ribbon-cutting ceremony.
Road Trip gamers on the 400-foot observation wheel aim the lenses down at billboard-sized postcards that tout Florida locations from Pensacola to Key West.
"On the postcards you see images of important destinations from the 1950s and '60s, and you hear a 1940s radio broadcast that describes what you see," Jaskiewicz said.
"We are very proud of Florida and Orlando and our industry. We do think that sometimes the great history and heritage get whitewashed, covered up. And it's just so interesting," So why not create a fun game that explains, in a way, that promotes these trailblazers who really paved the path for the giant theme parks of today?"
According to the official ICON Park website…. "The Great Florida Road Trip" will take visitors on a nostalgic holiday through midcentury Florida – before the era of sprawling theme parks and resorts. Part game, part educational opportunity, this experience will put the spotlight on Florida's legacy as an entertainment and tourist destination. Guests will be taken on a journey that highlights the historic locations that have beckoned visitors for decades.
Each participant will receive a camera like device to photograph destinations and earn points while raking a ride around The Wheel. A "winner" from each capsule will receive a $5 gift card to be used in the "In the Game Arcade" inside the wheelhouse.
How To Experience This Attraction
Purchase a Wheel VIP Ticket
Purchase a Play Pass