There are several "must have" items to make a day on a Florida beach comfortable. Florida's Historic Coast has 42 miles of Atlantic coastline stretching from Ponte Vedra to the north to Marineland to the south. With that much beach to see and enjoy on your vacation, here's a list of 8 things you'll need to have fun on the shore.
8 Things You Need to Make for a Great Day at the Beach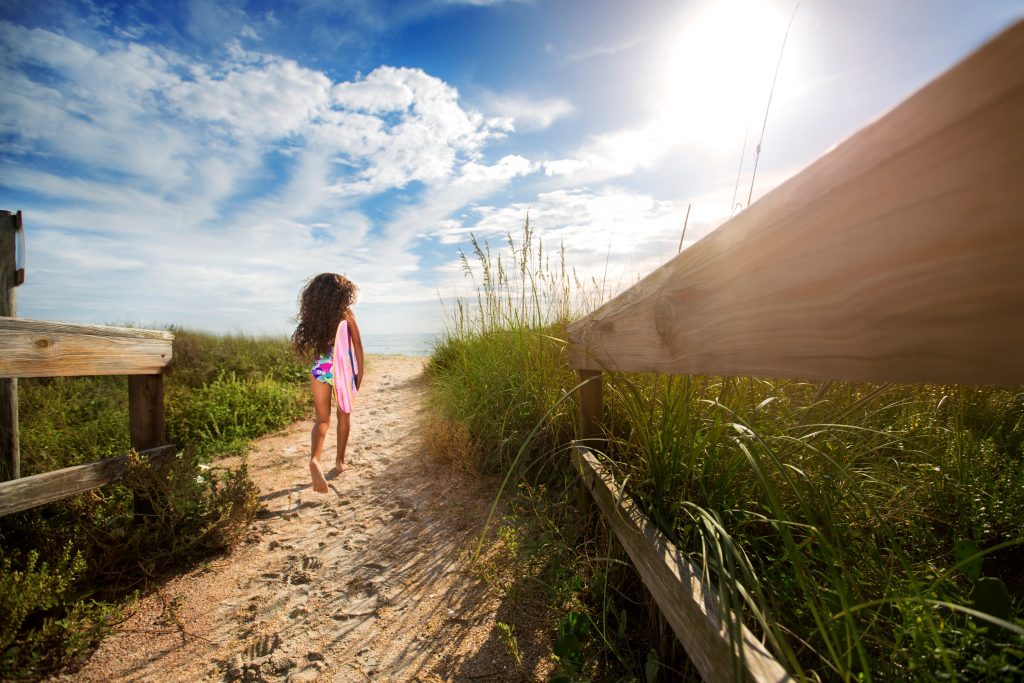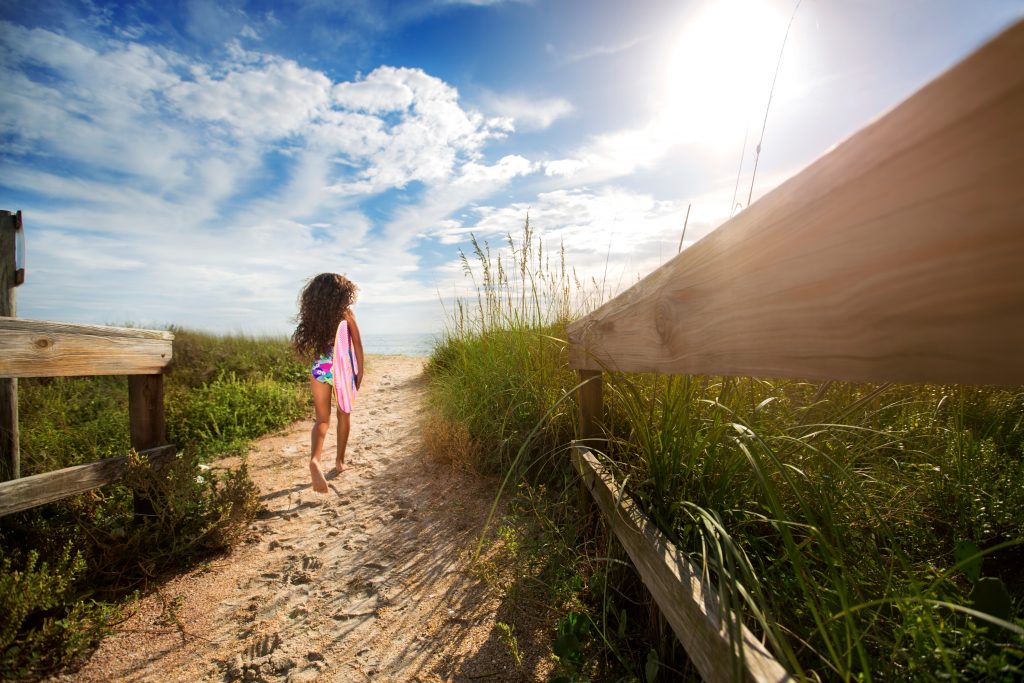 Be careful with your skin. The sun's rays can be damaging. Even if it is cloudy or overcast, you can still get a burn. And reapply it often, especially after going into the water. You'll find sunscreen at any local beach shop, drugstore, grocery store or bring some along with you from home.
And plenty of it. Avoid sugary soft drinks or juices. You will stay hydrated better by drinking water throughout the day.
Sunglasses and a hat. More than just a great fashion accessory, sunglasses protect your eyes from the sun's ultraviolet (UV) rays. A wide-brimmed hat offers great protection, too!
A multi-purpose item to bring to the beach. Spread it out for a place to lounge. Use it after a swim.
You are welcome to bring your own food to the beaches. Please be courteous and deposit all your trash at a nearby trashcan or if there's not a trashcan nearby, please take it with you.
Beach chair and umbrella. If you've driven in to St. Augustine or Ponte Vedra for your vacation, you may have had room to bring along your favorite beach chair. But if you've flown you probably don't have a beach chair at the ready. Some condos or hotels provide beach chairs for their guests for free or rent. You can also rent from Barney's Beach Services. Barney's team can deliver and set up your beach chairs and umbrellas to most locations between 9 a.m. and 5 p.m. They also retrieve them at the end of the day. http://www.barneysbeachservice.com/
Surfboard, boogie board or skim board. If you didn't bring your own and you want to have more fun in the ocean than just a swim, try a surfboard, boogie board or skim board. Depending on your skill level, there's a board for you. Barney's also delivers boards. And you can rent from local surf shops or there are often vendors on the beach.
Bucket or other container to keep the shells you'll collect. Kids of all ages love to take home a souvenir. Seashells make a perfect memento. Hunting for them is the best part. The beaches along the GTM Preserve between Vilano Beach and Ponte Vedra Beach are the best for shelling. At Mickler's beach in Ponte Vedra, you may even find a shark's tooth.
Beach wheelchairs are available upon request at no charge on a first come first serve basis by St. Johns County. Please note that three days advance notification is required to reserve a wheelchair. To make a reservation, please call contact Danielle Fountain, (904) 209-0752. If the county's wheelchairs are not available, there are several companies you can rent from including Barney's Beach Services, Solano Cycle of St. Augustine.
Please read these important facts and suggestions from the St. Johns County Beaches Department. Visit the County Beach's website to learn more and to get the Beaches app. http://www.sjcfl.us/Beaches/index.aspx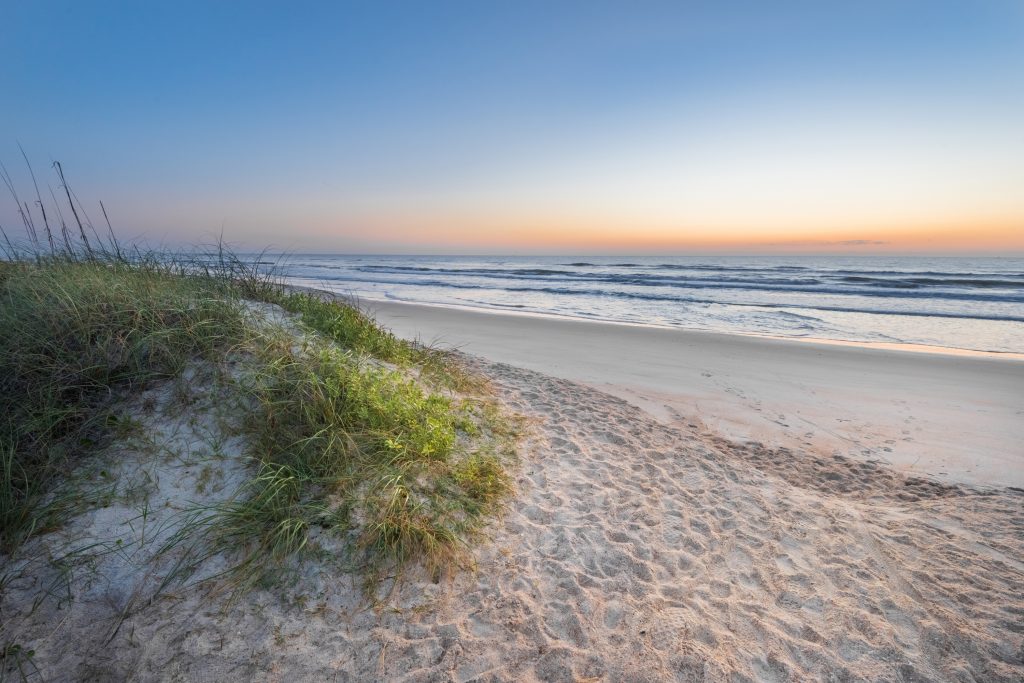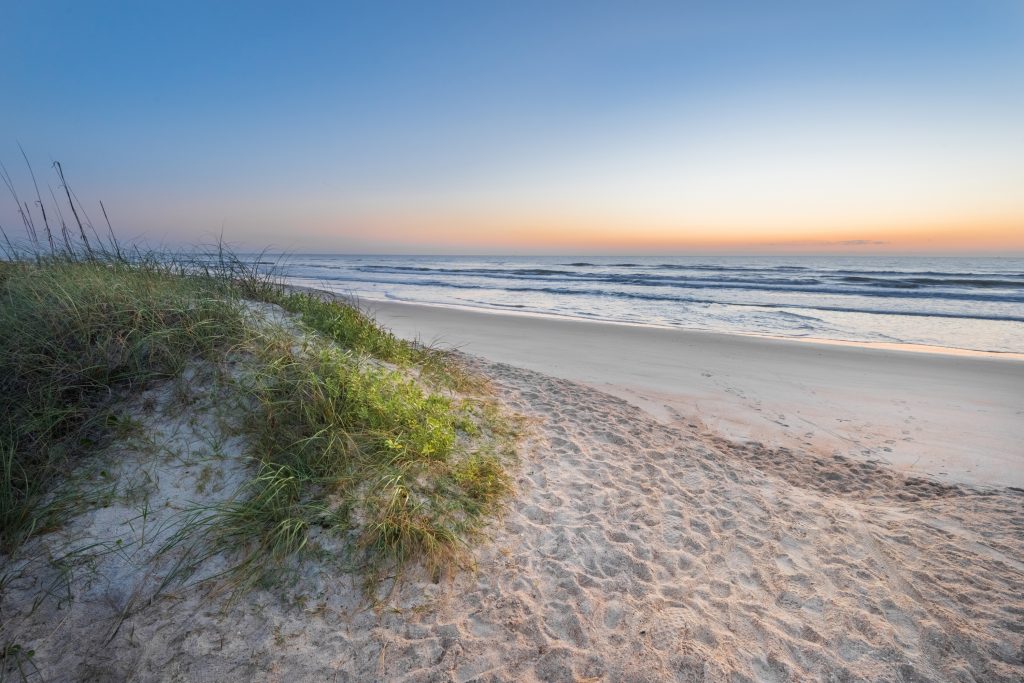 Remember, the beach is there for everyone. Be courteous.
There are off beach parking lots at the St. Johns County Pier Point Park, several lots along A1A in Vilano Beach, at Mickler's Park in Ponte Vedra, at Butler Beach Park, Anastasia State Park, North Beach Vilano, Surfside Vilano Beach and the GTM Research Reserve.
Beginning in May each year, from 9 a.m. to 5 p.m., daily, on-beach driving passes will be for sale at area toll booths. Daily fees for the 2018 beach season are $10 for residents and non-residents, and $5 for handicap and active military. Annual passes are $50 for residents, $100 for non-residents, and $40 for a handicap pass.
Lifeguards will begin limited duty in March, with full lifeguard coverage beginning Memorial Day Weekend.
Deposit all your trash at a nearby trashcan or if there's not a trashcan nearby, please take it with you.
If you dig holes on the beach, please fill them in before you leave. These holes can be the difference between life and death for sea turtle hatchlings trying to get to the water.
Do not leave coolers, towels, chairs or other items behind on the beach. They can be a danger to others.
Stay off of dunes and away from areas that are surrounded by stakes and tape marking sea turtle nests.