From blazing red and orange sunrises to bald eagles soaring over rustic trails that slice through authentic swathes of flora, there are plenty of ways to enjoy outdoor fun including golf in Polk County.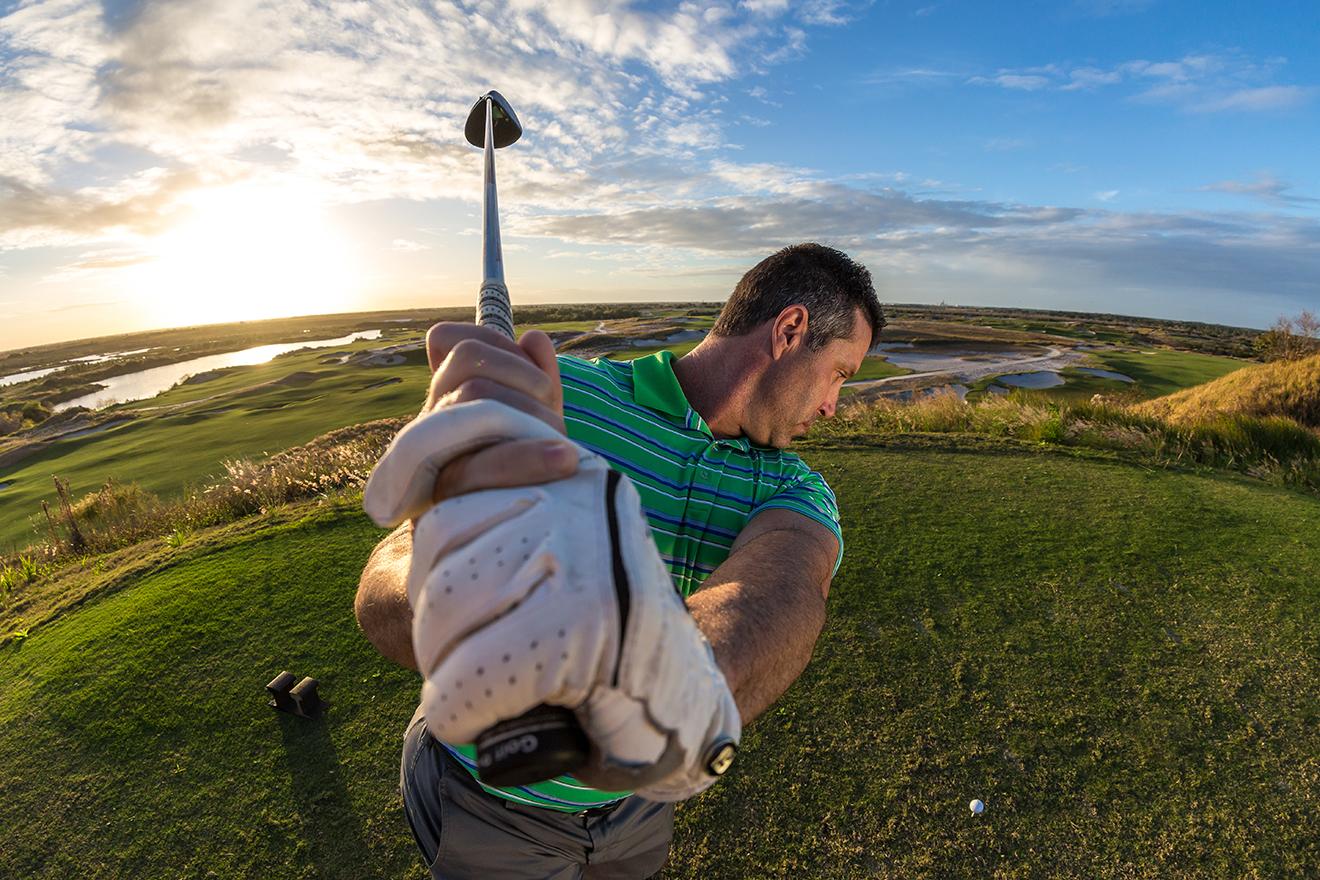 If your idea of a good time outdoors is any time spent on a golf course, we need to talk. With more than its share of good golf courses – and quite a few great ones – fantastic golf abounds throughout Polk County. Home to more than 40 public access courses offering nearly 700 holes of golf, including one of the top golf course collections in the country, there are plenty of options for golfers of any age or skill to find a course that suits their abilities.
With so many offerings, it is difficult to pick a favorite, so we'll start with the newest. When it comes to distinctive course design – and rave reviews from nearly every golf publication in the world – the conversation must begin with Streamsong and the Red, Blue, and Black courses. Built upon land reclaimed from phosphate mining, Streamsong Resort is not typical Florida golf. If you are looking for palm trees and house-lined fairways, you'll be disappointed.
Red and Blue
Thanks to the topography left behind from mining, both the Red Course, designed by Bill Coore and Ben Crenshaw, and the Blue Course, designed by Tom Doak, utilize the contours and sand dunes to offer a golf experience reminiscent of the links-style courses of the British Isles. Both courses share the same clubhouse, and the Red Course loops around the Blue course. Both feature smaller greens, with the par 3's on both Red and Blue featuring memorable downhill shots over water.
A recent addition on both courses has been the re-grassing of the greens with a new turf. Dubbed Mach 1, the new grass is an ultra-fine Ultradwarf Bermuda. Streamsong is the first to install it on 18-hole courses. To say the ball rolls smoothly on the new turf might be an understatement – it is so smooth that the caddie staff at Streamsong needed a few lessons so as to accurately learn how to read the faster greens.

And Then There is the Black Course
Designed by Gil Hanse, this 300-acre, par-73 expanse features dramatic, wide-open wavy dunes, hidden greens, and enough sand to film a sequel to "Lawrence of Arabia." The course takes up more space than Red and Blue combined. You won't have a quick game on this course – but you won't want to, either.
There is a reason why Black has earned worldwide recognition since it opened in 2017, when it was named the Best New Course by Golf Magazine. Looking more like an Australian Sand Belt course, Black takes all the old rules surrounding golf in the Sunshine State – or anywhere else – and blew them up. The fairways are enormous, as are the sloping, three-putt, big bendy greens. There are also a number of blind shots, especially the 9th hole right into a giant, frustrating Punchbowl green. This is a course that needs to be played more than once to fully understand and enjoy the experience. This is golf in Polk County.
Nearly 30 minutes from the closest city, if you play Streamsong, you might as well stay at the resort, known nationally for its top-notch amenities. Acquapietra, the spa at Streamsong, transports those seeking revitalization to a European grotto. Massages, wraps, scrubs, and more await, as do a variety of facials and manicuring services. There are even special packages available for Florida residents.
If the spa or the greens aren't where you find inner peace, Streamsong has other options available. Perhaps you'll find your happy place thanks to one of Streamsong's fishing guides, who know just the right place to cast. Or maybe all you need is to release some tension blasting a few sporting clays on the range or pin-cushioning targets at the archery course.
After working up a sweat, or not, you can soothe your soul in the dining room. Start with the Lodge's sixth-floor Fragmentary Blue cocktail bar, which offers breathtaking views, handcrafted cocktails, and tapas-style dining. From there, you can either head over to Restaurant Fifty-Nine in the Red & Blue clubhouse, a steakhouse open for breakfast, lunch, or dinner; or the fine Italian dining experience of SottoTerra, where the focus is on the best ingredients available. But more options await. For a fine twist on Southern style, P2O5 provides a casual dining experience for breakfast, lunch, or dinner, or venture over to the gastropub at the Black course, Bone Valley Tavern, for everything from burgers to calamari in an elevated casual setting.
Not to be forgotten is Southern Dunes Golf & Country Club. Established in 1993, here is another Polk County course that embraces the links-style of golf found in the United Kingdom. Stretching out more than 7,200 yards, Florida designer Steve Smyers took what was a citrus grove and created a demanding layout that features high ornamental grasses and decorative plantings paired with 180 distinctively colored bunkers, providing spectacular visual appeal throughout a round of golf. In 2016, Smyers re-imagined all 18 greens as well as changes to several holes, giving the course an updated feel. Today, Southern Dunes challenges golfers with more than 100 feet of elevation change, rolling fairways, and large undulating greens that surely impact not only club selection, but bragging rights at the end of a round. This is a what-you-see-is-what-you-get course. If you keep your shots in play and stay out of the sand, you'll probably leave the course with a little extra in your wallet.
The Club at Eaglebrooke provides a challenging but fair test for players of all ability levels. Designed by renowned course architect Ron Garl, it opened for play in 1996. Oak trees, lakes, water, and more water, plus a few strategically placed mounds that define the rolling fairways and frame each hole.

What About Water?
No golfer will forget their first time lining up on the signature hole, No. 13, a par-4 that leads to a long, stretched-out island fairway that is only accessible via the cart path bridge.
Like all Ron Garl courses, Eaglebrooke is enjoyable by all levels of player.
For a little bit more relaxed round of golf, look no further than Cleveland Heights in Lakeland. One of the area's historic golf courses built by developer H.A. Stahl – who named the project after his hometown – the course opened in 1925. In fact, the course is on the state's official Historic Golf Trail list, as are other Polk County favorites Bartow Golf Course (1926), Wedgewood Golf Club (1929), and Lekarica Hills Golf Course (1927).
Known as The Heights by locals, the municipal course's 27 holes can be played three different ways, but this is unlike any "muni" you may have played. Sitting on top of a hill, the design of the course is typical of its day – while the course plays short, the greens are small and elevated, adding to the difficulty. The Heights favors strategy over strength. Atypical of most municipal courses, there is also a clubhouse with a restaurant, as well as a driving range.
For more information on all these activities, as well the theme parks, restaurants, and shops you'll find in Central Florida's Polk County, go to visitcentralflorida.org.