Welcome to International Drive, Orlando's Most Dynamic Neighborhood, where the culinary adventure knows no bounds. If you're a food enthusiast looking to explore a diverse range of flavors and experience authentic international cuisine, then you're in for a treat! Orlando's hot foodie scene offers an array of dining options that will tantalize your taste buds and leave you craving more. During your next visit, be sure to indulge in these gastronomic gems, guaranteeing an unforgettable dining experience of Global eats around I-Drive.
Nile Ethiopian: A Taste of East Africa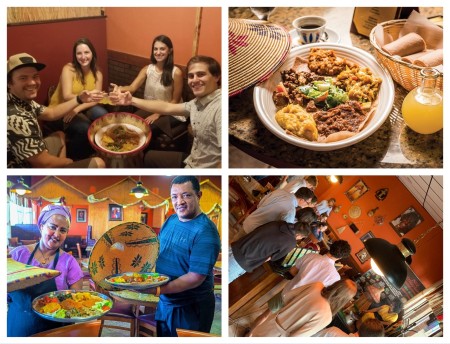 Transport yourself to the vibrant flavors of East Africa at Nile Ethiopian. Located on International Drive, this restaurant offers a delightful journey into Ethiopian cuisine. From injera (a traditional sourdough flatbread) to flavorful stews and aromatic spices, every dish is a celebration of authentic flavors. The communal dining experience, where you can savor the food with your hands, adds to the cultural immersion, in addition to top-notch customer service for a dining experience that is truly special. Enjoy your dinner with drinks from the full bar, which also offers guests an impressive selection of Ethiopian wines to choose from!
Pro Tip: Don't miss the opportunity to try their signature dish, the Ethiopian feast, which includes a variety of delicacies served on a large platter for the perfect way to try a little bit of many of their most popular dishes. Discover the rich culinary heritage of Ethiopia at Nile Ethiopian during your next dinner on I-Drive.
Tabla Indian Cuisine: Spice Up Your Palate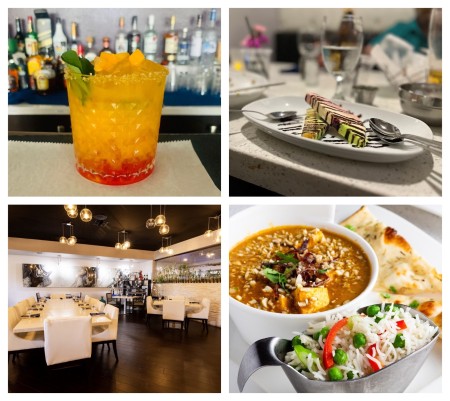 Embark on a culinary voyage to India at Tabla Indian Cuisine. With a menu that showcases the diverse regional cuisines of the Indian subcontinent, including authentic Indian, Chinese & Thai cuisine, this restaurant is a paradise for spice lovers. From aromatic curries to tandoori delights, each dish is crafted with precision and showcases the vibrant flavors of India. Indulge in classics like butter chicken, biryanis, and an array of vegetarian options that will satisfy even the most discerning taste buds. From classic dishes to new creative twists on traditional dishes, you'll find sweet and savory flavors that will entice all of your senses. Newly renovated, yet still offering guests a warm and inviting ambience, Tabla Indian Cuisine offers an unforgettable dining experience for those seeking an authentic taste of India.
Cafe Tu Tu Tango: A Creative Fusion of Flavors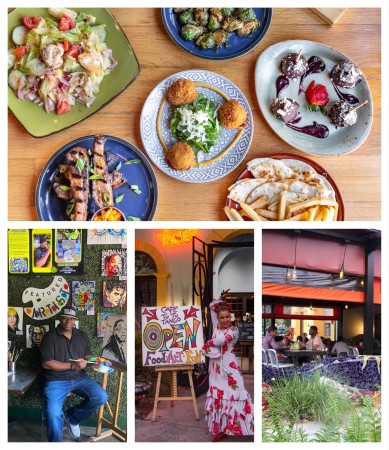 If you're looking for a truly unique dining experience, head over to Cafe Tu Tu Tango. This eclectic eatery combines art and cuisine, creating an atmosphere that is as vibrant as the flavors they serve. Inspired by the bohemian lifestyle of Spanish artists, Cafe Tu Tu Tango offers a menu that blends global flavors with creative twists. Tapas-style dishes allow you to sample a variety of flavors, making it perfect for sharing and exploring new tastes. From Latin-inspired dishes to Asian fusion creations, you'll find a delightful range of options that cater to all tastes. Find your seat on their expansive outdoor patio, and enjoy sipping on one of the many creative cocktails from their outside bar under the Florida sun, or find a seat in the eclectic restaurant where you'll be surrounded by art pieces covering the walls, and even enjoy entertainment that occurs unpredictably throughout the evening with local artists creating right in the restaurant at various art stations. Transport yourself to a wild artist's loft in Barcelona, Spain – where a party is always in progress, and join in on the fun. The lively energy and spectacular flavors at Cafe Tu Tu Tango will make it a dining experience you can't miss while visiting International Drive.
ProTip: Be sure to check out their bottomless brunch offers every weekend for a brunch experience to remember!
Tapa Toro Orlando: Spanish Delights in the Heart of Orlando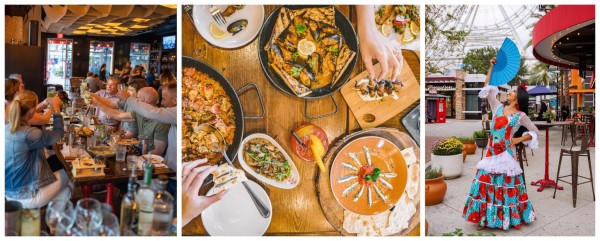 For a taste of Spain in the heart of Orlando, Tapa Toro is the place to be. Head to ICON Park where you'll be invited to immerse yourself in the lively atmosphere at this unique, locally-owned tapas bar and paella pit and embark on a culinary journey through the diverse regions of Spain. From traditional tapas to paellas bursting with flavors and enough sangria to go around, this dining experience will transport you to the streets of Madrid or Barcelona. The vibrant decor, nightly live flamenco shows, and a carefully curated selection of Spanish wines add to the authentic experience. Whether you're savoring classic dishes like gambas al ajillo (garlic shrimp) or trying some of their innovative creations, Tapa Toro is a must-visit for Spanish cuisine enthusiasts, or anyone looking to treat themselves to a savory dining experience, from the atmosphere and entertainment to the cuisine.
Pro Tip: Tapa Toro also offers a drool-worthy bottomless brunch special on Sundays. Enjoy a la carte specials, all-you-you-can-eat paella and unlimited sangria and mimosas every Sunday. Plus, a live DJ and flamenco dancing entertainment!
Pho 16 Express: A Taste of Vietnam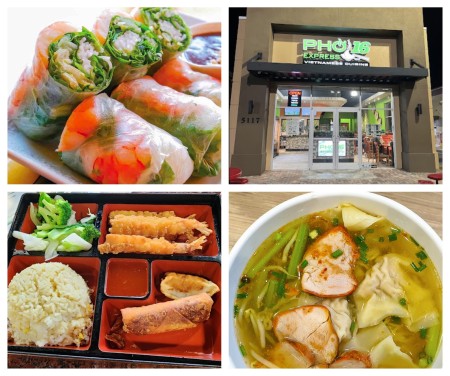 If you're craving the aromatic flavors of Vietnamese cuisine, look no further than Pho 16 Express. Located on International Drive, this casual eatery serves up delicious and authentic Vietnamese dishes in a fast-line-service fashion. Whether you're looking for a quick bite, or call ahead and order for pick up to enjoy your meal in the comfort of your hotel room or home for a relaxing night in, it's sure to be a delightful and delicious dining experience. From the comforting bowls of pho (noodle soup) to savory banh mi sandwiches, each dish is crafted with fresh ingredients and traditional techniques. Indulge in the delicate balance of flavors that Vietnamese cuisine is known for – and don't forget to try their signature iced coffee or milk Boba teas – the perfect accompaniments to your meal. Pho 16 Express brings the taste of Vietnam to the heart of Orlando.
I-Drive is a culinary melting pot that offers an incredible variety of authentic international cuisine. Whether you're in the mood for Ethiopian, Indian, Spanish, or Vietnamese delights, you'll find it all and more on I-Drive. These dining spots are just a taste of what awaits you during your next visit. From rich stews to aromatic spices, each restaurant offers a unique and delicious experience that will transport your taste buds around the globe. Don't miss the chance to embark on a gastronomic adventure during your next visit to International Drive. Start planning your culinary journey by browsing the restaurants on InternationalDriveOrlando.com, and get ready to indulge in a world of flavors like never before. Bon appétit!