So many families are choosing Disney Resort Hotels for their Orlando vacation – and once on Disney property guests can use the fabulous Disney transportation system to get around. Depending on your destination that could be a bus, a monorail, a ferry or a cable car! Because of this renting a car for these families is a waste of time and money – but they still need a reliable means of getting from Orlando International Airport (MCO) to their Disney accomodation. Time to check out Mears Connect!
Mears Connect is the only Orlando International Airport shuttle servicing both the main and the newer C terminals (C terminal services mainly international flights & JetBlue) and the only shuttle providing continuous, 24/7 shuttle service. Mears is also the preferred transportation service provider of Orlando International Airport and the local experts in Orlando Airport pick-ups.  The Mears Connect shuttle service offers affordable transportation between Orlando Airport (MCO)  and Disney World, Disney Springs and other Disney area hotels.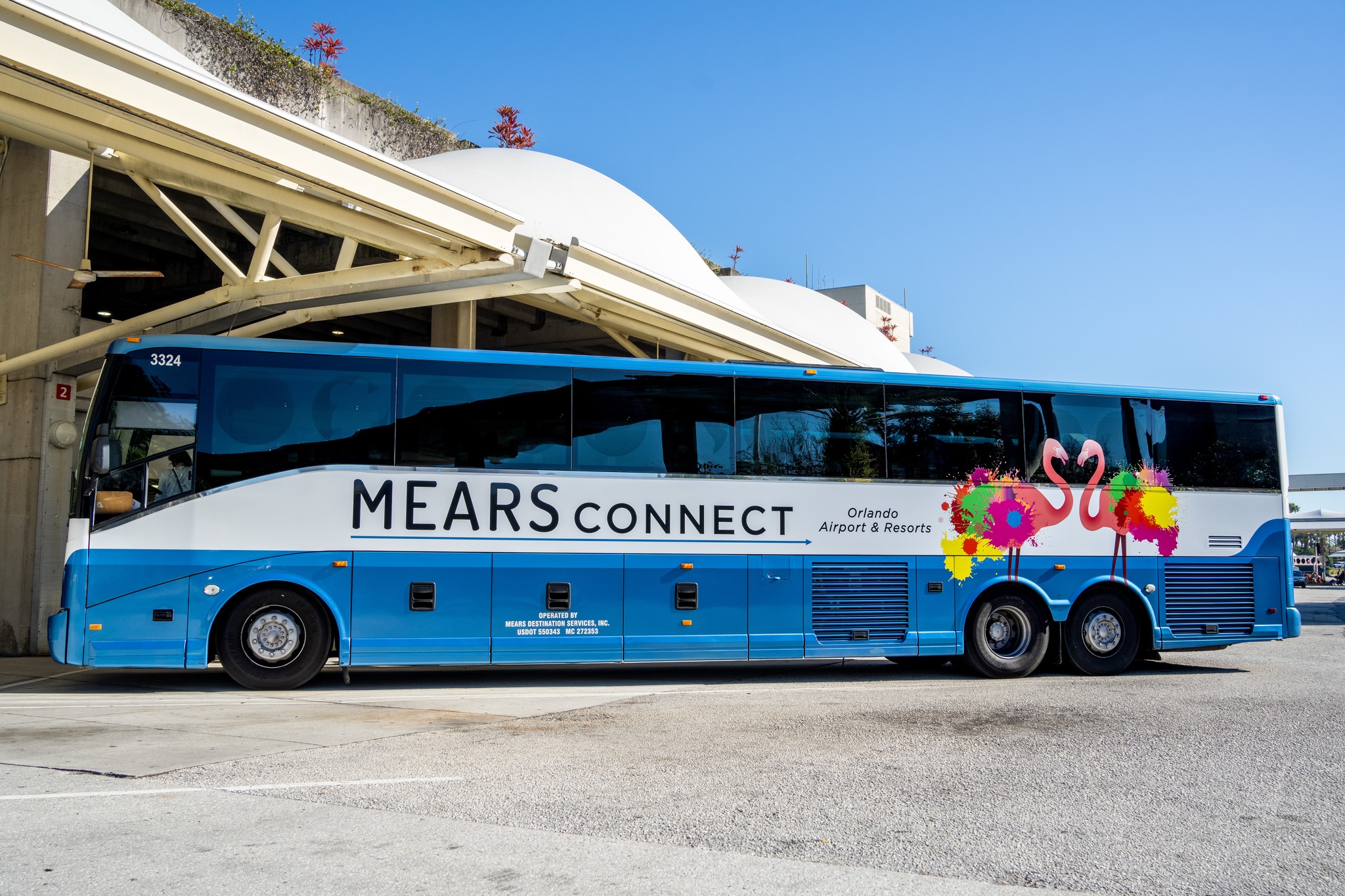 Spring Sale & Express Service
Mears Connect, the original airport to Disney resorts shuttle service, offers two services to and from Orlando International Airport (MCO) and the Walt Disney World Resort area: a standard shuttle service and an express shuttle service.
Both standard & express connections are shared ride services with other guests on board and are economical as the fares include all tolls and other surcharges. NOTE: gratuity is not included in either service and is appreciated with good service.
The Standard connection will make a limited number of stops.
The Express shuttle service minimizes your travel time on the vehicle by making your hotel the first stop after leaving the airport and the last stop before heading to the airport, making it a direct service to your resort and back to the airport, with limited to no wait time. The express service is only available as a round-trip service, which is perfect for most travelers. The express service is available to ALL Walt Disney World Resort hotels.
Whether you reserved Standard or Express service, your departure vehicle type could be different than upon arrival.
Most importantly, Mears is offering a Spring Savings promotion, on all new standard reservations.  
Kids (3-9) ride for just $12 each way with the standard service, while adults tickets are only $15 each way.  Book now, for any date in the future & don't miss out on the savings!
You'll find more info on Mears Connect HERE.