It's never too early to plan your Halloween frights out in advance. When it comes to West Volusia, you'll find there's something – and someplace – for everyone looking to get a little spooked this spooky season. Check out the following events, some new, some old favorites, but all guaranteed to scare your socks off!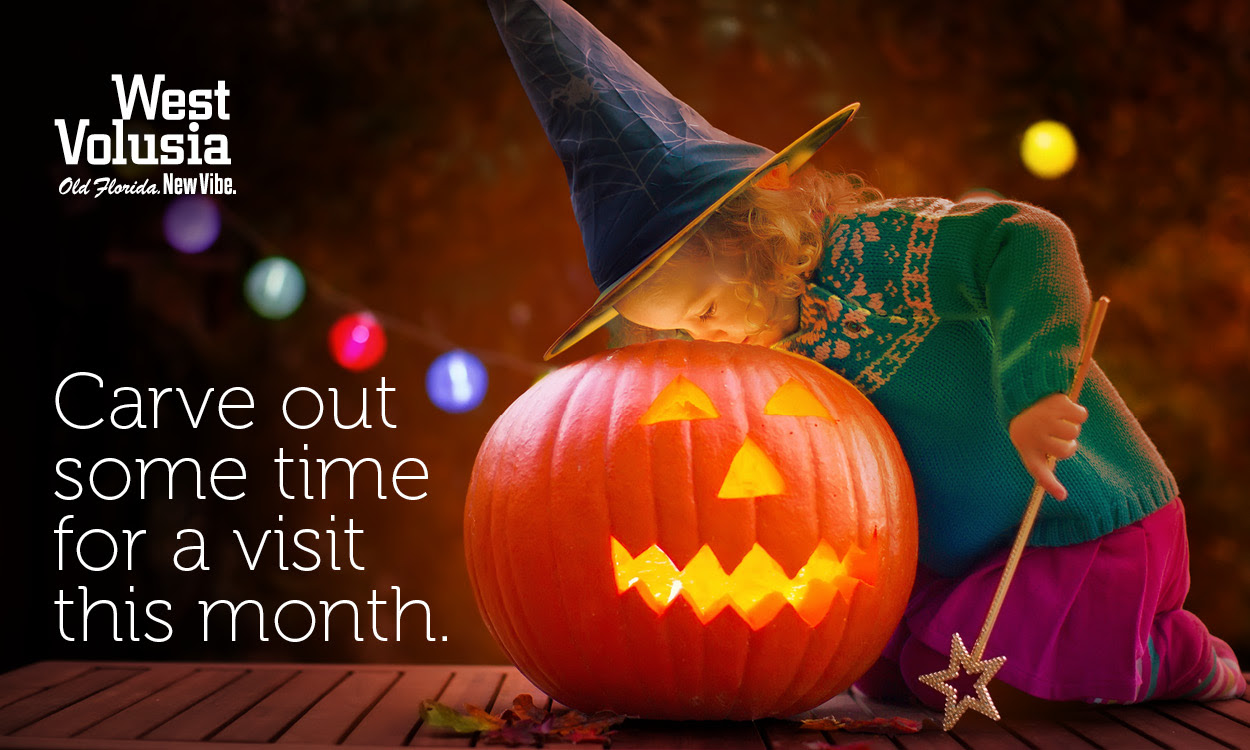 Harvest Fields Corn Maze and Fields of Fright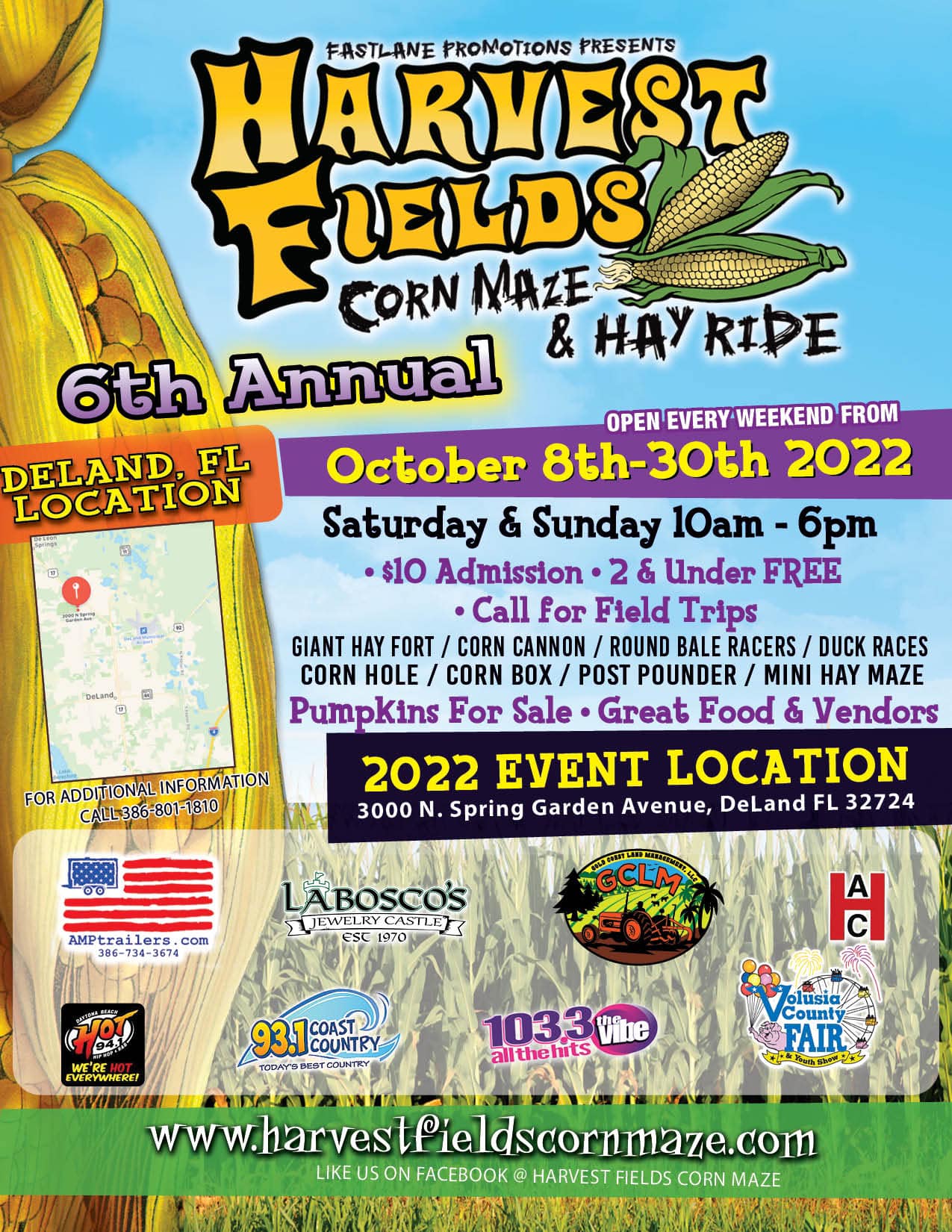 Stumble your way through the largest corn maze in Central Florida at Harvest Fields! Located at 3000 N. Spring Garden Avenue in DeLand, this real working farm is open on weekends October 8 through 30. Tickets can be purchased online at https://harvestfieldscornmaze.com/. Once you find your way out of the maze, check out the other family fun activities on the 100-acre farm, including a pumpkin patch, giant hay fort, corn cannon, round bale racers, duck races, corn hole, corn box, post pounder, and mini hay maze!
If you're looking for a more intense experience, Harvest Fields has something for you too. On select nights from October 14-29, you can feel the thrill of a haunted hayride where you'll encounter a spooky scarecrow or two. This hayride is recommended for children 10 and up. Ticket information can be found online at https://harvestfieldscornmaze.com/Fields-of-Fright/. 3000 N. Spring Garden Avenue, DeLand, FL 32724
Monsters on MainStreet
Put on your costume, grab a bag, and stroll on down to MainStreet DeLand for one of the largest events of the year. Visit with shop owners and local organizations across Downtown DeLand who will all be open and handing out candy like it's going out of style! This is a family-fun event and all ages are welcome! Trick or treating starts at 6 pm on October 31 and runs to 8 pm. 100 N. Woodland Blvd., Downtown DeLand
Historical Society Cemetery Walk
Walk through history in DeLand's Oakdale Cemetery with experienced West Volusia Historical Society re-enactors, and hear the stories of those who have passed, all of whom hailed from West Volusia or chose to make this area home. Friday and Saturday, October 7-8, 2022. Visit delandhouse.com for more information on walks. 800 N. Clara Ave., DeLand, FL 32720.
Dracula at Athens Theatre
Directed and choreographed by the artistic director of "Spain's Got Talent" and international bailaor Carlos Rodriguez, Orlando's Flamenco del Sol company explores Bram Stoker's Gothic horror story through the power of Flamenco dance. Traversing "oceans of time," the story weaves its way between Spain and Cuba, putting a new, yet deliciously familiar twist on this beloved tale. Showtime is 7 pm on Sunday, October 23 at the Athens Theatre in Downtown DeLand. 124 N. Florida Ave., DeLand, FL 32720
Dyno Climb's Halloween Meteor Night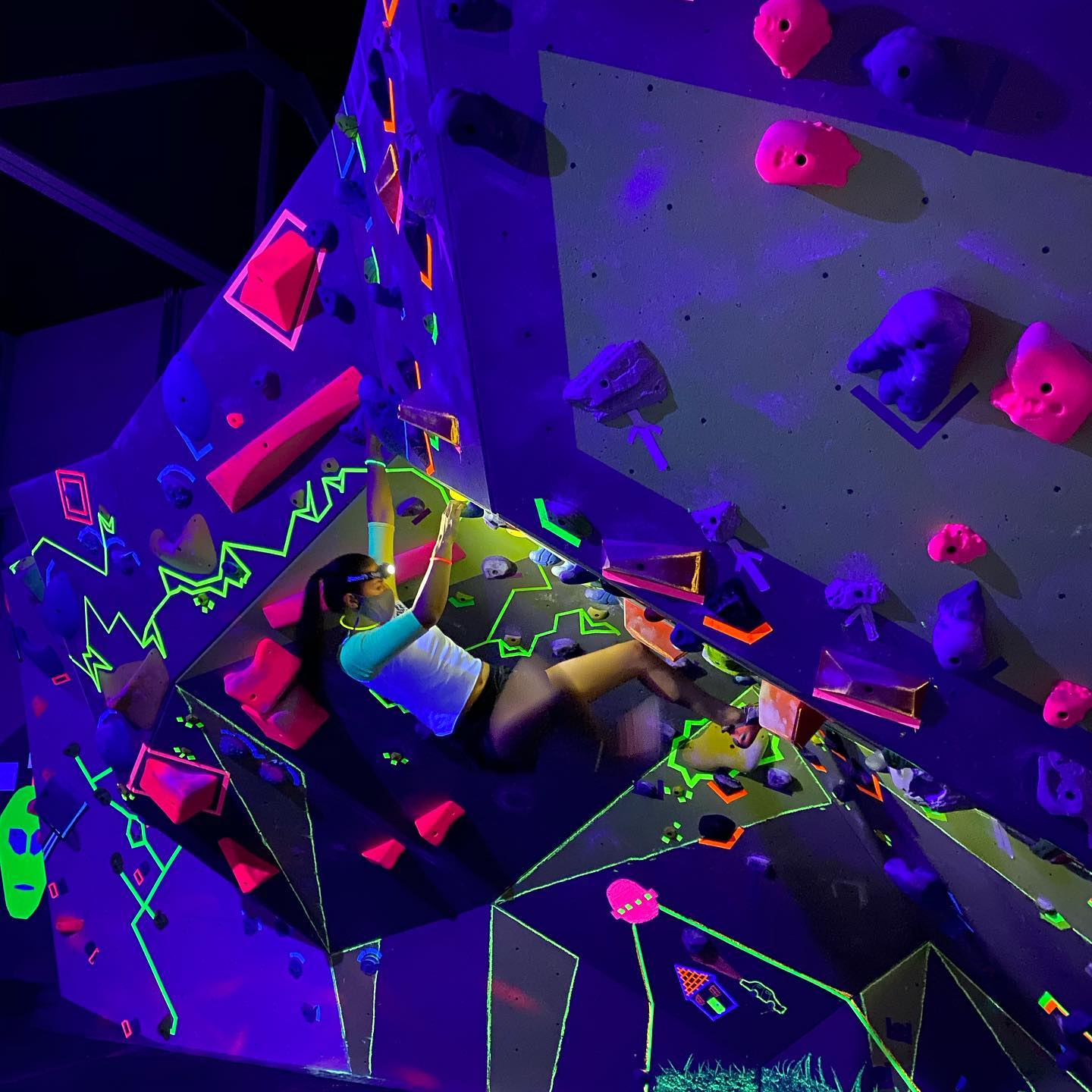 Come have a blast at Dyno Climb's yearly Halloween event. Experience the sights, sounds, and community fun at this Blacklight Event extravaganza with contests, giveaways, and fun!! BYOH (Bring Your Own Headlamp) and dress up (appropriate to climb in) Halloween Costumes (Costume Prizes will be awarded) for a unique lights-out climbing experience. The date has yet to be finalized, but keep an eye on www.dynoclimb.com for an announcement. 528 S. Woodland Blvd, DeLand, FL 32720
Subject to Change: Halloween Special at Gateway Center for the Arts
Are you a connoisseur of scary movies and love Halloween? Fans of spooky entertainment and improv comedy are invited to join in on a local Halloween tradition with SUBJECT TO CHANGE: A HALLOWEEN THEMED IMPROV COMEDY SHOW. Back for the second year in a row, SUBJECT TO CHANGE is tapping into the spookiest recesses of their minds for a fun, Halloween-themed show guests can experience live at the Gateway Center for the Arts in DeBary, FL. Curtains (and possibly the dead!) rise on October 14 at 7:30 pm. Parental discretion is advised. 880 N. US Highway 17-92 DeBary, FL 32713
Creepy Candlelight Tours at DeBary Hall
Guests can expect mild frights as they are escorted to the DeBary mansion and enter the narrow hallways and darkened rooms once occupied by 19th century wine merchant Frederick DeBary and his family. Staff and volunteers will share spooky stories and tell tales with tragic ends as the imagination is activated, and a scare could be lurking around every corner. Reservations are required; admission is $10. Children under 12 will not be admitted. Tickets to the event are non-refundable once purchased. 198 Sunrise Blvd., DeBary, FL 32713 Call 386-668-3840 or visit debaryhall.com for more information.
Fright Night at The Center at Deltona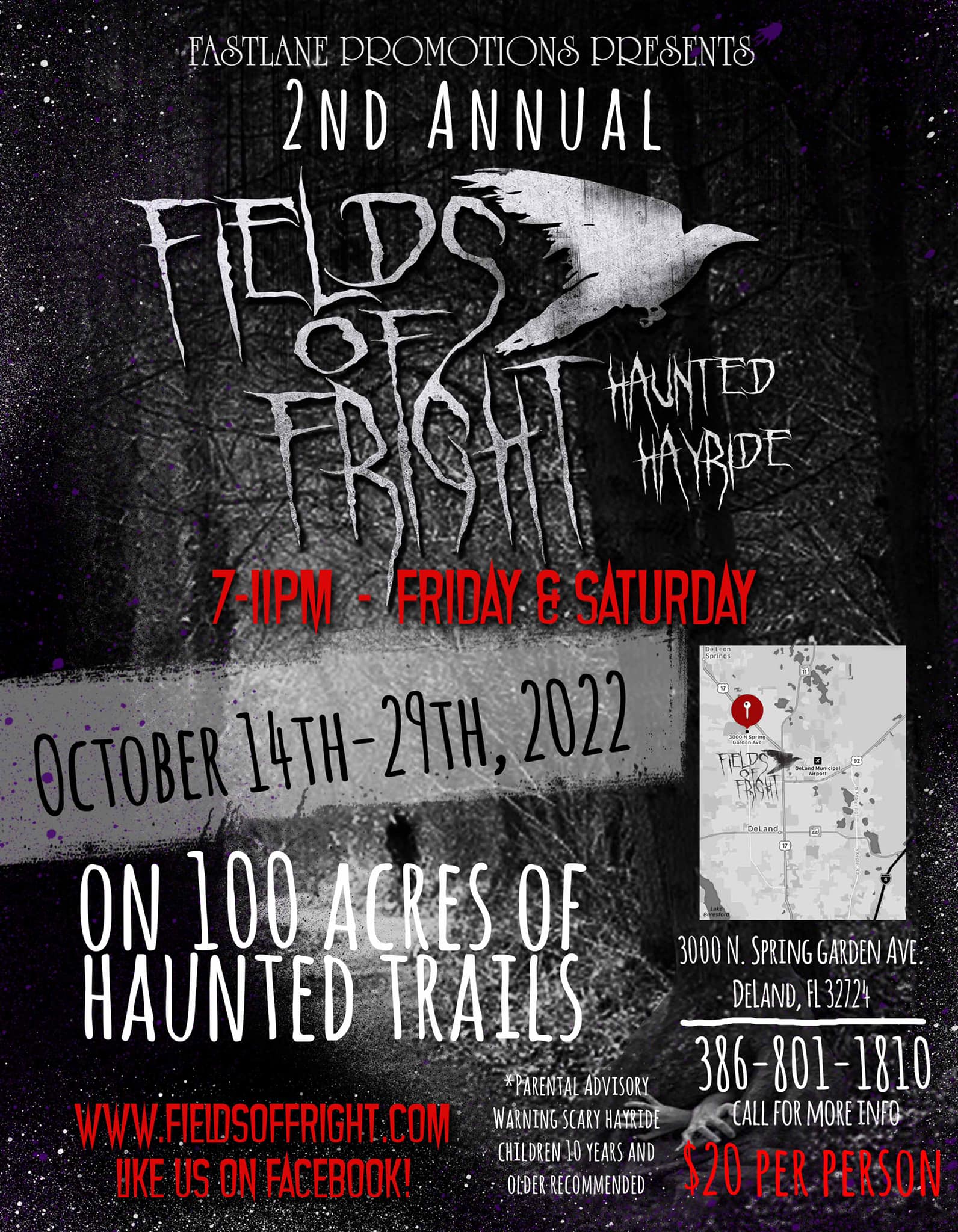 Looking for something a little frightening, but super fun for your Halloween weekend? Put Fright Night at The Center at Deltona on your list. Join them on October 28 from 7 to 11 pm and throw on your most extravagant costume for the best Halloween party in town. You won't want to miss out on music from DJ LUVU, Halloween-inspired "creepy" cocktails, food, and the creature costume contest! Must be 18+ to attend and 21+ to drink! Be sure to get your tickets in advance here as there is limited availability. 1640 Dr. M.L.K. Blvd, Deltona, FL 32725
Carn-O-Ween Haunted Carnival
Have some Halloween fun at Dewey Boster Sports Complex, 1200 Saxon Blvd. in Deltona, where there will be 4 days of carnival fun, running October 28 through 31. Ticket info will be available soon on MagicMidways.com. Then, on Saturday, October 29, come out to Dewey Boster Sports Complex for the City of Deltona's one-day Halloween event which will include delicious food truck cuisine, bounce houses, hayrides, face painters, and music. A costume contest will also be held for all ages. Make sure to check for updated info at deltonafl.gov. 1200 Saxon Blvd, Deltona, FL 32725
Haunted Gingerbread House Building, Spooky Drinks & Fall Finger Foods!
October 15th is known as The Sweetest Day, so why not celebrate with a Haunted Gingerbread House Building project? Join DeLand's Spellbound Cafe for a fun, family-friendly event where you will be building haunted gingerbread houses while sipping on some spooky drinks and munching on yummy fall finger foods. This event is for ALL AGES and one gingerbread house will be shared between groups of 2, 3, or 4. 208 W. Howry Ave, DeLand, FL 32720 Visit Spellbound Cafe's Eventbrite page for more info on this, as well as info on their other Halloween themed events.
3rd Annual Haunted Trail in Earl Brown Park
Come get spooked – with treats too – at The City of DeLand's 3rd Annual Haunted Trail at Earl Brown Park. The haunted trail will be a fun and spooky stop for adventure seekers of all ages. Bring a bag to collect treats. Keep an eye on deland.org for an official announcement on when the event will be held. 750 S. Alabama Ave, DeLand, FL 32724
Halloween Tarot Workshop at the Haunted Antique Shop
On Halloween when the veil between the worlds is at its thinnest, spirits step out of the shadows — making this the best time of the year for divination. In this special Halloween tarot workshop, you'll learn how to read the powerful 22 cards of the tarot's major arcana. You'll glean information about your past, present, and future — and you'll learn how to connect with the Other Side on All Hallow's Eve.
This workshop is suitable for tarot enthusiasts at every level: beginners, intermediate, and advanced practitioners, with the Haunted Antique Shop providing everything you need, including a complimentary deck of tarot cards. More information on this event can be found here. 612 W. New York Ave, DeLand, FL 32720
Fall Harvest Festival at Legacy at Oak Meadows

Harvest your share of fun at the Fall Harvest Festival in Pierson! Prepare for autumn by collecting goodies from the U-pick sunflower field or the Fall Harvest Market, a collection of dried corn stalks, pearl millet, fall floral and more. Or, take part in outdoor activities from farm & crop field hayrides to fishing, live music, and lounging around the fire pit. Then, end the night with an outdoor movie as you experience the flavors of fall by munching on popcorn, s'mores, and sipping delicious hot chocolate. This year's festival is on Friday, Oct. 29, 5 pm to 10 pm, and Saturday, Oct. 30 10 am to 8 pm. More information can be found here. 590 Bennett Rd., Pierson, FL 32180
Monster Mash-N-Dash 5k Run/Walk at Central 28 Beer Company
Welcome to the Inaugural Monster Mash-N-Dash 5k Run/Walk brought to you by Central 28 Beer Company. This fun Halloween-themed race and walk will start and finish from the Central 28 Taproom and take runners on a 3.1-mile out and back course along the paved Spring-to-Spring trail on Saturday, October 29. Participants will receive a custom race t-shirt, finisher's medal, and celebratory beer (21 and up) at the finish line. Dress to impress in your Halloween costume and be part of our post-race costume contest. Sign up here. 290 Springview Commerce Dr #1, DeBary, FL 32713
More information for all October events can be picked up in the Visitor Center located at 116 W. New York Avenue in Downtown DeLand, FL, or can be found online at www.visitwestvolusia.com. Please call 386-734-0162 for more information.