While its roots beckon back to Europe and Mexico, Halloween has evolved into a uniquely American holiday. Across the United States, spending on the spooky silliness comes to nearly $9 billion a year, or, roughly, $90 per participant. Nowhere else in the world will you experience the outlandish costumes – some scary, some sexy – the front yards full of decorations or find that most unique of American candies, the triangular and controversial sugar bomb of sweetness, candy corn.
In the United States, Halloween really is two different holidays. For children, it means dressing up as their favorite superhero or monster, grabbing the largest container possible, and traveling door-to-door requesting candy from strangers by shouting "trick or treat!" Adults, meanwhile, get into costumes – along with the family dog or perhaps a docile cat – and wait for the little ghosts, ghouls and goblins to come to the door.
In Polk County there are a few locations, events, and celebrations that are unique to the holiday.
Let the good times roll – uphill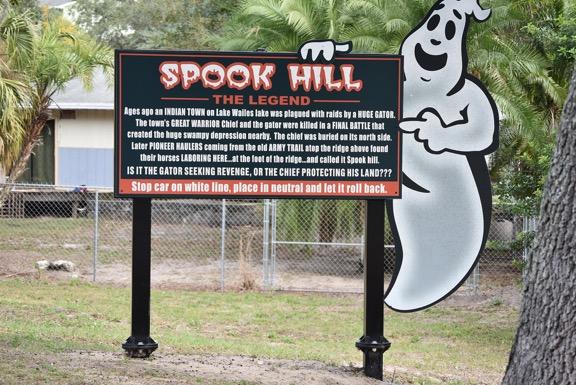 If you are looking for original Florida haunts, this is it.
Why else would your car roll uphill if it wasn't ghost-powered? The home to not one but possibly two ghosts, Spook Hill in Lake Wales was a popular tourist attraction back when visitors came to town on horseback. By the time they were replaced by tin lizzies, Spook Hill was a Central Florida must-see.
Legend has it that the hill was the site of a titanic final and fatal battle between a giant alligator and a Native American chieftain. When the area developed, horseback riders noticed their carriages seemed to roll uphill. Could it be the ancient spirit of the chief protecting his land, or is it the ghost of the alligator seeking his revenge?
Tucked away along the Lake Wales Ridge and just a few minutes from the tallest point in peninsular Florida, Bok Tower, Spook Hill has been a favorite of both locals and tourists for generations. Sadly, Spook Hill is ghost-free: the phenomenon of mystery hills or gravity hills occurs around the world, but this is the only one in the Sunshine State.
And after you are done rolling uphill, locals know to stick around and watch the reaction of others – that's at least half the fun.
Hit the bricks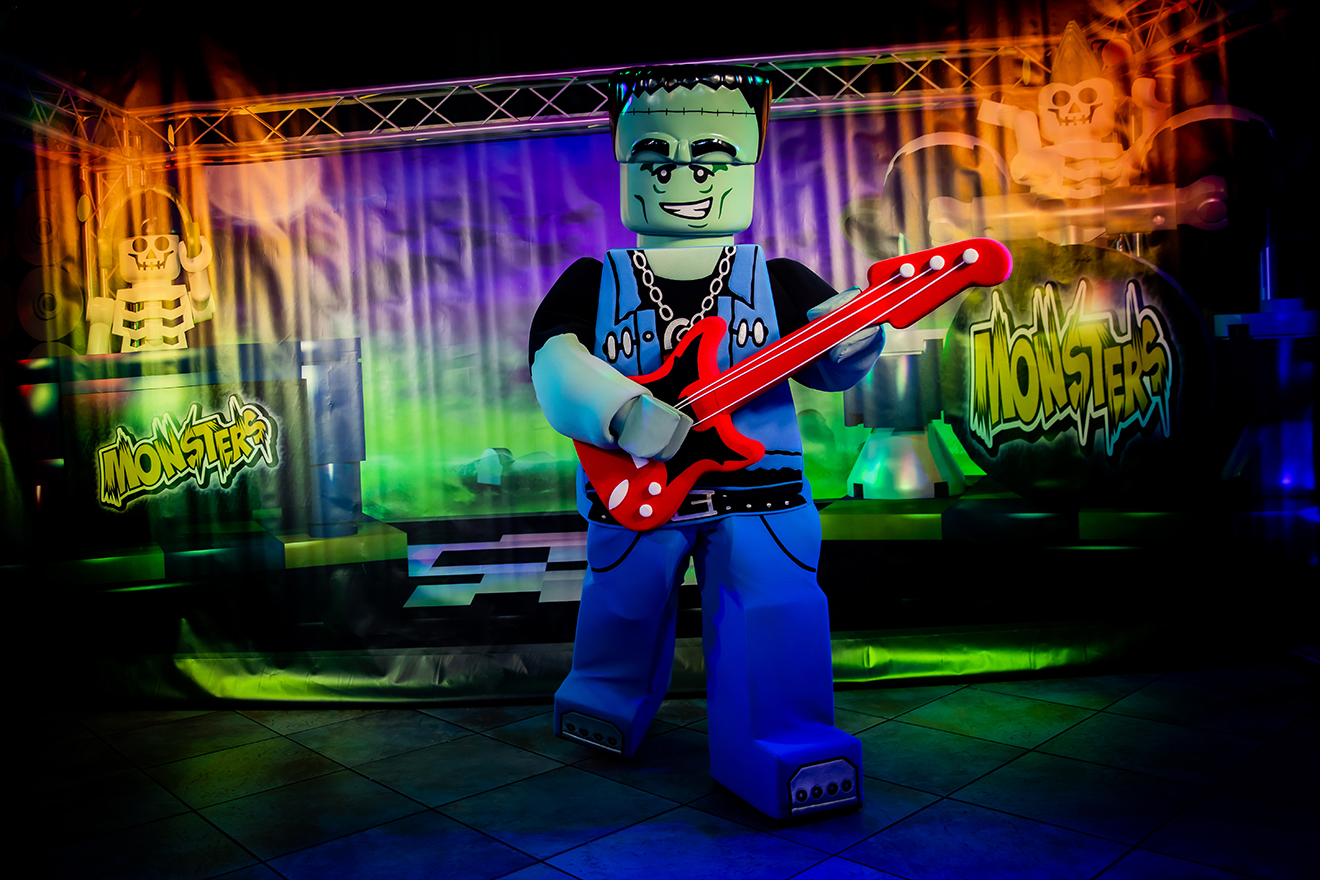 LEGOLAND Florida Resort, one of the largest LEGOLAND parks in the world, is the perfect location for a less scary twist on the holiday. The 150-acre interactive theme park features more than 50 rides, shows, attractions, restaurants, shops, the LEGOLAND Florida Water Park, two hotels, a beach retreat, and a botanical garden. Year-round, tiny pirates can jump into the LEGO wave pool or the interactive water-play structures of Joker Soaker and DUPLO Safari to the apt-named Build-A-Raft River and Creation Cove to cool down, then hop on pink-knuckle rides like the Coastersaurus. For a more immersive experience, head on over to LEGO Movie World to the Triple Decker Flying Couch or, for some old-school fun, check into the madness at Unikitty's Disco Drop.
The kid-friendly fun gets a spooky twist during Brick or Treat. Held weekends in October, it features entertainment, meet-and-greets with exclusive LEGO Halloween monsters like Rockin' Frankenstein and the Mummy Monster, and of course more candy than ever before.
This year, they've even added "BOO-tastic" nightly fireworks that come alive, thanks to special kooky and spooky viewing glasses.
But let's not forget the important stuff – like trick-or-treating! This spooky but safe experience features five unique stations, spaced out so as to avoid a crush of little ghouls and goblins. Other enhanced health and safety measures include more than 200 hand sanitizer locations, cashless payments, and consistent cleaning practices.
For additional information about LEGOLAND Florida Resort's Brick or Treat events, visit www.legoland.com/florida/things-to-do/seasonal-events/brick-or-treat/.
Rustle up a Spooky Good Time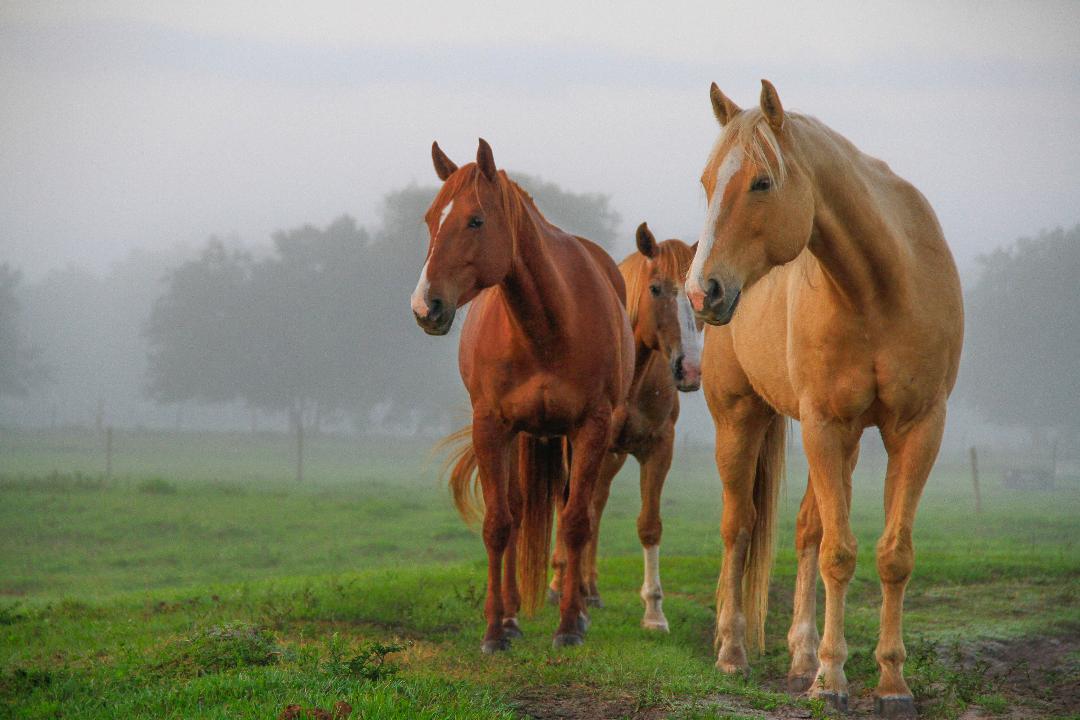 This Halloween, you don't have to just dress up as a cowboy – at River Ranch, you can experience the real thing while adding in some spookiness.
This authentic Florida dude ranch – the largest east of the Mississippi at 1,700 acres – is more than just horses and cattle. Nestled in an untouched corner of true Florida wilderness, Westgate River Ranch Resort & Rodeo features everything from swimming pools and a petting farm to golf, nature hikes, trap and skeet shooting, a full-service marina, and even swamp buggy rides. And no stay on a dude ranch is complete without enjoying the long-running Saturday night championship rodeo with trick riding, calf-roping and barrel racing.
Halloween is more than just an evening, it's a season at River Ranch! Hop on an eerie spooktacular hayride, enjoy a family fun night at the saloon, dress up for the Halloween Costume Party and pick and decorate your own pumpkin straight from the pumpkin patch at the petting farm. Other River Ranch traditions include a Halloween-themed cookie class, a Halloween pub crawl for the adults, and plenty of opportunities for trick or treating. As you can tell, River Ranch offers visitors plenty of ways to create their own Halloween memories.
But at River Ranch, how you stay is half the fun.
The real star of this hoedown is the accommodations. For those who prefer the night sky, overnight choices still include roughing-it tents. They also have space for RV camping, or you can even rent a platform to camp on. The Saddle Club cabins feature all the comforts of home. There is also a traditional guest lodge, or lodge cottages, or even a club rail car.
Or get your glamp on. Glamping – a portmanteau of glamorous and camping – blends the outdoors and the indoors, the thrill of camping without the rough-and-tumble some folk doesn't enjoy. So, if you want the romance of canvas walls minus the sore back from sleeping on the ground, this is for you, since all glamping options include off-the-ground platforms.
To start with, there are Luxe Teepees and Luxe Tents – but unlike those you stayed in with your scout troop, these teepees feature fireplaces, portable air conditioning units, microwaves, and minifridges as well as a full bathroom. For a bit more glamor, the Luxury Glamping Tents feature both a little more room and sleeping space as well as concierge service and a golf cart. For the ultimate not-roughing-it experience, hop on the Luxe Conestoga Wagon. Not only will you wake up amid grazing bison, but you'll also enjoy an all-inclusive package that includes a personal clamping concierge, a staff-lit campfire, unlimited ranch activities, and VIP rodeo access as well as a full range of amenities.
This isn't your great-great-grandparents wagon, that's for sure.
The tastiest ghost tour in town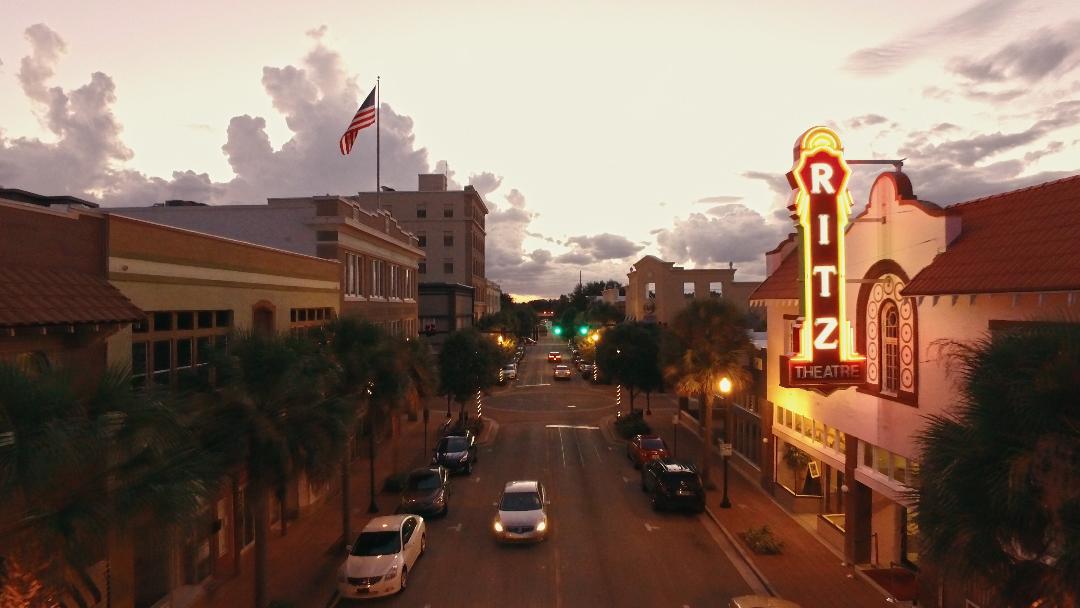 Polk County may be known as the Water Ski Capital of the World, but its epicenter is Winter Haven. Known as Central Florida's inland coast, Winter Haven's fabled Chain of Lakes – a series of 16 lakes connected by navigable canals – is just a portion of the 50 lakes within or bordering the city limits. Today, the thriving city offers everything a family vacation could want, from a theme park for the kids to a vibrant downtown for the adults – and a healthy portion of ghost stories.
But these ghosts are more like Boo Berry cereal than Candyman. For a sweeter take on a ghost tour, check out the one offered by Winter Haven Food Tours. The "Trick or Treat and Tasting Sweets" tour is offered Wednesdays through Saturdays. The roughly two-and-a-half-hour walking tour may start at noon, but make sure you have some room for dessert. Along the way, you'll stop into a few restaurants and bakeries as well as visit a Vaudeville theater, all while hearing about this haunted corner of Polk County. Some of the items on the menu include cupcakes, cookies, fried Florida Key Lime pie, Mexican Flan, and even Thai Custard with sticky rice.
Other food and drink are available for purchase, and reservations are required a day in advance.
From the haunted hills of Lake Wales to the Bricktacular spectacle of LEGOLAND Florida Resort, the roping and riding of the River Ranch rodeo to hauntingly sweet Winter Haven, there are plenty of reasons Polk County is known as Florida's Sweetest Spot. For more ideas of things to do and places to go while enjoying the best of the Sunshine State, visit www.visitcentralflorida.org.