It's time to get back to nature at Revolution Adventures.
ATV'S originated during WW 2 when Soichiro Honda (Honda's founder) was unable to use his car because of the gas shortages. He had the idea of attaching a small engine to his bicycle. You can only imagine the looks he got as he overtook other cyclists pedaling along the street. He fine-tuned the frame and added two additional wheels to the cycle and presented to the world the first ATV or Quad bike as it was first known.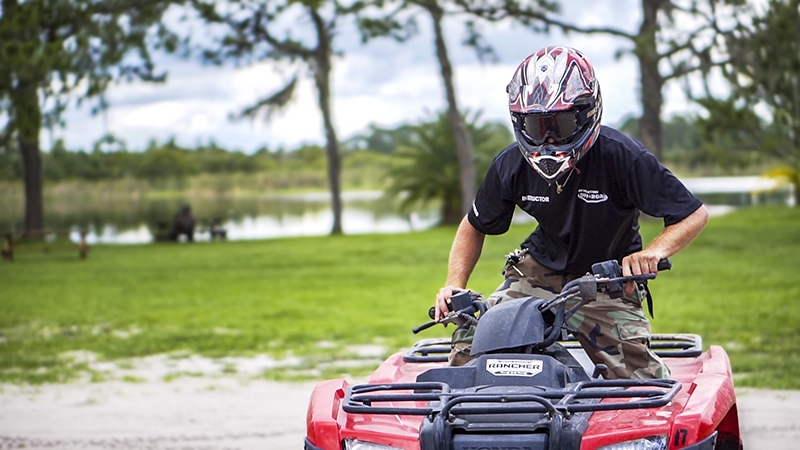 These days of course the ATV is a well-established vehicle and used in all walks of life from Game Wardens to Land surveyors and of course for Recreation. Revolution Adventures welcomed the latter use and has almost perfect trails suitable for both novice and seasoned riders alike set right amongst the largest theme parks in the world.
The idea of getting on an ATV for off-road fun in a safe and stunning setting right here in the heart of Orlando might seem a little crazy. However, after being turned upside down, spun around, thrilled, and spilled the ability to "Get Back to Nature" for a while seems like a luxurious way to spend a few hours.
So nestled close to the parks but away from the neon and dancing characters, you can experience the clean fresh air and the beauty of the real Floridian countryside. No lines to wait in just 230 acres of trails set around our private fishing lake guaranteed to recharge the senses and give those tired feet a rest as you experience a different type of thrill as you maneuver your vehicle around the property.
Our specialist guides will put you through the safety course then lead you over the trails whilst making sure you don't stray into any conservation areas. With luck, you will catch a glimpse of the local wildlife as it basks in the open spaces and wetlands. Call today to reserve your spot for "thrilling and chilling "