The Alligator Capital of the World's  Gators, Ghosts, and Goblins is back at Gatorland! It's a Spooky Fun For Everyone family-friendly event for 2020! The all-ages daytime Halloween event takes place weekends from Oct. 10 through November 1.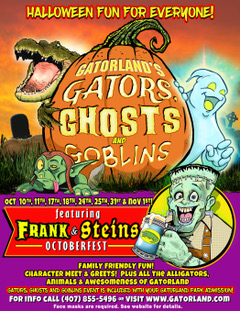 Come out in costume to this family-friendly Halloween event featuring Gatorland's famous Social Distancing Skunk Ape, costumed character meet and greets, multiple photo opportunities, a trick or treat trail from 11 a.m. to 2 p.m., and a spooky train ride! Enjoy music and fun at Frank and Stein's Octoberfest, from an "undead" polka band as well as German beer and food for purchase!
And there's even more, including costume contests, a variety of specialty vendors, games, and giveaways. All this fun and excitement is included with your regular park admission! Gatorland's "Gators, Ghosts, and Goblins takes place October 10 and 11, 17 and 18, 24 and 25, Oct. 31 and Nov. 1. Children and adults can wear family-friendly costumes if they like. Nothing scary or gory, please – Bubba and Cooter are easily spooked.
Face masks are required per Orange County Executive Order #2020-23 regarding COVID 19 and must be visible at all times. Please check our updated in park safety procedures HERE
Admission tickets are available at www.Gatorland.com or at Gatorland admissions. For additional information, call (407) 855-5496 or visit: www.Gatorland.com.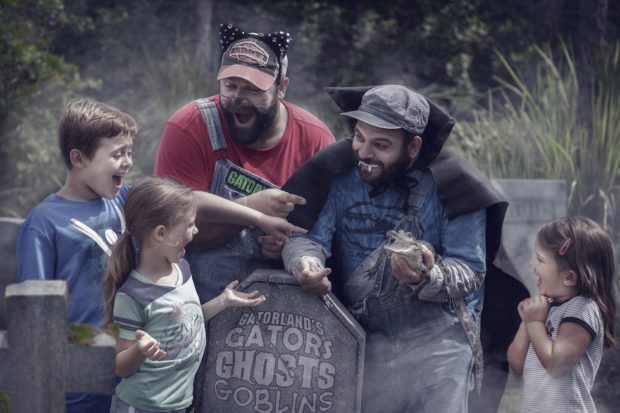 "We are beyond excited to give our guests a way to celebrate Halloween safely," said Mark McHugh, President, and CEO of Gatorland. "Our team has been working very hard to bring our Halloween event back. And of course, our very own Social Distancing Skunk Ape makes things fun and safe for everyone."
Gatorland is a 110-acre theme park combining Old Florida charm with exciting experiences, exhibits, and entertainment. Named Best Non-Theme Park Attraction by the readers of Orlando Magazine in the Best of ORL 2020 Reader Poll and the winner of four awards in Orlando Weekly's Best of Orlando® 2020 Reader Poll, including Best Place To Show People the Real Orlando, Best Local Big Shot Who's Not An Elected Official – Gatorland's Savannah Boan, Best Attraction That's Not A Theme Park, and Best Zip Line or Ropes Course, Gatorland's Screamin' Gator Zip Line. Orlando Weekly Staff Pick also named Gatorland Best New Theme Park Attraction this year for its Social Distancing Skunk Ape.
Originally opened as a roadside attraction in 1949, the park recently celebrated its 70th Anniversary. Today, it provides affordably-priced family fun featuring thousands of alligators and crocodiles, a breeding marsh with an observation tower, a free-flight aviary, nature walk, a petting zoo, educational wildlife programs, an award-winning gift shop, Florida's best train ride, Gator Gully Splash Park, on-site restaurant and one-of-a-kind shows including Gator Jumparoo, Alligators-Legends of the Swamp, and Up-close Encounters. Popular adventure experiences inside the park include the Screamin' Gator Zip Line and Stompin' Gator Off-Road Adventure.
For more Gatorland information, visit us online at www.gatorland.com, or call 800-393-JAWS.