Gatorland, the "Alligator Capital of the World," isn't only famous for alligators and crocodiles. Gatorland's Bird Rookery, created in 1991 as an alligator breeding marsh, attracts hundreds of wild birds every Spring. The unique habitat has grown into one of the largest and most accessible wading bird rookeries in Florida, providing a protected area for nesting, foraging and roosting for over 20 different species of wild birds, many of which are listed as Endangered or Species of Special Concern.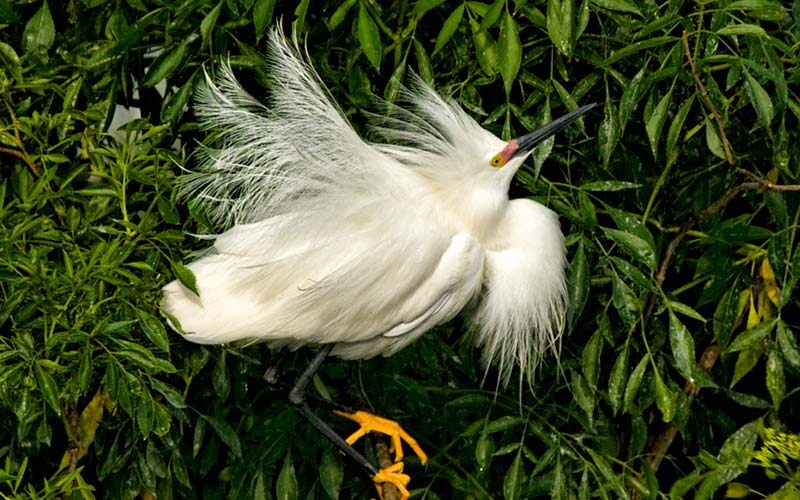 Gatorland has created a special photographer's pass program offered on 10 select dates in March, April, and May, allowing early morning entry at 7 am before the park opens to the general public at 10 a.m. Gatorland's boardwalks provide birders and photographers with close access to incredible birds to capture stunning photographs.
The 2022 Gatorland Photography Program dates are:
March 19
March 27
April 2
April 10
April 17
April 22
April 30
May 8
May 13
May 21
Reservations can be made online at a cost of $25 plus tax per person, per date and include early entry at 7 a.m. at Gatorland's South Entrance. Reservations are required at least 24 hours in advance. Availability is limited so booking right away is recommended. All tickets are date specific and non-transferable. No late stay is offered.
A Birding Seasonal Pass is also available for $125 plus tax per person. Reserve your tickets here. Separate dates for private group reservations of 15 people or more, based on availability and approval, can be arranged by contacting: joindomenico@gatorland.com.
For more information on Gatorland's Birding Season Photographer's Pass, call the Bird Line at (407) 855-5496, ext. 233 or email: dannyperich@gatorland.com.
Gatorland is a 110-acre theme park combining Old Florida charm with exciting experiences, exhibits, and entertainment. Originally opened as a roadside attraction in 1949, the park celebrated its 70th Anniversary in 2019. Today, it provides affordably-priced family fun featuring thousands of alligators and crocodiles, breeding marsh with observation tower, free-flight aviary, nature walk, petting zoo, educational wildlife programs, award-winning gift shop, Florida's best train ride, Gator Gully Splash Park, on-site restaurant, and one-of-a-kind shows including Gator Jumparoo, Alligators-Legends of the Swamp, and Up-close Encounters. Popular adventure experiences inside the park include the Screamin' Gator Zip Line and Stompin' Gator Off-Road Adventure.
For more Gatorland information, CLICK HERE or call 800-393-JAWS.