Come out to the "Alligator Capital of the World" and enjoy holiday festivities at Gatorland's Holiday Ho-Ho Ho-Down Christmas Event starting November 27, 28, and 29 and continuing December 5, 6, 12, 13, 19, and 20. The Gatorland Holiday Experience, included in the regular price of admission, features holiday displays, interactive characters, and holiday entertainment presented by the Gator Dans throughout the park, as well as Gatorland's Christmas Express rolling out of the station with a brand new original holiday story for all to hear, "Bubba's Christmas Crisis!"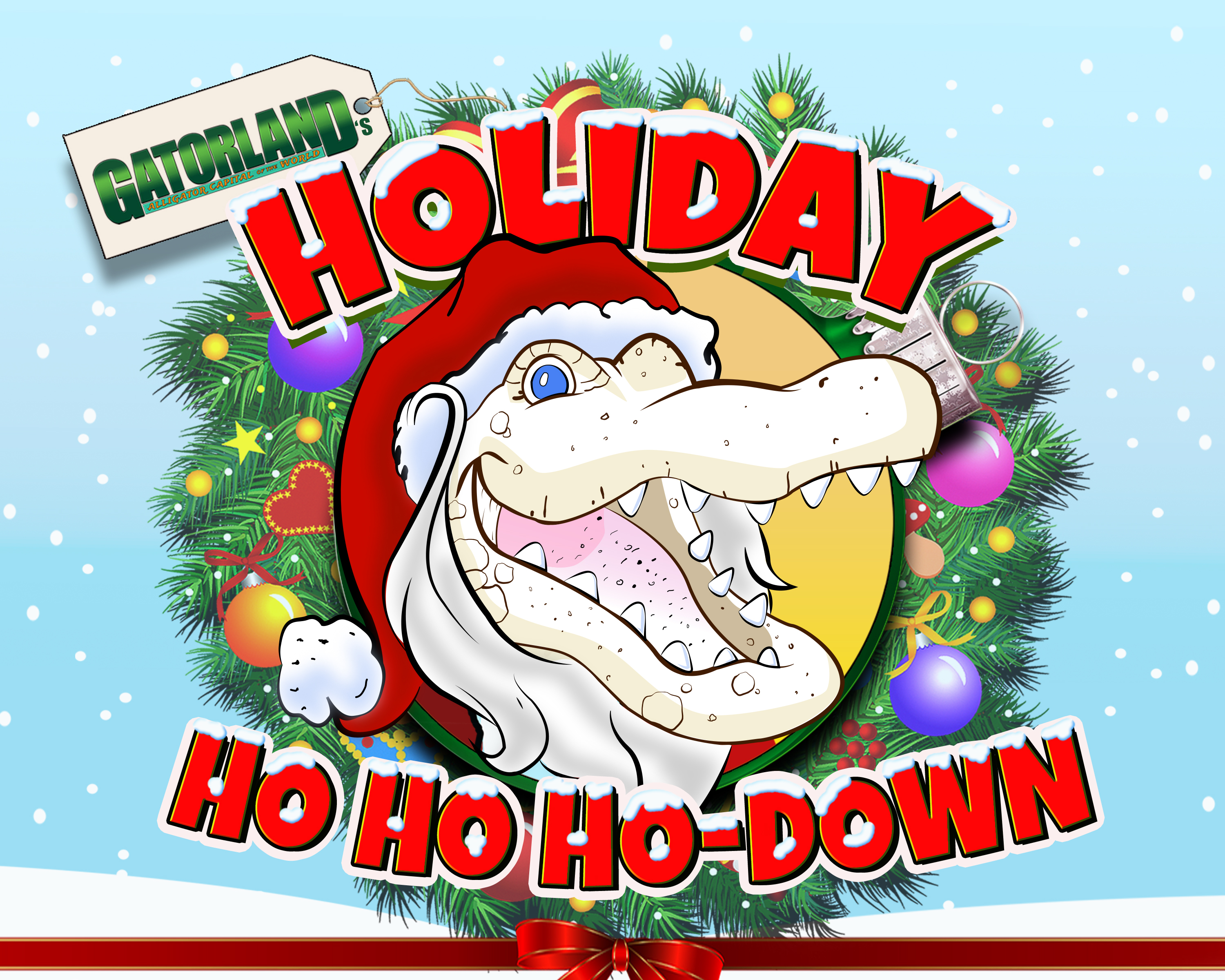 Specially themed areas for Gatorland's Ho Ho Ho-Down Christmas event feature the Oh No Snowmen, like most Northern visitors these snowbirds have underestimated the Florida heat. See them do their best to keep cool in the hot sun. There's also the Giant Gingerbread Village Trailer Park, Gatorland style. This Gingerbread RV Park features life-size Gingerbread characters, based on Gatorland's most popular personalities. And don't miss Gator Claws, Santa Claus for all the gators at Gatorland. See the Crocodilian of Christmas on his Festive Holiday Airboat. Plus Gatorland's Merry Elves will be strolling around the park.
"We are so excited to be presenting our very first-holiday event this year. It's another great way for us to offer new experiences for people to come out and have fun with us in a very safe environment," said Mark McHugh, President and CEO of Gatorland. Social Distancing Skunk Ape will also be on hand, along with social distancing and cleaning protocol all around the park. Facial coverings required for admission. Holiday food items will be available for purchase.
Gatorland Annual Pass Holders receive 20 percent off merchandise all year round. For the first time this year, Gatorland will be offering free shipping with the purchase of $50 or more online through its website. The Gatorland Gift Shop is open daily from 10 a.m. to 5 pm. Admission to the park is not required to visit the gift shop.
About Gatorland
Gatorland is a 110-acre theme park combining Old Florida charm with exciting experiences, exhibits, and entertainment. Named Best Non-Theme Park Attraction by the readers of Orlando Magazine in the Best of ORL 2020 Reader Poll and the winner of four awards in Orlando Weekly's Best of Orlando® 2020 Reader Poll, including Best Place To Show People the Real Orlando, Best Local Big Shot Who's Not An Elected Official – Gatorland's Savannah Boan, Best Attraction That's Not A Theme Park, and Best Zip Line or Ropes Course, Gatorland's Screamin' Gator Zip Line. Orlando Weekly Staff Pick also named Gatorland Best New Theme Park Attraction this year for its Social Distancing Skunk Ape.
Originally opened as a roadside attraction in 1949, the park recently celebrated its 70th Anniversary. Today, it provides affordably-priced family fun featuring thousands of alligators and crocodiles, breeding marsh with observation tower, free-flight aviary, nature walk, petting zoo, educational wildlife programs, award-winning gift shop, Florida's best train ride, Gator Gully Splash Park, on-site restaurant and one-of-a-kind show including Gator Jumparoo, Alligators-Legends of the Swamp, and Up-close Encounters. Popular adventure experiences inside the park include the Screamin' Gator Zip Line and Stompin' Gator Off-Road Adventure.
Whether it's Gatorland's Holiday Ho-Ho Ho-Down Christmas Event or just a fun day at the park, it is a MUST SEE during your visit to Central Florida.