What's over 12-feet tall, splashes through gator pits and isn't afraid of a little swamp mud? Now open is the brand new Stompin' Gator Off-Road Adventure ride and Gator Joe's Adventure Outpost at Gatorland, the "Alligator Capital of the World." The Ribbon Cutting Ceremony and Grand Opening Event officially marked the completion of the park's $2.2 million park expansion, the largest since opening in 1949.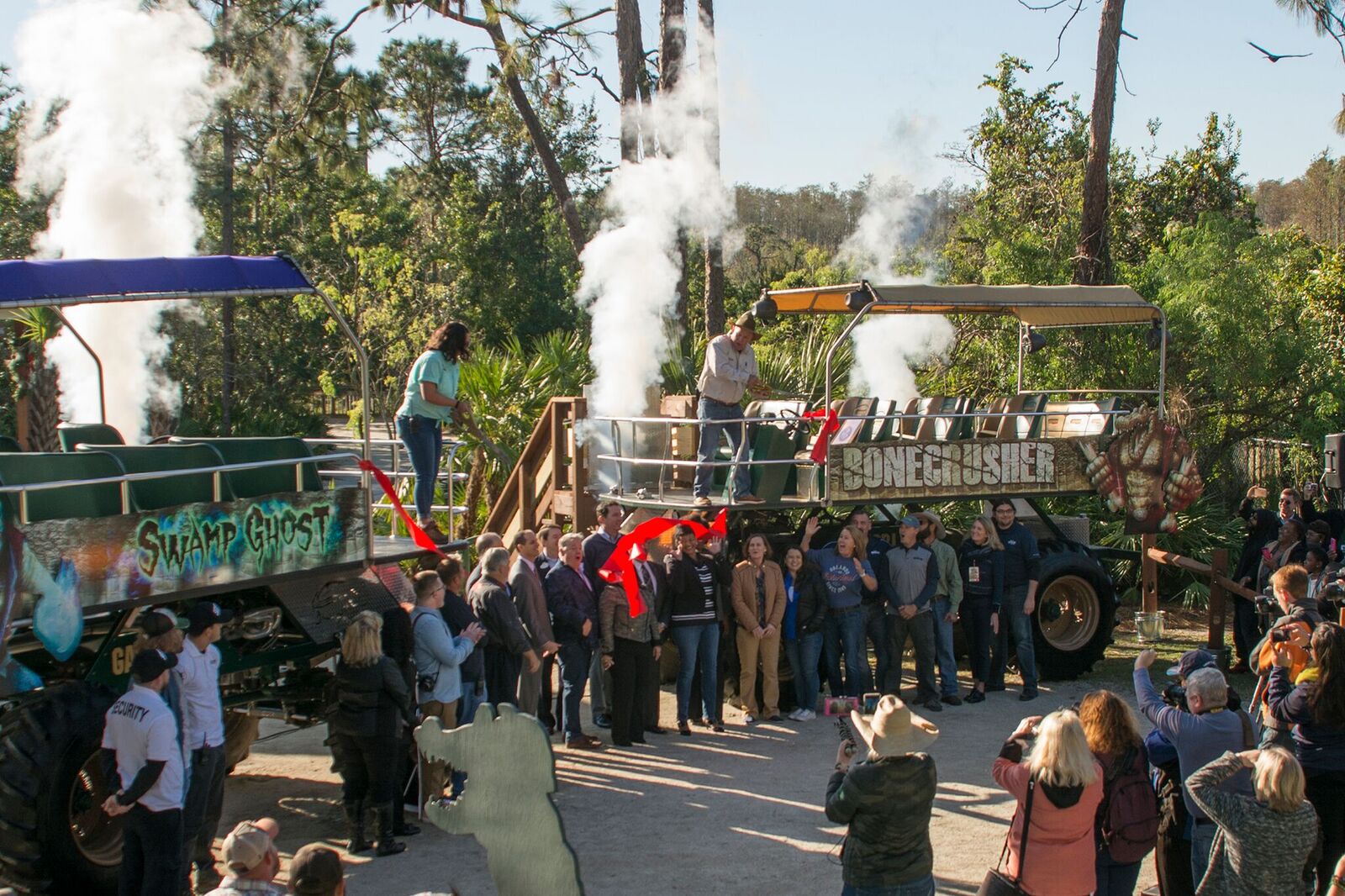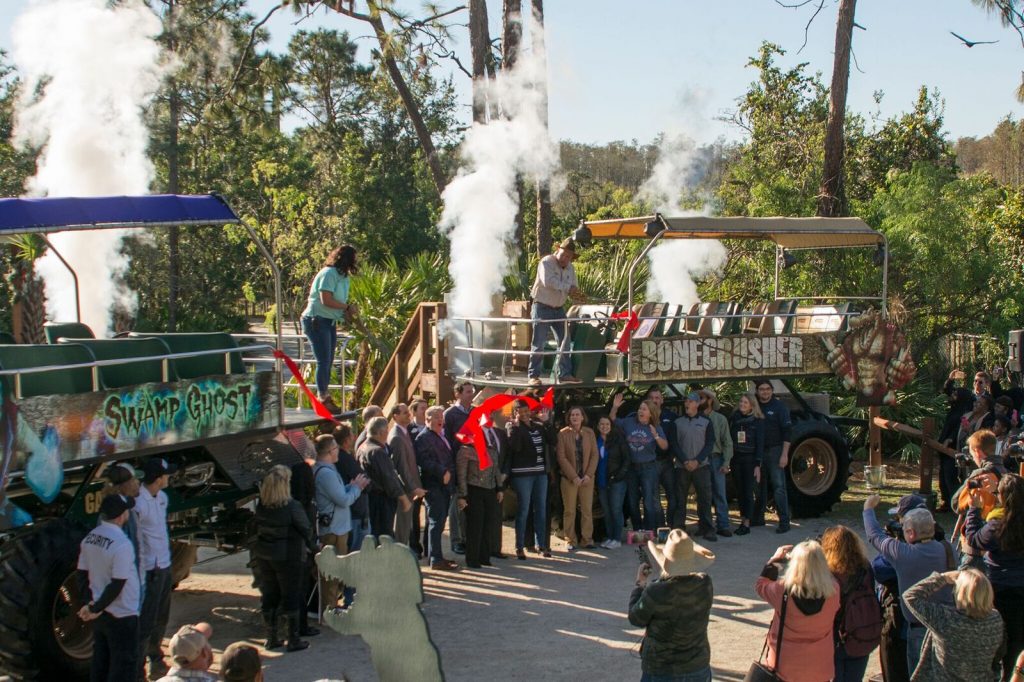 Gatorland guests can now board one of three, 12-foot-high custom-made, off-road monster vehicles for a 15-minute rugged and hilarious adventure like no other theme park ride anywhere. This exciting ride is chocked full of wacky new Gatorland characters, singing tour guides, swampy adventure, and, of course, lots of alligators. Each vehicle is specially branded and named after iconic real alligators and crocodiles at Gatorland, including Bonecrusher, Cannibal Jake, and Swamp Ghost.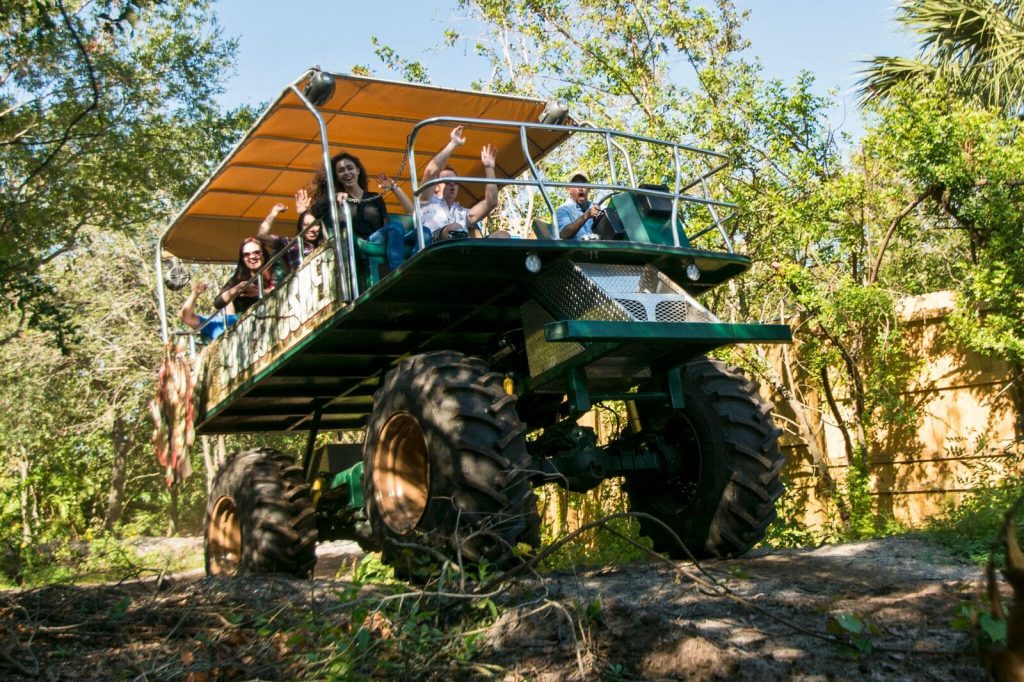 Stompin' Gator Off-Road Adventure's story line is a journey into the world of Gator Gardens, a fictional rival park that takes over a swamp buggy business from a new Gatorland character named Swampy Sal. Tour guides take riders off-road for a very different adventure of unexpected twists and turns, including an alligator graveyard and a plunge through a pond of hungry alligators. A comedic plot played out between monster vehicle drivers and on-board personal guides is played out in the wild search for Swampy Sal.
"This is great entertainment and loads of fun," said Gatorland President & CEO Mark McHugh. "Our new ride is a perfect addition to all our featured adventure activities throughout the park. The fact is, there's not another ride like this anywhere. We showcase beautiful Florida swamps, piney woods, and alligators with a rough, bouncy ride featuring our very own style of country humor. This is a great ride."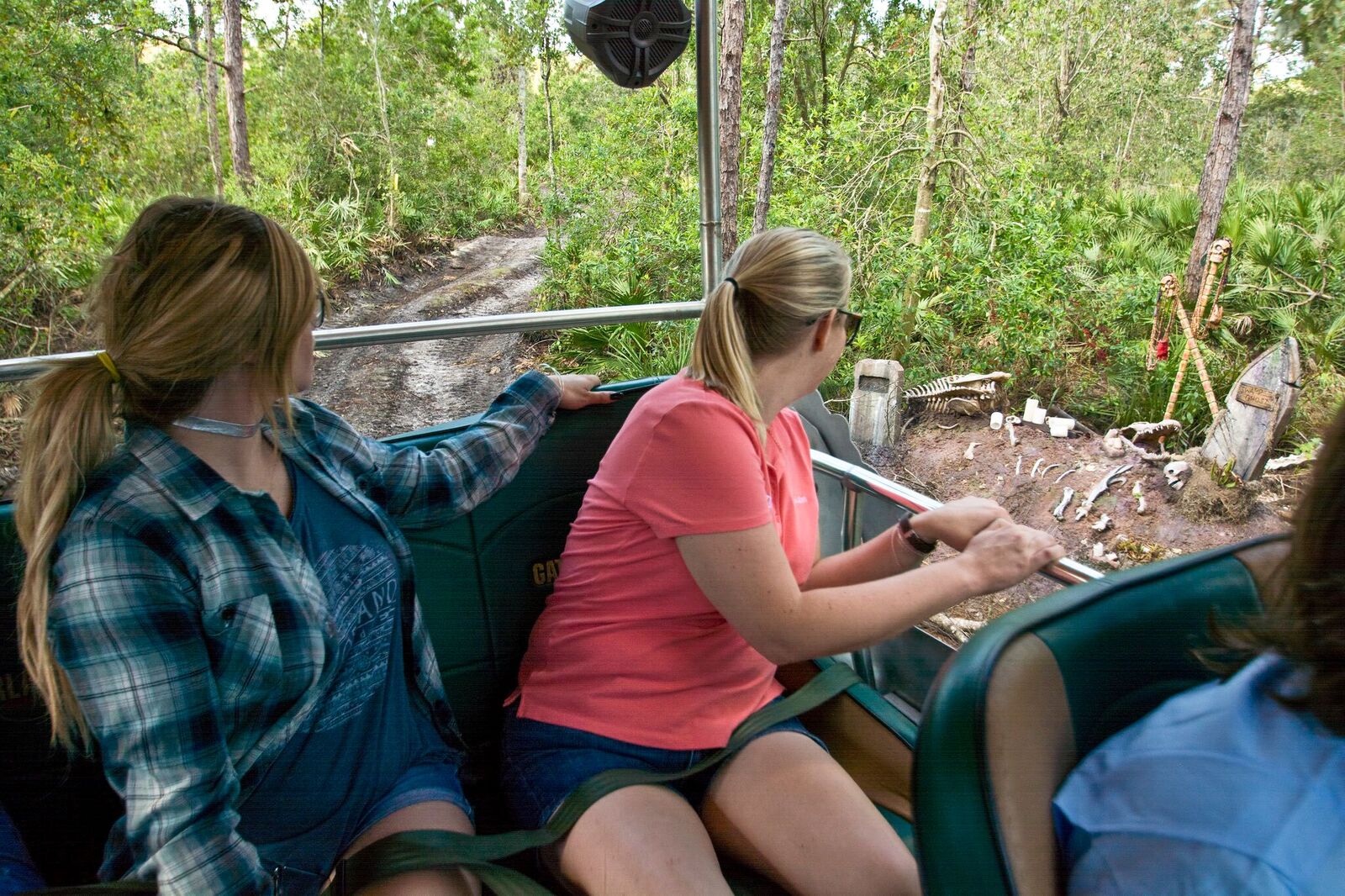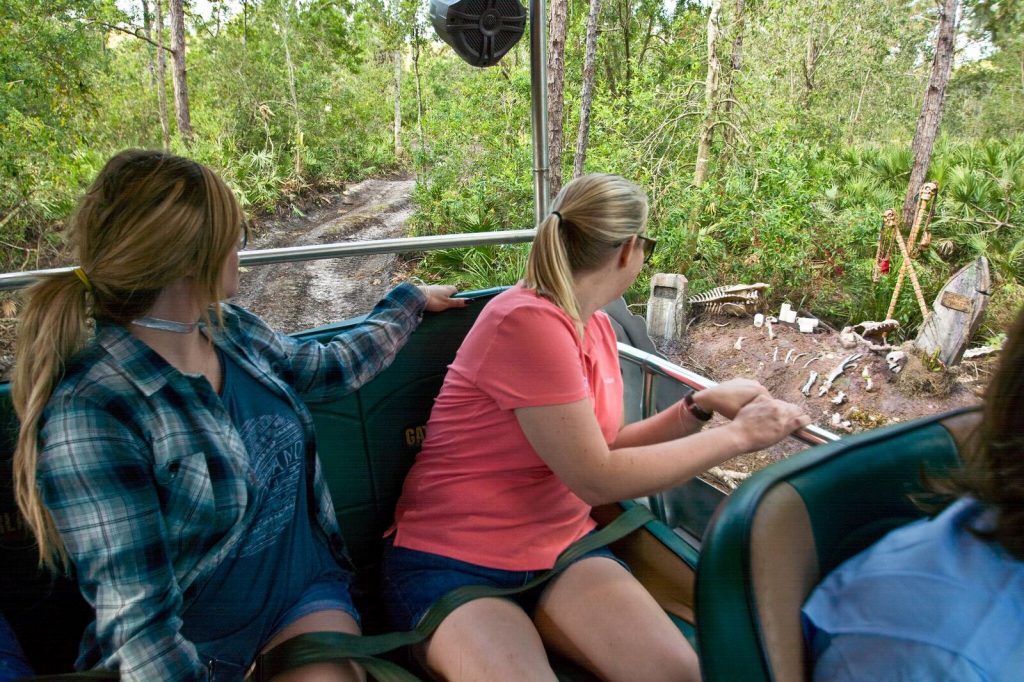 Stompin' Gator Off-Road Adventure vehicles depart from the brand new Gator Joe's Adventure Outpost building, home base for all of Gatorland's add-on adventures such as Screamin' Gator Zip Line, Gator Night Shine, Adventure Hour, Trainer For The Day and more. It also serves as a second gift shop for the park, selling Stompin' Gator Off-Road Adventure exclusive merchandise, snacks and beverages.
Gator Joe's Adventure Outpost is named after Ernest "Gator Joe" Brown, who was hired by Owen Godwin Sr., Gatorland's founder, to work at the park. Brown was known all over Central Florida, especially throughout Kissimmee and Osceola County, as Gator Joe because of his great love and expertise with alligators. Gator Joe raised thousands and thousands of baby gators at Gatorland. He had a special knack for getting them to eat and grown quickly. When he hollered "GATOR! GATOR BOY!" across the lakes, every gator would swim as fast as they could to meet him. Gator Joe worked at Gatorland from 1958 until shortly before he passed away in 2013. For almost 60 years, Gator Joe and his family's influence on Gatorland has run long and deep, with some of his family still working at Gatorland today.
Guest can purchase Stompin' Gator Off-Road Adventure rides as an add on to regular park admission. Minimum height of 36 inches is required to ride. Tickets can be purchased at the park admission gate or at Gator Joe's Adventure Outpost.
Gatorland is a 100-acre theme park combining Old Florida charm with exciting experiences, exhibits, and entertainment. The park originally opened as a roadside attraction in 1949. Today, it provides affordably-priced family fun featuring thousands of alligators and crocodiles, breeding marsh with observation tower, free-flight aviary, nature walk, petting zoo, educational wildlife programs, award-winning gift shop, Florida's best train ride, Gator Gully Splash Park, on-site restaurant and one- of-a-kind shows including Gator Wrestlin', Gator Jumparoo, and Up-close Encounters.
Other not to be missed features are the Screamin' Gator Zip Line with over 1,200 feet of high flying thrills, five intense zip lines, and a massive 150-foot suspension bridge, and the Trainer For A Day Program giving a personalized and exclusive glimpse into what it takes to be able to work with and around dangerous animals, with the grand finale of working with the Gatorland trainer in the Gator Wrestling Arena
Seating 12 passengers plus a driver, these custom gator-themed, monster buggies will take you on a wild ride like you've never had before, literally immersed in Florida's natural beauty.
Stompin' Gator Off-Road Adventure joins a host of separately-ticketed adventures that are offered for thrill-seekers at the park, including creamin' Gator Zip Line, Adventure Hour, Gator Night Shine and Trainer For The Day.
[ult_buttons btn_title="BUY TICKETS" btn_link="url:https%3A%2F%2Fwww.orlandoattractions.com%2Forlandoattractiontickets%2F|title:Book%20Now|target:%20_blank|" btn_title_color="#ffffff" btn_bg_color="#e524c2″ btn_hover="ubtn-top-bg" btn_bg_color_hover="#c0f1f7″ btn_title_color_hover="#358ee8″ icon="none" icon_size="32″ btn_icon_pos="ubtn-sep-icon-at-left" btn_border_style="solid" btn_color_border="#d023e0″ btn_color_border_hover="#26b9de" btn_border_size="1″ btn_radius="5″ btn_font_family="font_family:Nunito|font_call:Nunito|variant:700″ btn_font_style="font-weight:700;"]