Fall into a season full of fun, festivals, and outdoor adventures in Tampa Bay. See the return of live performances to the Straz Center, stroll a trendy weekend market full of local favorites, or have a classic pumpkin patch experience. It's time to roll down the windows, get outside, and enjoy the beautiful weather while taking in the Bay area's most fall-friendly seasonal activities. Check out these fun, Fall events in Tampa.
Fall Essentials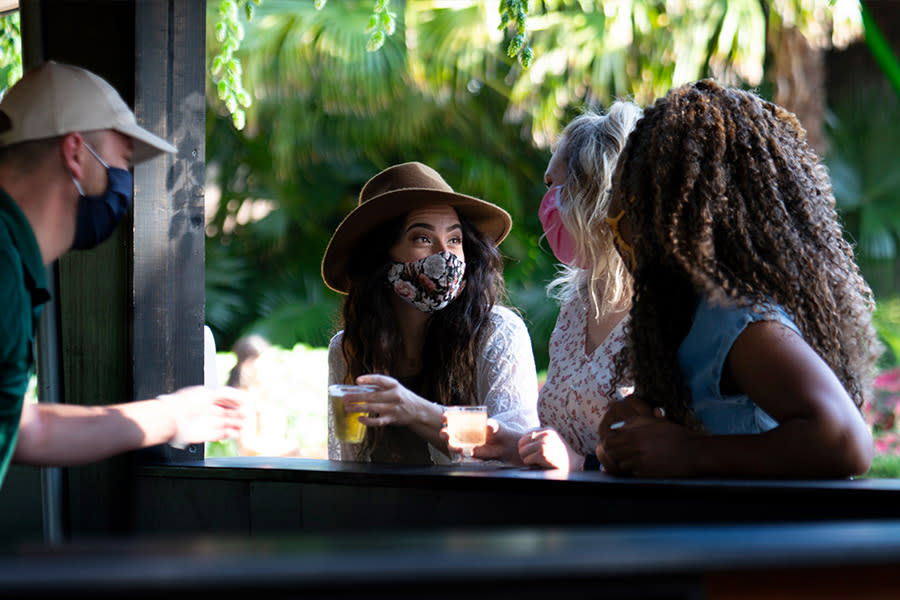 BIER FEST RETURNS
Bier Fest at Busch Gardens Tampa Bay returns for its third year. Enjoy the outdoor food and beverage festival, while taking in the flavors of fall from 16 cabins spread out across the park. From craft brews and specialty cocktails to delicious beer-inspired dish pairings, guests can indulge in seasonal delights every Saturday and Sunday from Sept. 12 through Nov. 15.
ESSENTIALS MARKET
The Essentials Market debuts in Hyde Park Village with locally sourced favorites! Make your way through six city blocks of high-end retailers and local boutiques at the popular outdoor shopping plaza. The Essentials Market takes place on the first Sunday of every month, from 10 a.m. – 3:00 p.m., and is an appointment-only event to allow for added space to shop and stroll.
FALL PERFORMANCES
From eclectic one-man shows to a complete run-through of Shakespeare's 37 plays, and even a wicked outdoor concert with Opera Tampa, see it all this fall at the Straz Center for the Performing Arts. This year's fall lineup includes outdoor performances from the new Riverwalk Stage, as well as intimate experiences in the smaller Jaeb Theatre.
SATURDAY MARKET
Head to Tampa Bay's historic Latin district every Saturday beginning Sept. 12 for a date with some of the neighborhoods most tasty treats, fine cigars, candles, coffee, and other handmade items designed by local artists. Experience the family-friendly Saturday Market the "Tampa Bay way" and take the free TECO Streetcar from downtown to Ybor City.
SAVE THE SEAS
Now until October 31, enjoy extended hours at The Florida Aquarium, open to 9 p.m. on Saturdays through October. Also, in honor of the aquarium's 25th anniversary, see Washed Ashore – Art to Save the Seas – until Feb. 2021.
PUMPKIN PATCHES
Pumpkin Patches are THE fun, Fall event in Tampa. There are two great ones to search out. Hyde Park Village Pumpkin Patch (Oct. 1 – Oct. 31) and HorsePower for Kids Fall Festival Fundraiser (Weekends, Oct. 3 – Nov. 2)
Halloween Screams

HOWL-O-SCREAM
Experience a Halloween event unlike any other when Howl-O-Scream returns to Busch Gardens® Tampa Bay for 18 frightful nights. Navigate your way through 335 acres of open-air terrors when the entire park turns into fright-filled scare zones after dark. Enjoy heart-pounding thrill rides in the dark. Plus, see the fan-favorite Fiends show outdoors on its largest stage ever.
CREATURES OF THE NIGHT
For family frights and spooky scares for all ages, Tampa Bay's number one family-friendly Halloween event, Creatures of the Night, returns to ZooTampa at Lowry Park with a camp-themed event. For 11 eerie nights, hear twisted tales, party with pirates, and enjoy devilish delights. Children ages 12 and under are invited to wear their most spooktacular attire for the festivities on select nights from Oct. 2 through 31.
HAUNTED ZOMBIE CRUISE
Join the crew of the Pirate Ship Lost Pearl as we storm aboard the S.S. American Victory to rescue the city against the infected zombie stowaways….Operation Decon! Lost Pearl's pirate crew will prepare passengers for operation Decon by injecting a complimentary antidote cocktail in all guests. The haunted zombie cruise departs from the Tampa Convention Center on a 30-minute journey to the American Victory Ship. Admission includes 30-minute haunted pirate cruise each way, admission to American Victory's UNDEAD in the Water Operation Decon, complimentary cocktail, return trip to the Convention Center and option to upgrade ticket for same-night accesses aboard Pirate Water Taxi's hop on, hop off tour.
HALLOWEEN SPREE
Saturday, October 24 from 4-7 pm. Show off your most creative costume at Halloween Spree! Bring your little ghouls and goblins to the Glazer Children's Museum for safe, indoor Halloween fun including costume parades, spooking science experiments, the annual staff Pumpkin Competition, and more!
UNDEAD IN THE WATER
Climb aboard the S/S American Victory Ship for a night of nautical terrors with UNDead in the Water. Navigate your way to safety through the chilling hallways, eerie engine room, and multiple decks of the WWII cargo ship originally constructed in 1945. Armed only with nerves of steel and a will to survive, will you be able to remain calm and avoid the zombie stowaways to make your way to safety? UNDead in the Water is a ticketed event taking place on weekends during the October.
HAUNTED RIVER TOUR
For a frighteningly good time on the water, hop aboard a local favorite, the Pirate Water Taxi. With tours set to sail weekends in October, the water taxi transforms into a Haunted River Tour full of scary stories from Tampa Bay's past and other ghostly tales fit for the whole family.
HALLOWEEN BOAT PARADE
See one of Tampa Bay's newest Halloween traditions when the Halloween Boat Parade makes its way through downtown Tampa. Boats will be decorated in dazzling displays of lights with crews fully in costume as onlookers watch from the Tampa Riverwalk. The Halloween Boat Parade, presented by the National Pediatric Cancer Foundation and Friends of the Riverwalk, takes place on Saturday, Oct. 24 from 7 to 9:00 p.m.
HALLOWEEN HUNT
October 17 – November 1. New this year is a family-friendly not-too-spooky virtual mobile phone-based scavenger hunt along the Tampa Riverwalk. Individuals and teams will compete to be the first place HalloWinner! Solve riddles, puzzles, tasks and explore the beautiful Riverwalk in this safe, outdoor Halloween activity that is fun for all ages.
YBOR'S HAUNTED HISTORY
With mobsters, bandits and buccaneers, there's no shortage of stories to be told about the most notorious residents of Ybor City. Along the way you'll encounter a number of the neighborhood's most well-documented paranormal sites while learning about the Cigar City hay day. You won't believe some of the stories you'll be told before ending your tour with a stop the iconic Cuban Club to investigate top-to-bottom for any otherworldly visitors.
SENSORY-FRIENDLY SPREE
Sunday, October 25 from 10am-1pm. Show off your most creative costume at this sensory-friendly Halloween event. Enjoy the spooky delights of the Glazer Children's Museum with fewer crowds and lights and sounds turned down. Enjoy safe, indoor Halloween fun including costume parades, spooking science experiments, the annual staff Pumpkin Competition, and more!
SESAME ST. KIDS' WEEKEND
Enjoy contact-free candy distribution plus an outdoor Sesame Street Halloween Show every Saturday and Sunday from Oct. 3 – Nov. 1. Children are invited to dress up in their Halloween costumes to enjoy traditional trick-or-treating at candy stations spread out throughout the park's spacious, open play area.
After filling their bags with candy, families can enjoy Cookie Decorating with the Cookie Monster and physically distant photo ops with their favorite Sesame Street Characters dressed up in their finest Halloween attire. A great fun, Fall event in Tampa for the whole family.
BRICK OR TREAT
Weekends this October, families will experience the spooky, kooky fun of one of the only kid-friendly Halloween events in Central Florida at Brick or Treat at LEGOLAND® Florida Resort! Enjoy safe, outdoor, contactless trick-or-treating with plenty of candy, seasonal shows, and exclusive LEGO® monsters—and, it's all included in general admission.
NIGHTMARE ON FRANKLIN ST.
Join the Tampa Theatre for their seventh-annual (mostly virtual) Halloween horror fest, A Nightmare on Franklin Street. While the Tampa Theatre is still not ready to welcome full crowds, they are packing their virtual cinema screening room full of new-release horror films, locally produced thrillers, and cult favorites from the vault all month long!
By appointment only, find out the history behind what led the Tampa Theatre to be known as one of the most haunted buildings in town with a Private Ghost Tour (Oct. 1 – Oct. 31).
AN EERIE EVENING AT THE TAMPA BAY HOTEL
See the museum in the moonlight as you've never seen it before and try to solve a murder mystery before the next victim falls! The former Tampa Bay Hotel has been a silent witness to countless individuals over the past 129 years. Who knows how many crossed the threshold with malice in their hearts? Visitors to An Eerie Evening will find themselves transported back to the 1890s, shortly after a terrible crime has been committed. Evidence and clues are scattered throughout the rooms and guests must strive to put the pieces together in time to prevent the next attack.
An Eerie Evening at the Tampa Bay Hotel will be held on October 23, 24, and 30, 2020 from 6-9:30 p.m. Complete with period lighting and candles to set the stage for a night of intrigue as visitors travel to a time long past.
GUPPYWEEN LITE
Celebrate Halloween at The Florida Aquarium. Put on your costumes and visit your favorite sea creatures from the otters to the sharks and beyond. Children (3-11) in costume will receive a Halloween surprise, while supplies last. Come find the weird and wonderful side of The Florida Aquarium. Costumes must be family-friendly. Saturday, October 31 – 9:30 A.M. – 9:00 P.M. and Sunday, November 1 – 9:30 A.M. – 5:00 P.M..
Check out links to all the fun, Fall events in Tampa here.