They say the best things in life are free. Well, sensational sunsets, waterfront views, a scenic drive, a picnic in the park with perfect weather are all things that come at no extra charge when you're in Tampa Bay. There's plenty of ways to play without breaking the bank. Here are some favorite free ways to play in Tampa Bay.
Catch a Florida sunset
Priceless views everyone can enjoy
Sometimes the best things in life really are free. Located where the Hillsborough River meets Tampa Bay waters, downtown offers incredible sunset views all year long. Watch from the rooftops of Heights Public Market at M. Bird or from SIX at the JW Marriott Tampa Water Street. Across the river from downtown, American Social and Jackson's Bistro offer stunning views of the sunset and waterfront skyline. Head over to Rocky Point and visit Rox, located atop the CURRENT Hotel, or watch from the shores at Whiskey Joe's, Ben T. Davis Beach, or the Courtney Campbell Trail.
Meet the Manatees

Sea cows and Tampa Bay wildlife
See the alligators and turtles sunbathe along the Hillsborough River, watch the birds from the 9.5-mile scenic trail and nature preserve at the Grand Hyatt Tampa Bay, or come face-to-face with the Florida manatees from November through April at the TECO Manatee Viewing Center (MVC). The MVC is free to visit and also includes other outdoor activities like a nature trails and observation tower.
Take The TECO Streetcar

The most local way to get from Downtown to Ybor City.
Free, convenient, and available 7 days a week. Easily maneuver from downtown to the Channel District, to historic Ybor City on the popular TECO Line Streetcar! With stops at 11 covered, wheelchair-accessible stations every 15-minutes, the streetcar system is a unique, free attraction that replicates the early streetcar line that was an essential part of everyday life and a great free way to play Tampa Bay.
No Charge to have fun at these Annual Tampa Bay Events

Free Annual Events in Tampa Bay
Tampa Bay is no stranger to big events with its major sports teams and being the host city to events like Super Bowl LV, Wrestlemania 37, College Football Playoffs and NCAA National Championships. But did you know about these other annual events that are always free to attend? Look out for Gasparilla Season and Pirate Invasion, the Tampa Pride parade, Winter Village in Curtis Hixon Waterfront Park, The Cuban Sandwich Festival in Ybor City, Tampa Riverfest, and other events all-year-long on our events calendar.
Take a Stroll

Where to Walk in Tampa Bay
Walk, run, bike, or blade on Bayshore Boulevard, one of the most popular paths in the world. Known for more than being a beautiful road, Bayshore has the record for the longest continuous sidewalk in the U.S, spanning more than five miles long of unbroken concrete. See incredible views on either side of the 10-foot path with Tampa Bay and the downtown skyline to one side and some of the area's most impressive real estate to the other.
Lining the Hillsborough River and the Garrison Channel is the Tampa Riverwalk, another must-take stroll in Tampa Bay. This 2.6-mile-long path links some of Tampa Bay's most popular restaurants, parks, and cultural centers, and is perfect for watching dolphins, paddleboarders, kayakers, and the occasional manatee.
Downtown is home to some of Tampa Bay's top sights and attractions. See an intriguing blend of history and culture mixed with modern architecture as the University of Tampa and H.B. Plant Museum sit alongside the beautiful, modern Tampa Museum of Art, Straz Center for the Performing Arts, and downtown skyscrapers. Discover authentic Tampa-inspired works of art along the way and take a self-tour of downtown's popular murals. Some great free ways to play in Tampa Bay all in the beautiful sunshine.
Learn Something New

Free Museums and Trivia Night in Tampa Bay
Learn something new and test your knowledge with these free educational outings in Tampa Bay. Take a tour of the Tampa Firefighters Museum. This local historic landmark is free to tour when you book an appointment and offers exhibits displaying the history and usage of the former firehouse along with an interactive children's area. Free admission is offered at The Glazer Children's Museum every first Tuesday of every month, offering children a place to explore and learn with rotating interactive exhibits and workshops.
Put your knowledge to the test with Trivia at Sparkman Wharf and Hyde Park Village. Every second and fourth Tuesday of the month, Sparkman Wharf hosts a free Trivia Night on the lawn. Play for the chance to win prizes and for discounted drinks at Fermented Reality Biergarten. Irish 31, located within Hyde Park Village, also hosts a Trivia every Tuesday night. It's free to play, and you might even walk away with some cash prizes.
Find Your Zen with Free Yoga

Finding your Zen for FREE
Looking to get into yoga? Tampa Bay offers several free options ranging from relaxing and rejuvenating to full-body workouts. The morning yoga class at Julian B. Lane Riverfront Park is the perfect way to start your day with sessions held every Monday. No need to worry if this is your first time, all levels are welcome.
For those looking for different classes, the Tampa Downtown Partnership hosts a wide variety of free workouts at Curtis Hixon Waterfront Park throughout the week. Classes include a total body, Bar Method workout, Zumba, an anatomical movement study style workout, and of course, yoga. Armature Works also hosts a multitude of yoga classes including Weekday Yoga every 2nd and 4th Tuesday of the month, Yoga on the Lawn twice a month, and a Bar Method class every third Thursday of the month. And on Wednesdays, Hyde Park Village offers free outdoor group workouts that change every week in style and intensity. The Tampa Parks & Recreation Department also hosts an outdoor yoga flow every Thursday evening on the beautiful Tampa Riverwalk. Some of the fittest free ways to play in Tampa Bay.
More than just a walk in the park

Tampa Bay Parks and Florida State Parks
Take in the Florida sun and play like a kid again when you visit one of Tampa Bay's award-winning parks. See a free concert with the free 'Rock the Park' series at Curtis Hixon Waterfront Park. Located in the heart of downtown next to the Glazer Children's Museum, this park is also a hub for seasonal events like the annual Winter Village.
Just across the Hillsborough River, the stunning 25-acre Julian B. Lane Riverfront Park has everything you need for a perfect day in the park from splash pads and playgrounds to tons of green space, and even a floating dock for kayaks and paddleboarders. Julian B. Lane is also the home to a number of annual festivals like the Tampa Bay Margarita Festival and Pig Jig.
You won't have to look far to find other great parks to enjoy the fresh air in Tampa Bay. Next to the popular restaurant, Ulele, find the NEW Water Works Riverfront Park, complete with a dog park, covered and shaded picnic areas, and a playground with splash pads for the kids. Even receive a free history lesson when you visit Veterans Memorial Park, Centennial Park in Historic Ybor City, or Perry Harvey Sr. Park near downtown – which highlights the lasting contributions of the African American community in Tampa.
For a real outdoor adventure, check out two amazing Florida State Parks located in Hillsborough County. Take on over 20-miles of high-speed single-track and miles of another terrain for mountain biking at Alafia River State Park. And at Hillsborough River State Park, trek the 5.8-mile trail system or take on the class-II rapids, which are a rarity in Florida.
Hang out at a Food-Hall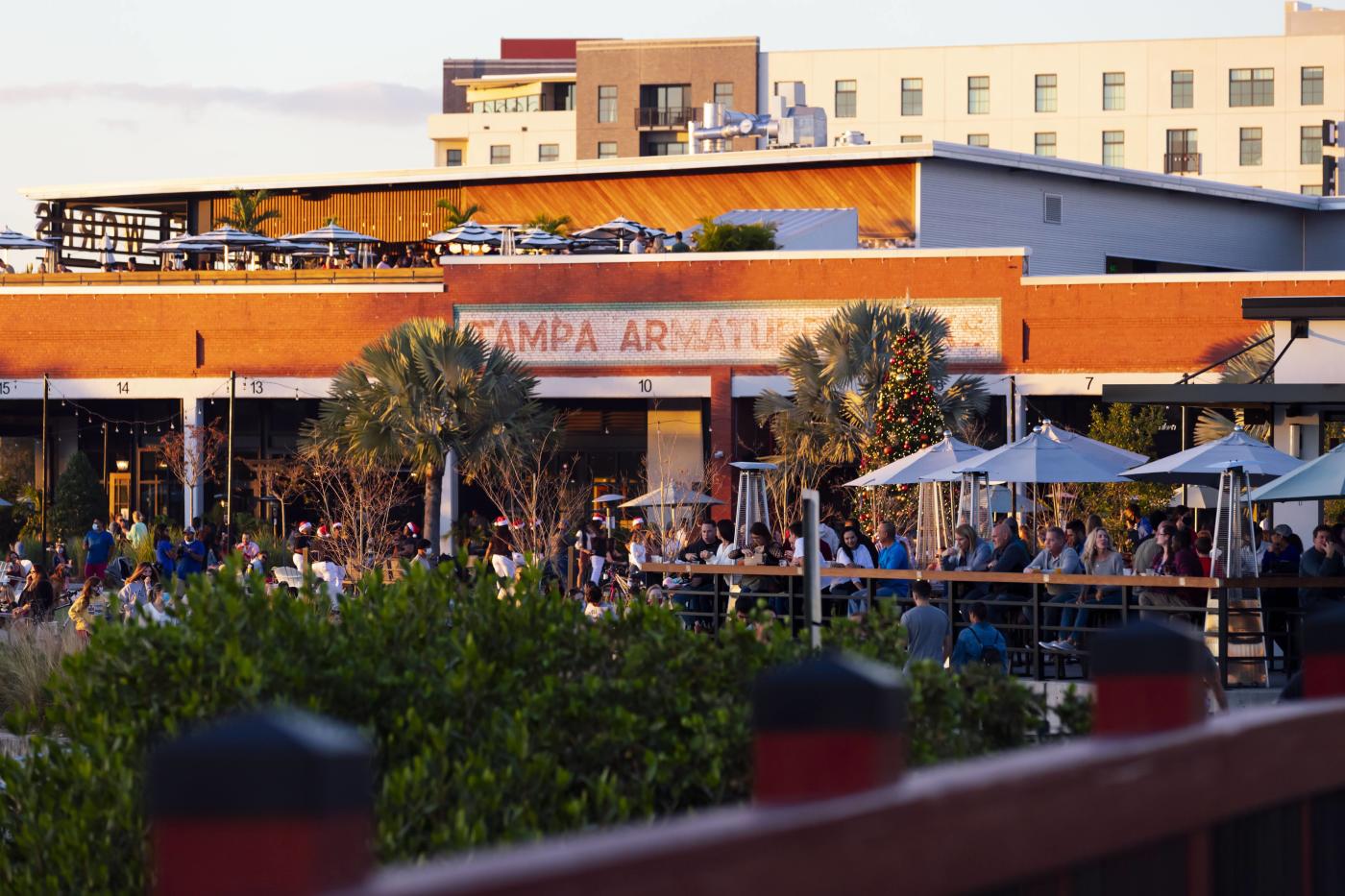 Dozens of Food Options and Things to Do
Armature Works
Located at the North end of the Tampa Riverwalk is Armature Works at the Heights Public Market. With a large, waterfront lawn and a multitude of restaurants and bars, Armature Works has become one of the most popular places to go in Tampa Bay. Whether you sip on sunset drinks at M.Bird or relax on their lawn, you will have unobstructed views of paddleboarders, kayakers, and sunsets on the Hillsborough River. At Armature you can relax with family and friends and even partake in a game of chess their giant outdoor chessboard. Not only do they offer free weekly yoga classes and host local markets, but they also hold a free run club every 1st Wednesday of the week.
Sparkman Wharf
The colorful and lively atmosphere at Sparkman Wharf makes it the perfect place to hang out with family or friends. While exploring the Wharf, you will find plenty of picturesque backdrops and seating, perfect for enjoying the waterfront views. This dining and entertainment hub regularly holds free events including live music on weekends, watch parties and movies on the lawn.
Visit a Local Market

Shop Small. Shop Local.
Check out a local market to get a taste of Tampa Bay-inspired goods and to connect with community vendors and artisans. The Ybor City Saturday Market takes place every Saturday at Centennial Park. This market is the largest outdoor market in Tampa Bay and offers only locally produced products. You can find fruits, vegetables, baked goods, handmade crafts, candles, and more on Saturdays in Ybor City.
Hyde Park Village is six city blocks of beautiful shops and restaurants, perfect for a day of window shopping, hanging out by the courtyard fountain, or enjoying the free Essentials Market, another popular market held once every month. Find a variety of local vendors here and enjoy live entertainment as you walk through the outdoor market.
Every second Sunday of the month, Armature Works at the Heights Public Market hosts their Second Sunday Art Walk + Vendor Fair, and every second Wednesday of every month they host Heights Night Market. These markets are filled with artisanal handmade goods from jewelry to woodwork and artwork from local and regional artists. These markets are family-friendly, free to attend, and have live music for you to enjoy as you browse.
Visit Cuba without a Passport

Explore Historic Ybor City
Step off the TECO Streetcar and step back in time when you visit Historic Ybor City. Stroll the brick-lined streets of 7th Avenue and see the neighborhood that put Tampa Bay on the map by turning it into the Cigar Capital of the World a century ago. Take a self-guided audio tour of the Latin quarter and discover the most historic buildings in the neighborhood.
Cuban culture is everywhere in Ybor City, and you can even visit actual Cuban land when you step foot into Jose Marti Park, which has been owned by the people of Cuba since the 1950s. See the oldest restaurant in the state of Florida, The Columbia Restaurant, which takes up an entire city block with a picture-perfect beautiful mosaic, and how Tampa's cigar history is kept alive at the J.C. Newman Cigar Factory & Museum, which is now open to the public (low-cost tours of the full facility also available).
Along with being a hub for culture, nightlife, and entertainment, there are several LGBTQ+ friendly venues found in the Latin quarter, which also hosts the annual Tampa Pride parade. Take a free self-guided tour of Ybor City or learn even more with the Official Ybor City Walking Tours. (Ghost Tours are also available in October to learn about Ybor City's Haunted history).
Check out these free ways to play in Tampa Bay and more here.