For the budget conscious traveller, there's fun to be had for free or for just $10 or less per person in St. Augustine and Ponte Vedra Beach, located just 2 hours north of Orlando. It doesn't have to take a fortune to experience the centuries-old city of St. Augustine, the outstanding golf and seaside elegance of Ponte Vedra, and the area's 42 miles of pristine Atlantic beaches.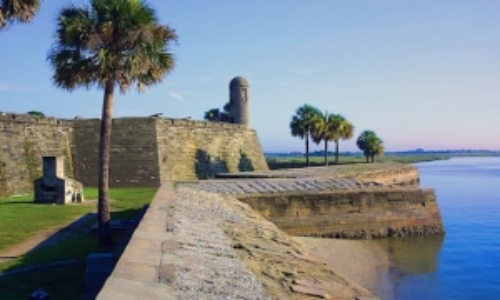 From the Oldest Store Museum where storytellers make this tour with more than 100,000 essential items and inventions from the turn-of-the-century come to life, to enjoying free samples at the San Sebastian Winery and Whetstone Chocolate Factory, there is something for every budget conscious traveller in St. Augustine and Ponte Verde Beach!
Free
1. 42 miles of unobstructed beaches
2. Daily tours and tastings at the San Sebastian Winery
3. Fort MatanzasGovernor's House Culture Center and Museum
4. Pena-Peck House Museum
5. St. Augustine Distillery and Museum
6. TPC Clubhouse House and THE PLAYERS Stadium Course at TPC Sawgrass
7. Tours of Historic Churches, including the Flagler Memorial Presbyterian Church, the Mission Nombre de Dios and the St. Augustine Cathedral Basilica
$10 and Under
8. Anastasia State Park Bayfront Miniature Golf
9. Corazon Cinema & Café
10. Fiesta Falls Miniature Golf Flagler College Legacy Tour
11. Fort Mose State Park and Museum GTM National Estuarine Research Reserve and Environmental Education Center
12. Oldest Store Museum
13. Oldest Wooden Schoolhouse Museum and Gardens
14. Spanish Military Hospital Museum
15. St. Augustine Aquarium
16. St. Augustine History MuseumThe Old JailVilla Zorayda Museum
17. Whetstone Chocolate Factory TourWorld Golf Challenge Hole
18. World Golf IMAX Theater
19. World Golf 18-hole natural grass putting green
20. Ximenez-Fatio House Museum
Free Events
First Friday Art Walk, 5 to 9 p.m. on the first Friday of every month
Militia Muster and Training at Fort Mose, first Saturday of each month from 9 to 11:30 a.m.
Tolomato Cemetery Guided Tours, third Saturday of the month
Historic Walking Tour, fourth Saturday of the month
Accommodations
Plus, be sure to check out the affordable accommodations in St. Augustine and Ponte Verde Beach. For a complete list of family getaway offers and lodging deals visit http://www.floridashistoriccoast.com/deals.
From beaches to the oldest wooden schoolhouse in America, there's something budget friendly for all of your interests in St. Augustine.