If you've clicked into this blog post you're either on I-Drive, or plan to be, and are a foodie! So, welcome to International Drive, a place where the infamous question, "Where do you want to eat," is a question you will want to answer! Whatever you're craving, you'll find it and more during your visit to I-Drive – and while you're here, be sure to check out these foodie spots on I-Drive that will make your tastebuds rejoice.
The Pub Orlando

Located in Pointe Orlando, The Pub Orlando is a go-to stop for classic dishes that you would see at a pub in Britain. Just to give you an idea, some of the mainstay entrees from their menu include; Shepherd's Pie, Fish and Shrimp, Mum's Pot Roast, Countryside Chicken, Chicken Gouda Pasta, Banger's and Mash, and their Queen's Filet.
No to mention the item they're best known for, which is their famous Fish and Chips! This is no exaggeration either, they've been awarded best Fish and Chips in the U.S., which wouldn't be complete without their award-winning, beer-battered haddock, house-made tartar sauce, and a side of creamy coleslaw. Talk about foodie spots on I-Drive!  Come check out the very best in the US.
Grab a seat in their beautiful outdoor dining patio, pour a cold one from their wall of beer, and dig into a plate of delicious grub that will surely have you feeling like you're at a small, quaint pub in Britain.
Tapa Toro

Take a seat around the paella pit, because Tapa Toro is always cooking up something delicious. From their authentic Spanish tapas, including their beloved paella, and flavorful libations – get ready to take your taste buds on a trip to Spain. Located in the heart of the action at ICON Park, you can choose from either indoor seating, or sit outside with a beautiful view of the iconic Wheel, and enjoy the many flavors of Spain as Flamenco dancers shake their way around the restaurant providing timeless entertainment.
P.S. If you're feeling like brunch, be sure to check out their weekend brunch menu, accompanied by a bottomless sangria and mimosa option, it's a brunch experience that everyone must enjoy while visiting I-Drive!
Jimmy Buffett's Margaritaville at CityWalk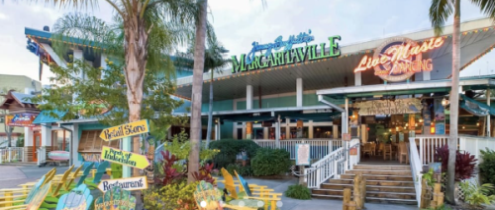 Here on I-Drive, if you happen to enjoy seafood, Jimmy Buffett's Margaritaville has you covered. Take a step out of the nonstop action on I-Drive, and into an ultra-relaxed dining atmosphere that is an ode to island life. As live tunes travel through the air, enjoy various tropical sounds with the only interruption being the eruption of the margarita-filled volcano at their volcano bar. Choose from items like Grilled Fish Tacos, Crispy Coconut Shrimp, and sweeter items like key lime pie and the landmark chocolate hurricane dessert.
And, as the saying goes, it's 5 o'clock somewhere, so don't forget to order up one of their 10 massively delicious margaritas! Once you've placed your order, you'll see just what it feels like to not worry and to simply be happy. One of the happiest foodie spots on I-Drive you will find.
Oishi Japanese Restaurant
Get ready to 'roll' into something truly savory. Oishi Japanese Restaurant is not your average Japanese restaurant, they offer a huge variety of the freshest sushi, a full hot kitchen including tempura and noodle entree options, and hibachi grill dining which is a tradition for a reason – because everyone loves hibachi. But, whether you order up a sushi party boat to share with friends, deliciously seared filet mignon and shrimp, sweet fried rice in a pineapple, or one of their soups, anything you order will pair perfectly with sake, and luckily, you'll be seated at the Japanese restaurant with the largest selection of sake available in the area! Your inner foodie will be running rampant at Oishi, but don't take our word for it, peek at their menu for yourself.
So, there you have it. Go to I-Drive hungry, and when you stop at one of these dining spots, You sure will leave happy. International Drive is a foodie's paradise, so be sure to check out these foodie ppots on I-Drive and plan to have a delicious trip!