When we say Funky Flagler, we don't just mean our laidback beach vibes, one-of-a-kind boutiques, or the kitschy lodging options you can't find anywhere else in Florida. We also mean unconventional food! Flagler has some of the most creative, delicious dishes and fare that foodies flock here for. Here are 13 of Flagler's fall Foodie favorites.
Sure, we've got your seafood by the seashore, but in Flagler Beach, there's so much more. We've created a Flagler Funky menu that covers breakfast, lunch, dinner, and a few cocktails and beachside brews included. These 13 local must-haves should cover you for a week of meals and happy hours in this quaint oceanfront town. And it all comes with a side of 19 miles of uncrowded beaches and pristine blue waters. We hope you're hungry for something new!
BREAKFAST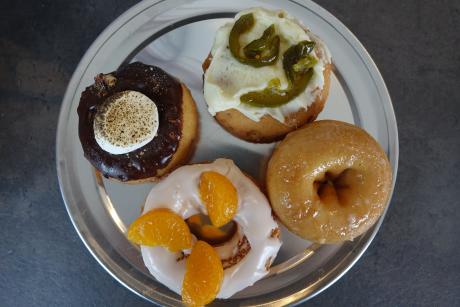 Gyro Omelet at Oceanside Beach Bar & Grill
Start the morning off on a huge deck overlooking the ocean enjoying an unexpected take on classic Greek street food—a gyro omelet. Thinly sliced gyro meat is swaddled between eggs and filled with onions, diced tomatoes, mozzarella, and a side of tzatziki sauce. The Lulgjuraj brothers—Johnny and Tony—own the place and grew up in Flagler. Their Greek father owned Manny's Pizza in this same spot from 1989-2006, and the boys inherited his warm, charming hospitality.
Breakfast Bucket at Captain's BBQ
You wouldn't think you could snag breakfast at a barbecue spot, but nothing is typical in Palm Coast and the Flagler Beaches. The breakfast bucket is a house specialty at Captain's BBQ, which is tucked under huge oak trees dripping with moss off A1A. Sit out on the covered deck looking over the Matanzas River while you nosh on this indulgent dish, which consists of a fluffy biscuit on the bottom, slathered in creamy sausage gravy, then piled with pulled pork and grits and topped off with a fried egg.
"Funky" Specialty Doughnuts at Swillerbees Craft Donuts and Coffee Bar
Ever had a mojito doughnut? What about one that tastes like lemon meringue pie? Swillerbees specializes in unique flavors like Cinnamon Toast Crunch, Maple Bacon, Lemon Drop, and Churro. Get there early. There's usually a line out front wrapped around the brick building. It's only one block from the beach, so many doughnut lovers sit on the picnic tables outside and look at the ocean while enjoying the oversized pastries and sipping coffee. Definitely one of the sweetest of Flagler's fall Foodie favorites.
LUNCH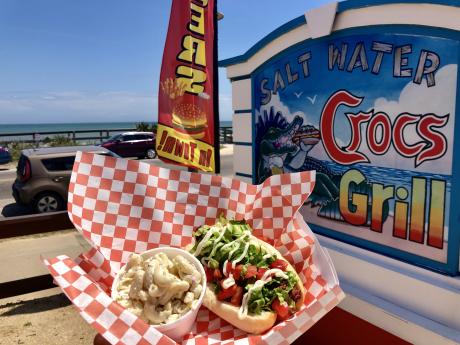 Kale Salad with Feathers at Vessel Sandwich Co
Everything in this darling, family-owned sandwich shop is made from scratch and chef-driven. While there are many creative specials on the menu (Minorcan red clam chowder, ham 'n' peppers on a baguette), it's the kale salad with plump golden raisins, house croutons, shaved Parmesan, and feathers (i.e. signature crispy sliced chicken) that's the locals' fave. It comes tossed in preserved lemon dressing, which is the secret ingredient to its greatness. Enjoy it alfresco under an umbrella on the patio, inside at the counter, or as take out.
The Tiki Dog at Saltwater Crocs Grill
This masterpiece disguised as a lunch treat is a bacon-wrapped beef hot dog that's fried and topped with diced pineapple, red onions, and housemade barbecue sauce. Yum doesn't even cut it. Crocs' dogs are known for having all-natural casing as well as gluten-free, no MSG, and vegetarian dogs available. If the Tiki Dog isn't your style, try one of the other specials like the Sunrise Dog with bacon, cheddar, and an egg; Carolina Dog with housemade chili and coleslaw; or the Fried Pickle Dog with a fried pickle stick and sriracha aioli.
The Venice at Beach Belly Bob's Sandwich Shop
You can't miss this brightly hued lunch spot off Oceanshore Boulevard. With 16 different sandwiches on the lunch menu, it can be hard to pick the right one. Order The Venice. To make this delicacy, a thinly sliced chicken breast is coated in cracker crumbles and cooked in olive oil with lemon butter sauce. Owner Bob Gamblain then covers it with Provolone cheese, sprinkles on a couple of capers, and sets it on Parmesan garlic bread. Take it outside to enjoy while gazing out at the Atlantic Ocean.
Tuna Poke Nachos at Break-Awayz at the Beach
There's a reason the owners put "A Must Try!" next to this item on the menu. It's a crowd-pleaser. Instead of tortilla chips, crispy wontons are stacked high and topped with Wakame seaweed salad, fresh tuna poke, wasabi aioli, and a soy glaze. Doing some day drinking? Pair the nachos with some sake and then switch to one of its craft brews. If the darts, ping pong, or pool can't keep you inside, then hang out on the oceanfront deck all afternoon.
DINNER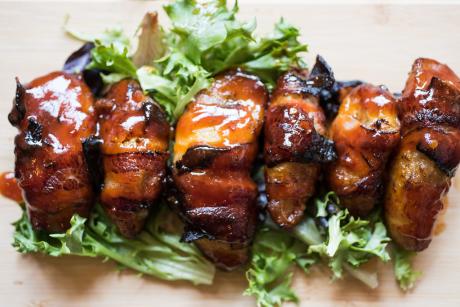 Wasabi Salmon at The Island Grille
You expect to find fresh-caught salmon dishes at the beach, but you've never tasted anything like the famous wasabi salmon at The Island Grille. Chef/owner Gary Maresca puts a lot of art and heart into his beautifully plated upscale dishes, especially this best-selling entree. The filet is pan-seared and then given a wasabi horseradish, honey butter crust. It's finished with teriyaki and soy mustard glazes and served over rice and veggies. If you want all the same flavors but for an appetizer instead, the wasabi oysters are equally satisfying. The briny beauties have the same glazes and sweet and spicy crust.
Bacon-Wrapped Plantains at Tortuga's Florida Kitchen & Bar
Another must-indulge appetizer in Flagler is this plate of 10 or so snackable plantains wrapped in Applewood bacon and scrunched onto skewers. The plantains are marinated and drizzled with sweet and spicy Gochujang sauce—a fundamental sauce used in Korean cooking. If you're a fan of fusion cuisine you'll love everything at Tortuga's.
Asiago Potatoes at Flagler Fish Company
While the fresh fish, steamed seafood, and hand-cut to order USDA prime steaks are all some of the best on the beach, it's the asiago potatoes that hook the guests here every time. These addictive little red bliss potatoes are scooped out and filled with asiago cheese, roasted garlic, and basil. They are then put into the oven where the flavors melt together and come out all gooey and gorgeous. Served as a side to live Maine lobster, Alaskan King crab legs, and the sort, it can be hard for these tasty potatoes to not steal the spotlight.
SPIRITS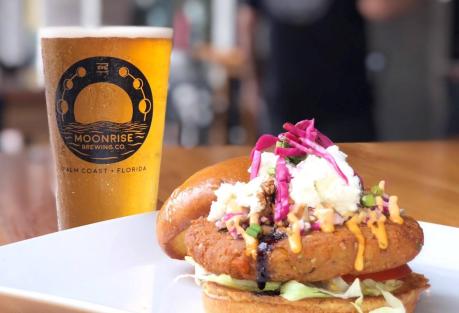 One-of-a-kind Local Brews at Moonrise Brewing Company
A newer addition to Palm Coast is Moonrise Brewing Company. It's the area's first brewery and opened in 2017. The Czech Pilsner dubbed Gypsy Tears and the Belgian Wit called Solar Flare are mainstays on the menu, but there are plenty of specials that pop up. The Black Moon Imperial Coconut Coffee Porter is a collab with Flagler Beach's Yes Coffee Company. To-go growlers are also available.
Wine Slushies at Flagler Beachfront Winery
When things heat up in Palm Coast and the Flagler Beaches, reach for a wine glass filled with frozen chardonnay, frozen red zinfandel, or a sauvignon blanc slushie. Locals and tourists alike flock here to sit on the oceanfront patio and try their favorite wines served in this innovative, refreshing way. All varietals are made right on the property by owner and winemaker Ken Tarsitano, who learned how to make wine from his Italian grandfather. Such a unique way to try one of Flagler's fall Foodie favorites.
Specialty Cocktails at The Anchor
Sitting directly across the street from the waves of the Atlantic, The Anchor bar serves creative (and generously sized!) cocktails. From blueberry basil margaritas to gin cucumber lemonade to a strawberry shortcake martini, the bartenders have an imaginative flair. We've seen everything from a frozen watermelon margarita with a big slice of its namesake on the rim to a hyper-colored orange, lime green, and pink frozen daiquiri topped with whipped cream to a beautiful blue Shark Attack Martini with citrus, coconut, and a shark gummy poking its head out of the glass. Bottoms up!
Whether you're a seasoned foodie on a quest for culinary joy or just someone who loves a taste bud adventure, Funky Flagler has plenty of new dishes and drinks to try. So plan out your food adventure with these 13 of Flagler's fall Foodie favorites.