Fishing the waters of Fort Myers on the Gulf of Mexico in southwest Florida can prove a highly productive adventure. The Fort Myers/Sanibel area offers myriad inshore and offshore fishing opportunities, from shorelines, bridges and piers to deep sea casting and backcountry boating. In fact, Lee County is considered one of the greatest areas in Florida for saltwater fly-fishing and light tackle fishing, the fastest-growing segments in the industry. The area has earned its reputation as a "fisherman's paradise." Many world record fish have been caught in its waters.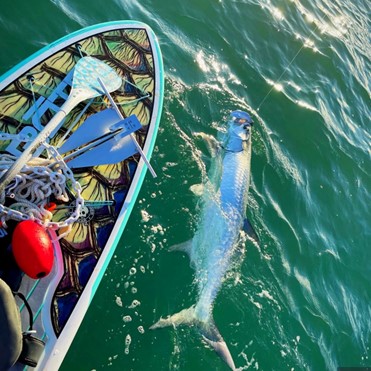 Inshore fishing
Inshore fishing supplies great year-round opportunities to catch snook, redfish, spotted seatrout, sheepshead, jack crevalle, mangrove snapper, and other species. Inshore fishing areas include mangrove shorelines, beaches, open flats, bridges, piers, docks, and the many passes and inlets to the Gulf of Mexico.
For non-residents over the age of 16, Lee County requires a saltwater license to fish from a pier, bridge, dock or beach. Florida residents fishing from land or a structure fixed to land do not need a license.
Offshore fishing
Offshore fishing continues as an excellent way to find shark, grouper, bonito, barracuda, permit, blackfin tuna, cobia, and Spanish and king mackerel. These can be caught above the many natural and artificial reefs offshore. Southwest Florida is reputed to have some of the best grouper grounds in the state. Sight casting to tripletails gathered around floating objects is fast becoming a favorite fishing method.
Tarpon fishing
Sports-fishing for tarpon has a long history as a favorite Lee County visitor activity. Fighting tarpon is one of the world's most sought-after fish for good reason. One of the largest tarpon migrations in the world takes place annually off the shores of Fort Myers. Thousands of these mighty fish migrate through Boca Grande Pass and the reefs off Sanibel Island and Fort Myers Beach during April, May, and June. Some even reside here year-round, but migration season is the best time to ensure success at this sport.
Anglers seek tarpon in different ways. In Boca Grande Pass (known as the "Tarpon Capital of the World"), they use a controlled drift-fishing technique with heavy tackle and live bait from 20- to 30-foot boats. Along the beaches of Sanibel & Captiva Islands, Boca Grande, and the Outer Island of Cayo Costa, as well as in backcountry waters, anglers pursue tarpon in smaller boats and flat skiffs. Favorites include light tackle with live crabs and 11- to 15-weight fly rods tied with assorted flies.
Fishing offshore reefs in water 20 feet and deeper, anglers prefer live bait and heavy tackle. They anchor or allow the boats to drift while awaiting schools of tarpon. Tarpon can even be sighted from the shoreline, but chances of landing them from the sand are slim.
Freshwater fishing
Freshwater fishing in the Fort Myers/Sanibel area runs all year long. Inland waters abound with eating fish like bass, crappie, blue gill, and catfish as well as shellcrackers and oscars. Anglers use cane poles, plug casting outfits, spinning reels or fly rods. Baits of choice include plastic worms, wild shiners, artificial lures, crickets (in the spring), and fly-fishing flies.
Freshwater sources virtually surround land areas, with the Caloosahatchee River leading off hundreds of miles of canals and both natural and manmade lakes and ponds throughout Lee County. Keep in mind that owners of private property must grant permission to fish their lakes and ponds.
Anglers may go it alone or hire a guide. Knowledgeable captains can be contacted through local tackle shops. Bass clubs also are excellent sources of information, welcoming visitors to participate in meetings and tournaments. Again, talk to the tackle shops about local bass clubs.
Boat fishing
Offshore commercial party boats post no age limits, do not require a fishing license, and supply all tackle. Boats range from 60 to 100 feet, have onboard restrooms, and typically provide a small galley. Fees for half-day and all-day trips are affordable. Anglers usually return to shore with strings of grunts, grouper, lane, and mangrove snapper or Spanish and king mackerel. Most boats for hire are found on Fort Myers Beach.
Sportsmen and women with any degree of fishing expertise also can charter a boat with a fishing guide for a half day or full day. No fishing license is required. Spin, plug or fly tackle is furnished, but you can bring your own gear. Target fish vary through the year. Charters cost from a couple of hundred to several hundred dollars for the day.
Marinas, tackle shops, and local advertisements are excellent places to identify charter captains who know the area. Or bring your own boat to launch free of charge from well-maintained public boat ramps scattered throughout Lee County.
Fishing regulations
Fishing licenses can be obtained from the Lee County Tax Collector at six county locations (call (239) 339-6000), most sporting goods stores, tackle shops, and marinas. Prices vary from $17 to $49 per year, depending on the type of license purchased. Information on fishing regulations and closed seasons for specific types of fish can be acquired from the same locations and through the Florida Marine Patrol (239) 332-6966.