Make this year's Valentine's Day a month to remember! No matter where you look this year in West Volusia County, there are still plenty of events and fun things to do with your loved one to celebrate the holiday dedicated to love. Here's how to find your love in West Volusia County all month long.
Dinner for Two?
In downtown DeLand, Cress Restaurant is one of the most romantic spots to keep Valentine's festivities going all month long. Traveling outside of Downtown DeLand, Cassadaga's Sinatra's Ristorante has a special ambiance that makes it a love day any day you visit.
Take your Relationship on the Rocks
Have Valentine's Adventure at DynoClimb in DeLand by snagging a Two-Person Session Pass with Gear Rental at West Volusia's premier rock-climbing gym!  Each pass is valid for up to a year from purchase. Visit dynoclimb.com for more information.
Wedding for Two (or more) on Two's Day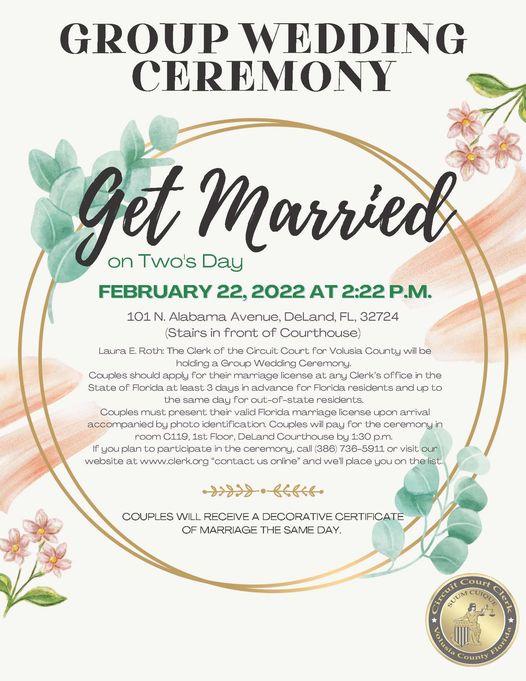 So hear us out, you meet the love of your life on Valentine's Day and decide you want to get married a week later. Instead of all the needless planning, why not get married on Two's Day in a group wedding ceremony? What a way to find your love in West Volusia County, right?
Laura E Roth, the Clerk of the Circuit Court for Volusia County will be holding a group wedding ceremony on February 22, 2022, AT 2:22 P.M. on the steps of the Volusia County Courthouse, located at 101 N. Alabama Avenue, DeLand, FL, 32724. Couples hoping to participate once-in-a-lifetime should apply for their marriage license at any Clerk's office in the State of Florida at least three days in advance for Florida residents and up to the same day for out-of-state residents. Couples must present their valid Florida marriage license upon arrival, accompanied by photo identification.
More information can be found at www.clerk.org
Adopt a Manatee
For those of you who are unable to make it to West Volusia County this Valentine's Month, don't fret. You can have a little piece sent to you by adopting a manatee of Blue Spring State Park through the Save the Manatee Club.
Every adoption gets you an adoption certificate with a full-color photo and a biography of a real Florida manatee, a membership handbook, and a subscription to "The Manatee Zone," the club's official newsletter which features updates on the adopted manatees. For Valentine's Day, the Club is offering a heart hand warmer as an added bonus.
Visit https://www.savethemanatee.org/how-to-help/adopt-a-manatee/ for more information
More information on how to find your Love in West Volusia County and all of the area's upcoming events can be picked up in the Visitor Center located at 116 W. New York Avenue in Downtown DeLand, FL, or can be found online at www.visitwestvolusia.com. Please call 386-734-0162 for more information.