Florida's Paradise Coast is widely recognized as the Stone Crab Capital of the World. But if you really want to get specific, it all centers on the tiny city with the sign to prove it: Everglades City. Located 37 miles southeast of downtown Naples, this town of less than 250 residents is the birthplace of the stone crab industry – not to mention the second-largest supplier of stone crab claws in the United States.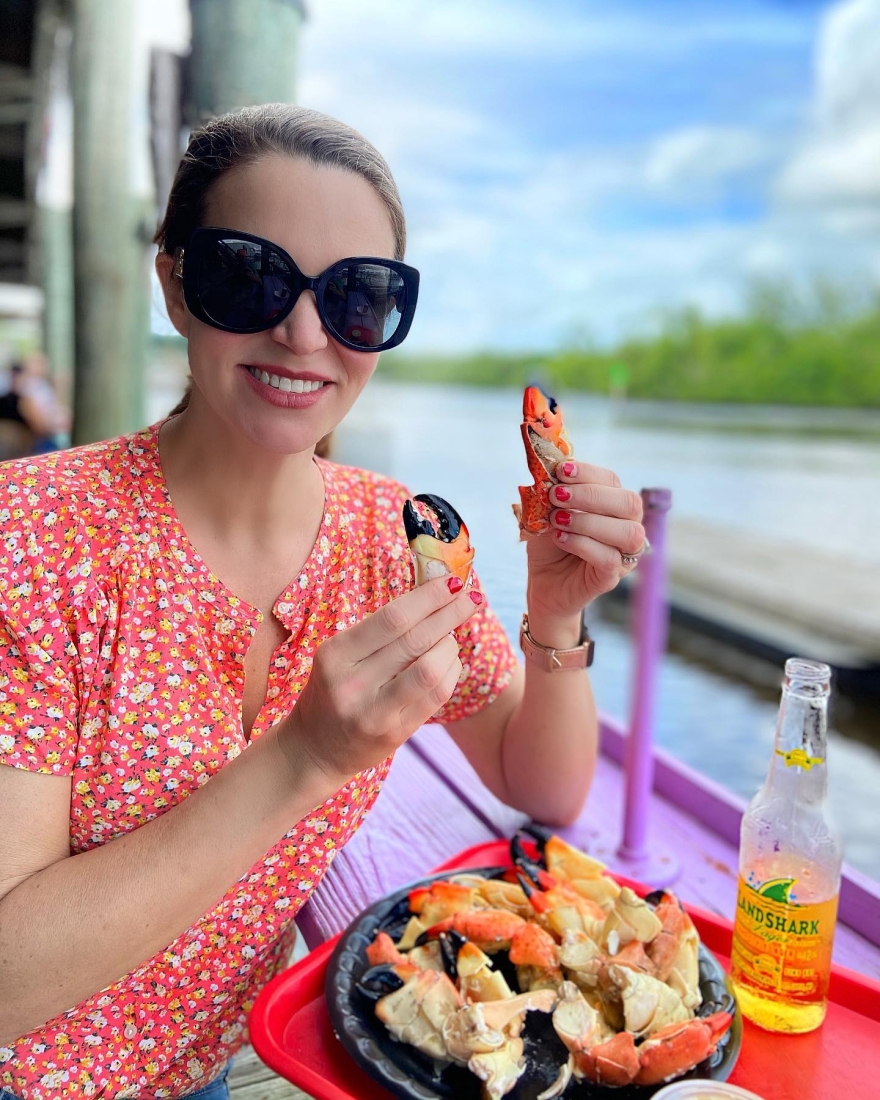 STONE CRAB SEASON IN NAPLES
During a season that runs from October 15 to May 1, Florida's Paradise Coast goes stone-cold crazy for cold stone crab claws. They are caught in the waters off the southern part of Florida, and the fishermen take just one large claw from each crab. The live crustacean is immediately returned to the water, where the harvested claw regenerates over the coming year. It's one of the most sustainable fishing industries known today.
Once back at the dock, the harvested claws are steamed immediately and then chilled, which prevents the meat from sticking to the shell. For optimal flavor, they're best eaten shortly after they're caught. And trust us: when you devour a stone crab claw on Florida's Paradise Coast during the season — it is fresh.
WHY IS IT SO UNIQUE?
All of this begs the question: What's so special? Frankly, you'll have to come for a visit during the season and find out for yourself. One bite and you'll instantly recognize it as a one-of-a-kind delicacy. When served at a restaurant, they're usually pre-cracked, and you can easily pull off the shell pieces to reveal what one chef described as "a very flaky meat — a cross between a shrimp and a lobster — very sweet." They're traditionally served cold with a mustard-based dipping sauce or drawn butter.
This revered shellfish is celebrated in one of Paradise Coast's most popular events. The Annual Stone Crab Festival occurs Friday through Sunday, October 27-29, 2023. The fest, held in the Tin City section of downtown Naples, draws as many as 25,000 people eager to feast on freshly caught claws, enjoy live music and other live entertainment, peruse arts-and-crafts vendors, and generally have a grand time. Stone crab is also among the star attractions at the Everglades City Seafood Festival, next held Feb. 2-4, 2024. It draws an estimated 50,000 people over its three days. Admission is free for both events.
WHERE TO FIND STONE CRAB IN FLORIDA
Paradise Coast restaurants that serve this delicacy during the season are almost too plentiful to count, but here's a healthy menu of places to consider. They're spread throughout the Paradise Coast, with a range of prices and atmosphere. A few of them have attached seafood markets, if you'd like to prepare a stone crab feast at home.
Everglades City
Grimm's Stone Crab (where you can buy them fresh off the boat, by the pound), Triad Seafood, City Seafood, Everglades Rod & Gun Club.
Naples
Capri Fish House, Pelican Bend, Trulucks, Captain & Krewe, Sails Restaurant, The Dock at Crayton Cove, Swan River Seafood, Mr. Big Fish, Sea Salt, The Claw Bar, The Catch of the Pelican.
North Naples
Baleen, Steamers of Naples, Jack's Seafood Bar & Grill, The Bay House, Real Seafood Company, Deep Lagoon.
Marco Island
Paradise Seafood & Gourmet Market, The Oyster Society, Pinchers, CJ's on the Bay, Snook Inn, Fin Bistro, Mango's Dockside Bistro, Quinn's on the Beach.
Goodland (five miles west of Marco Island)
Kirk Fish Company, Crabby Lady.