International Drive is the ultimate destination to create lifelong memories. Home to over 100 different attractions, it's no surprise that I-Drive is a top destination for family vacations! If you're one of the many families planning an I-Drive adventure this summer, get ready for endless family fun at these family-favorite spots in Orlando's Most Dynamic Neighborhood.
Ripley's Believe It or Not
Take a step inside the weirdest place in Orlando, and brace yourself for a mind-bending journey through the weird and wonderful at Ripley's Believe It or Not.
Home to an amazing variety of exhibits, artifacts, and displays in 16 galleries that pay tribute to the odd, bizarre, and unbelievable. Take your time marveling at the collections of weird and unusual relics and rare treasures here during a self-guided, self-paced tour. From shrunken heads to mind-boggling illusions, you'll be captivated by the astonishing exhibits that defy explanation and amazed at the discoveries you'll make during your visit to this iconic museum. A trip to Ripley's is an adventure that will surely leave you questioning what's real and what's simply unbelievable.
ICON Park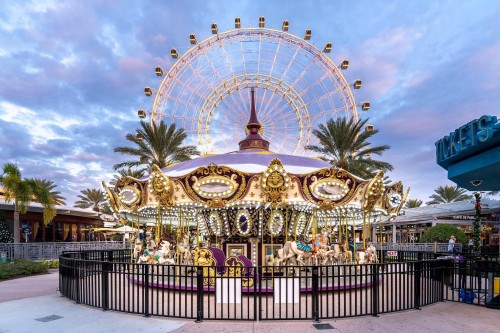 ICON Park is Orlando's Largest Outdoor Entertainment Complex and is home to a variety of exciting attractions, delicious dining destinations, and fun for the whole family around every corner.
Begin your adventure at SeaLife Orlando, where you can dive into an underwater world and encounter fascinating marine creatures. Then, rub shoulders with your favorite celebrities at Madame Tussauds, where lifelike wax figures await for memorable photo ops. Hop aboard the Pearl Express Train for a ride around the complex, and take the new Carousel Promenade for a spin to make cherished new memories in the heart of Orlando.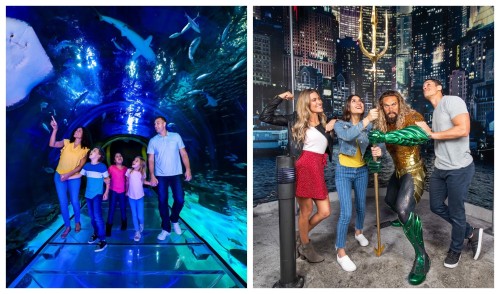 And, of course, no trip to ICON Park is complete without a ride on The Wheel, where you'll enjoy breathtaking panoramic views of Orlando and have a chance to see all of the action on I-Drive like never before – from 400 ft up!
Be sure to ask about the all-new The Great Florida Road Trip option that makes a ride on The Wheel even more fun as your family embarks on a road trip with the flamingo family for a nostalgic holiday through mid-century Florida – before the era of sprawling theme parks and resorts. This is part game, part educational opportunity, and puts the spotlight on Florida's legacy as an entertainment and tourist destination. Plus, each participant will receive a camera-like device to photograph mentioned destinations for points! Winners receive a $5 gift card for the "In The Game" arcade inside the Wheelhouse. You can learn more about this all-new experience here.
All this fun is sure to have the whole family working up an appetite, and luckily at ICON Park, you'll be just steps away from some of Orlando's most popular dining spots. Craving finger-licking good barbeque? Head to Brother Jimmy's BBQ where kids eat free every day (with the purchase of an adult entrée), ensuring both tummies and wallets stay satisfied!
Pointe Orlando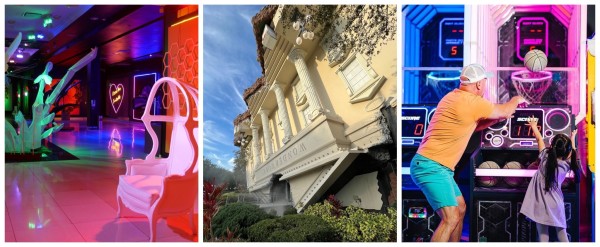 Looking for an entertainment complex that has it all? Pointe Orlando is your go-to destination! This family-friendly hotspot offers a plethora of attractions to keep everyone entertained.
Test your skills and teamwork as you race the clock to escape one of the exciting rooms at Will to Escape, make an obligatory stop at Orlando's only upside-down attraction, WonderWorks Orlando, to enjoy an amusement park for the mind full of interactive educational exhibits. Catch a new movie on the big screens at Regal Cinemas, and get your game on at Main Event with virtual and interactive gameplay, state-of-the-art bowling, high ropes adventure courses, billiards, big screens, and a full restaurant and bar on-site. Inspire your creative side with a walk through Earth Illuminated, a limited-time interactive art exhibit that lets you escape reality and explore creativity, and for the youngsters, head to Monkey Joes, where jumping off of the walls is encouraged.
As you stroll along the palm tree-lined streets of Pointe Orlando, pop into unique shops and boutiques, and grab a bite to eat at one of the many delicious dining spots here – and for a sweet end to your afternoon of family fun, dig into the ultimate sweet treat at the newly-opened JoJo's Shake BAR, where you'll find drool-worthy diner classics and mouthwatering shakes and desserts that are sure to leave your taste buds begging for more.
Pirates Dinner Adventure Show

Who said Orlando's nightlife was only for adults? If you're hoping to treat the family to a world-class dinner show while in the heart of Orlando – look no further than Pirates Dinner Adventure Show!
Arrrgh! Prepare for a swashbuckling adventure like no other at Pirates Dinner Adventure where you'll set sail with Captain Sebastian the Black and his lively crew for an immersive dining experience filled with thrilling acrobatics, daring stunts, and a captivating storyline. Watch in awe as pirates battle it out on a full-sized pirate ship right before your eyes, all while indulging in a delicious feast fit for buccaneers of all ages. It's a night of entertainment and laughter that the whole family is sure to treasure.
International Drive is a dream destination for families seeking endless fun and excitement. With a wide range of attractions, there's something for everyone. If you're planning your next family vacation to International Drive, add a stop to these family-favorite spots to the itinerary to get a thumbs up from everyone in the family!
Click here to discover even more exciting attractions that call I-Drive home, and get ready to make lasting family memories as you explore the many incredible experiences that await you on International Drive.