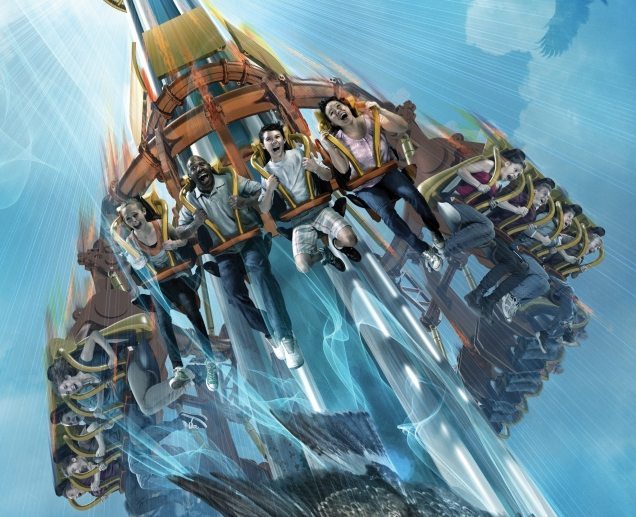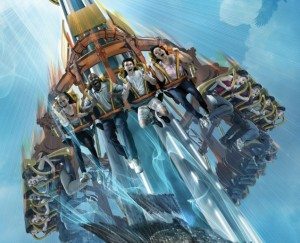 Orlando Attractions Update – It was scheduled to open May 1st but construction delays have meant that the inaugural 'flight' of Falcons Fury at Busch Gardens in Tampa Bay has been pushed back. The delay though does not in any way diminish the rush that riders can expect as they   drop out of the sky just like the namesake bird!
The ride is the centre piece of an all new land at Busch Gardens called Pantopia – a fictional land that tells the story of traveling artists from around the world. There are plenty of other entertainment options aside from the new drop tower, including a restaurant, pretzel shop, roaming performers and stage acts.
Once the ride does open, here's what to expect – and it's definitely a bit of a clencher!  Riders are strapped into a row of open-air seats similar to those on a roller coaster. Falcon's Fury has eight sides, each sitting four riders. it will take about a minute for the ride vehicles to hike up to the top. Which means, riders will have plenty of time to ponder why they decided to hop aboard this white-knuckle ride in the first place and enough time to take in the sights: downtown Tampa, Tropicana Field and downtown St. Petersburg.
At the tower's peak, the seats rotate face-down in a falcon-like dive position. And, what comes next is likely the scariest part: Riders will be held at the top of the tower for a random amount of time, so there is no telling when they will actually drop.
"They will free fall for five to six seconds before the ride brakes engage," says Jeff Hornick, director of design and engineering. "The most exciting part is the near weightlessness that riders will feel when they begin their free fall. Think of this as the closest experience you can get to skydiving, without jumping out of a plane."
Watch this space for the new opening date.
Falcons Fury Busch Gardens Ride Stats:
Location: Busch Gardens Tampa in Florida
Type of ride: Vertical drop tower ride, also known as a freefall tower
Tower height: 335 feet
Ride height: About 300 feet
Top speed: 60 mph
Angle of descent: 90 degrees
Planned opening date: Spring 2014
Here's where it gets nuts. As they sit perched in nosebleed territory at the apex of the tower, passengers' seats will tilt so that they will stare straight down at the 300-foot chasm between them and the ground (assuming that they will be able to peel their eyes open). The few agonizing moments before they drop will likely feel like an eternity. Then…look out below! Riders will freefall and accelerate to 60 mph for a few seconds of adrenaline overload. Talk about being in the moment. Magnetic brakes will engage to slow the bug-eyed riders as they approach the bottom. An extra pair of underwear may be in order. Falcons Fury Busch Gardens – looks like you wont forget the experience in a hurry!