There is no other beach having this much fun on Christmas Eve. Once you've experienced Surfing Santas in Cocoa Beach you'll never want to spend your Christmas anywhere else. At 8:00 am hundreds of Santas grab their surfboards and hit the waves on the Space Coast. They are soon joined by thousands of spectators for the most exciting holiday event on the planet. There's live music & performances, a costume contest, an impressive array of boards, and plenty of holiday cheer to spread around!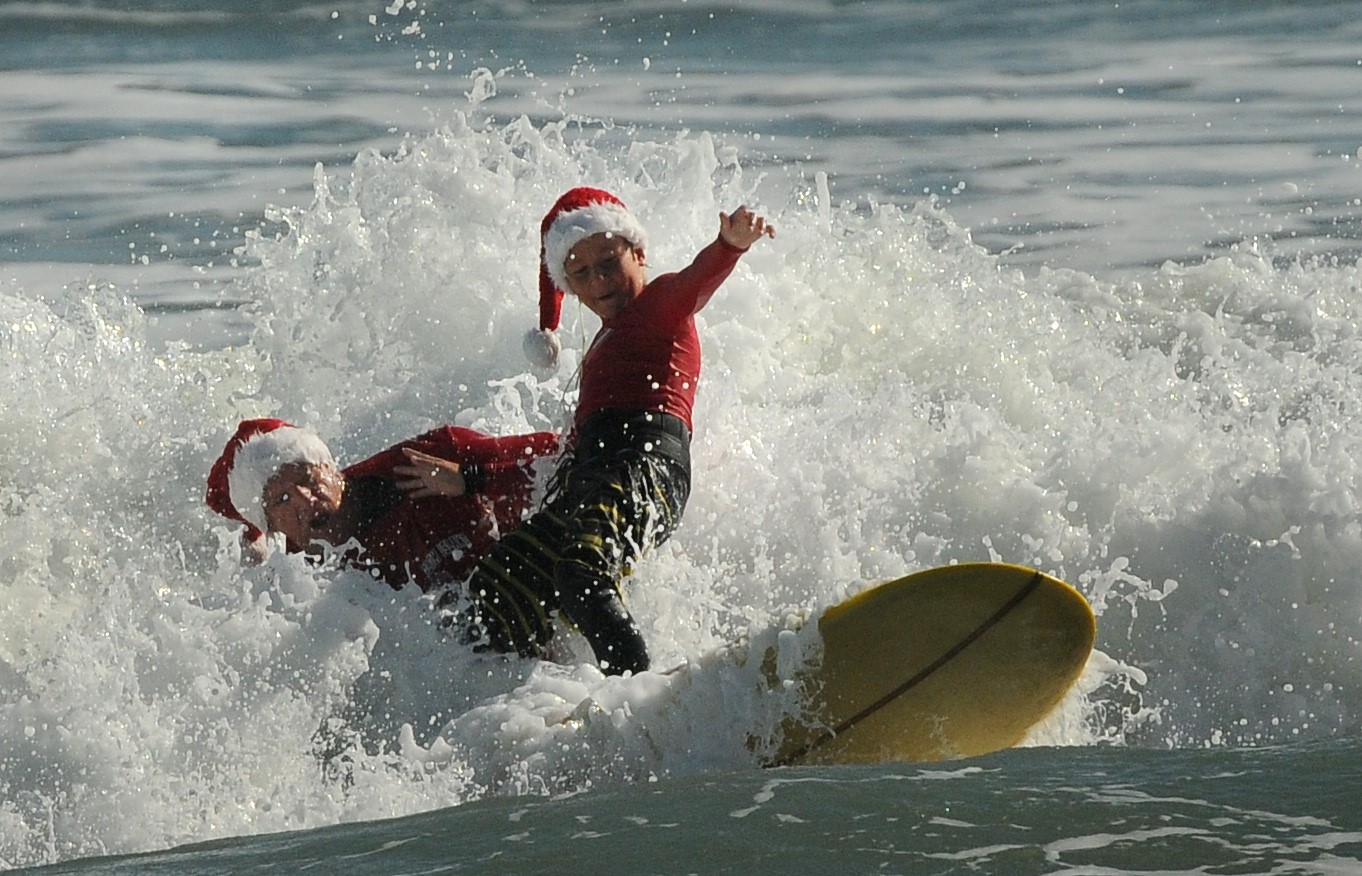 This event began in 2009 as a small family gathering and has become a must-experience event that raises thousands of dollars every year for local charities. It's fun for the whole family and makes for a Christmas Vacation your family will never forget!
This event is HUGE and it gets bigger every year. If you want to plan out your best holiday experience, here are a few tips.
• Arrive Early – Surfing Santas is one of Cocoa Beach's biggest events, and parking near Minutemen Causeway in Downtown Cocoa Beach can get a bit complicated as the morning rolls on.
• Hop on the Cocoa Beach Trolley! The Cocoa Beach Trolley is a local bus route that transports locals and visitors alike to top spots between Port Canaveral and Cocoa beach. For $1.50/rider you can ditch the car at your hotel and enjoy a stress-free ride to Coconuts on the Beach!
• Pack Light – Surfing Santas starts at 8 am and ends at 12 am. There is so much to do and see on the beach, you probably won't need your normal beach-day setup. A backpack with a few towels to sit on and snacks to munch on should be just enough. *don't forget your sunscreen and a hat though!
• Plan your meals. While Surfing Santas is an exciting and busy time in Cocoa Beach, some of our local restaurants will be closed that day. Make sure you check up on their social media or call to make sure they will be open and make a reservation if you can!
• Buy the T-shirt! There are two charities that are close to Surfing Santa's heart, The Florida Surf Museum and the Grind for Life. When you snag some Surfing Santas swag you're giving back to two incredible causes. It's a souvenir that won't be available after this year either, stash one or two of these under the tree and remember your Space Coast Holiday getaway all year round.
Where To Stay in Cocoa Beach
There's plenty of space for your family to enjoy Christmas in Cocoa Beach. With premier hotel options and tons of quaint and cozy vacation rental properties speckled throughout town, you'll have your pick of places to call your home-away-from-home for the Holidays. Search Cocoa Beach Hotels
About Cocoa Beach During the Holidays
Cocoa Beach at Christmas is a holly-jolly time. The streets are lined with garland, our palm trees twinkle with lights, and there is a salty, not-quite-chilly nip to the air. The sun shines all day and at night we enjoy tiki drinks in our flip flops. Local restaurants create unforgettable holiday specials with fresh-local ingredients, and shops are filled with incredible souvenirs and gifts so you can bring some of the Space Coast home with you!
See Other Holiday Events on the Space Coast
How to Get Around Cocoa Beach
Now is a great time to utilize the Cocoa Beach Trolley. The trolley service runs Monday through Saturday from 7:00 am to 9:00 pm and on Sunday from 8:00 am to 5:00 pm from Port Canaveral to 13th Street in Cocoa Beach. It connects all the major hotels and attractions of Cocoa Beach, like the Cocoa Beach Pier & Ron Jon Surf Shop to all the fun shops and restaurants in Downtown Cocoa Beach.
A ride on the trolley costs $1.50 with a special rate of .75 for seniors, veterans, disabled, and students. There is no charge for children under 5 or for transfers to fixed-route bus service. Please have the exact fare ready when riding a bus/trolley. Drivers are not equipped to make change. The Cocoa Beach Trolley is route #9. Click here for Trolley Map and Schedule
Where To Park in Cocoa Beach for Surfing Santas
Surfing Santas takes place at the end of Minutemen Causeway in the heart of Downtown Cocoa Beach. There is limited street parking in this area. The Cocoa Beach Parking Garage is a great option for visitors. You'll definitely want to arrive early, or utilize rideshare services to ensure a hassle-free arrival in Cocoa Beach!
Metered parking is available throughout Cocoa Beach. Check out this website for a comprehensive list of all the parking spaces in Cocoa Beach, and the opportunity to download the Passport Parking Mobile App for a seamless parking experience.
Plan your Cocoa Beach Weekend Getaway!
Experiencing Surfing Santas is an unforgettable way to spend your Christmas holiday on the Space Coast, and there's so much more to see and do. Check out our favorite ways to enjoy the weekend in Cocoa Beach and start planning your holiday getaway now!