During your stay in Tampa, there are certain must-see attractions that you do not want to miss. One of those is The Florida Aquarium, part of Tampa Bay's ZooQuarium! Two can't-miss attractions for one low price and countless memories. Located in the Channel District, this 204,000-square-foot facility is home to a variety of sea life. It's perfect for a fun date, and it's right next to the new culinary dining destination for foodies, Sparkman Wharf.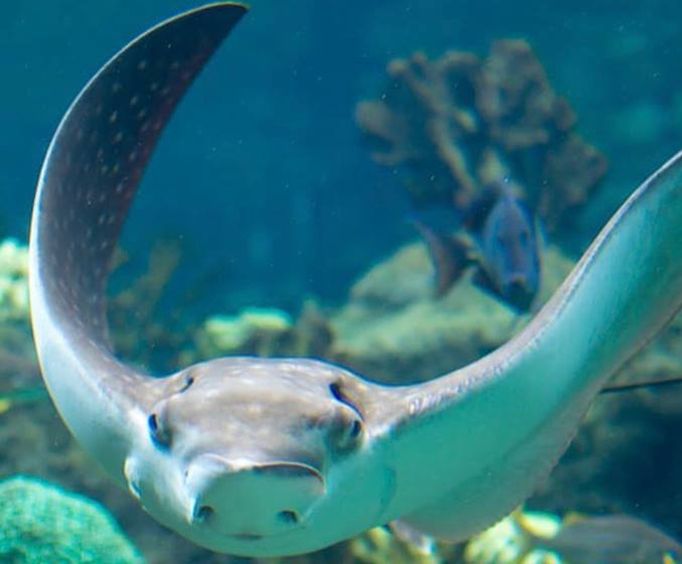 The Florida Aquarium in Tampa is widely regarded as one of the best aquariums in the United States. Last year, The Florida Aquarium placed third in the nation in USA Today's 10 Best Readers' Choice Awards.
Use this guide to get the most out of your family's visit to The Florida Aquarium. Go from tree level to sea level at The Florida Aquarium! With more than 8,000 animals and plants including sharks, alligators, seahorses and more, you're sure to have an amazing experience.
The Florida Aquarium experience is designed to take you on a journey, starting with a drop of water from one of Florida's many freshwater springs, all the way out to the open waters of the Florida Keys. Sights include a large simulated wetlands environment located under a tall glass atrium, shallow bays, and beaches, and a coral reef ecosystem encompassed in half a million gallons of natural seawater.
Here are some of the animals and shows you shouldn't miss!
• Wetland Trail: Take a hike on Florida's Wetlands Trail and see alligators, otters, and free-flying birds. Invasive pythons live here too!
• Journey to Madagascar: In this unique and beautiful place, you'll see lemurs, chameleons, geckos, and a colorful Indian Ocean Reef. You can even crawl inside a tree full of hissing cockroaches!
• Bays & Beaches: Get up-close encounters with a 300-pound Goliath grouper, spiny lobsters and a touch experience at Stingray Beach!
• No Bones Zone: Touch and learn about unusual creatures that have no backbone: anemones, sea cucumbers, sea stars and more!
• Close Up Critters: See our interactive learning spaces and meet three of our animal ambassadors! Each tour is a unique experience. Recommended for families with small children.
• Wild Dolphin Cruise: This 75- minute cruise includes an entertaining tour and an opportunity to spot wild dolphins aboard the 72-foot, powered catamaran, the Bay Spirit II.
• Behind the Scenes Tour: On this one hour behind the scenes tour, you'll find out from Aquarium experts, and find out how we manage to care for our animals and plants from around the world.
• Penguins: Backstage Pass: A fun and educational 30-minute behind the scenes interaction with our African penguins!
• 4D Funbelievable Theater: Our 4-D experience combines the visual drama of a 3-D film with a variety of sensory effects built into the seats and theater environment. The 4-D experience brings on-screen images to life with added effects such as bubbles, snow, scent, FX lighting, water mist, seat vibration, and wind.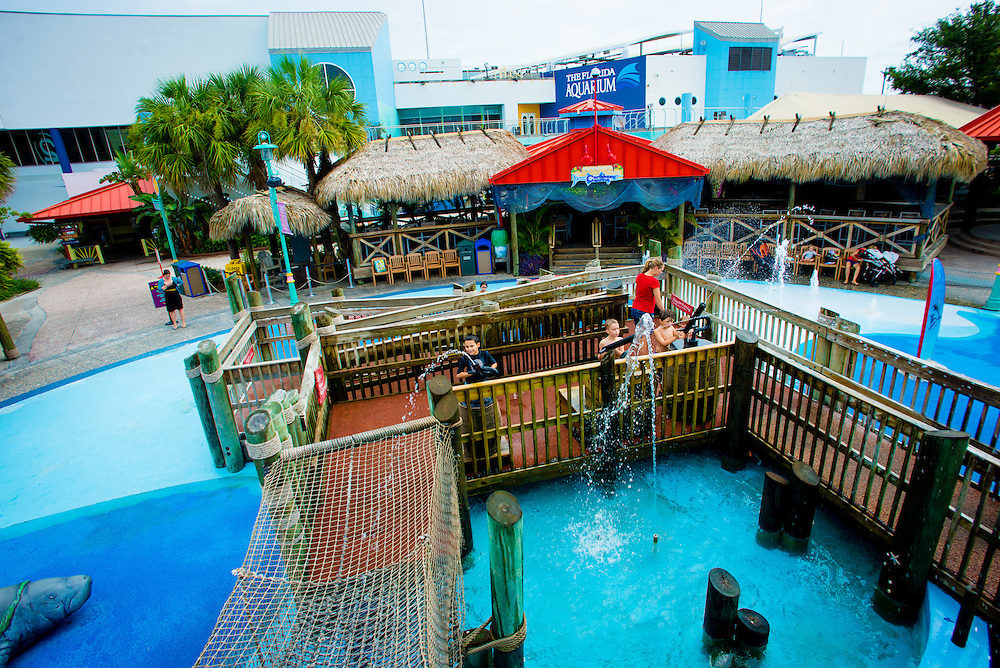 You can begin your Aquarium adventure on our Florida Wetlands Trail. Winding through a vast mangrove forest, you'll encounter river otters, free-flying birds, and native fish. Continue to the second floor of the Wetlands gallery and enter Journey to Madagascar. Filled with Ring-tailed Lemurs, hissing cockroaches, and colorful chameleons, this exhibit captures the unique Island of Madagascar and the diverse animals that call it home.
The next part on your journey will take you through Bays & Beaches where you'll discover a Goliath Grouper and other species that call Tampa Bay home. Be sure to make a stop at Stingray Beach where you can touch stingrays and sharks! As you travel onward you'll descend deeper into aquatic environments where you'll discover stingrays, reef fishes, sea turtles, and our massive Sand Tiger Sharks!
Want to get an even more immersive Aquarium experience? Take the plunge to swim or dive with our Sand Tiger Sharks or with thousands of colorful fishes with our Heart of the Sea swim program. (You must be six years or older to swim with the fishes and 15 years or older to swim with the sharks).
If you just can't get enough…
For additional fees, you can get behind-the-scenes looks at how the Aquarium works and meet all the major animal species on a variety of tours.
Have you ever seen a penguin up-close? Meet our African Penguin colony with Penguins: Backstage Pass! Get the chance to touch them or see them swim and play. (An additional charge is required for this encounter).
After exploring all the exhibits inside, come aboard our 72-foot Wild Dolphin Cruise catamaran for a 75-minute excursion around Tampa Bay to see wild dolphins and seabirds in their natural habitat. (Reservations and an additional charge are required for the Wild Dolphin Cruise.)
Experience fantastic, froggy fun in our kids' outdoor water play zone with both wet and dry play elements, sandboxes, lush landscaping and more! The zero-depth water area features water dump buckets, spray zones and a designated water play area for toddlers. The Splash Pad offers children the opportunity to splash away while parents relax with views of the Bay and enjoy numerous food options at Café Ray. Access to The Splash Pad is included with Aquarium general admission.
Essential Tips for The Florida Aquarium
• Get your tickets online to save money and skip the ticket purchase line. CLICK HERE to purchase
• Be sure to check their current calendar to see their hours.
• If you want to avoid crowds, try to go really early or late in the day. Weekdays are way less crowded than weekends.
• You should give yourself 3-4 hours at the aquarium. That will give you time to see the Waves of Wonder and Journey to Madagascar exhibits.
• The aquarium holds regular events for families, kids, and adults. Check their events page to see what's coming up.
• If you're a member, you get discounts on additional experiences.
• Get a CITYPass if you plan on going to other attractions. You get 50% off!