There's a new Disney restaurant in the works at its Epcot theme park that is designed to be quite simply stellar! According to a recent blog post the 'out of this world' new table-service restaurant will open later this year next to the very popular Mission: Space attraction.
This all new dining experience is part of a big overhaul at the theme park that includes highly anticipated new additions like the Guardians of the Galaxy coaster, a new dark ride based on Pixar's Ratatouille, upgrades to the entrance and pavilion areas and more. When announced in 2017, Disney said the new restaurant would include displays in place of windows to makes guest feel as if they are eating in outer space – floating food perhaps?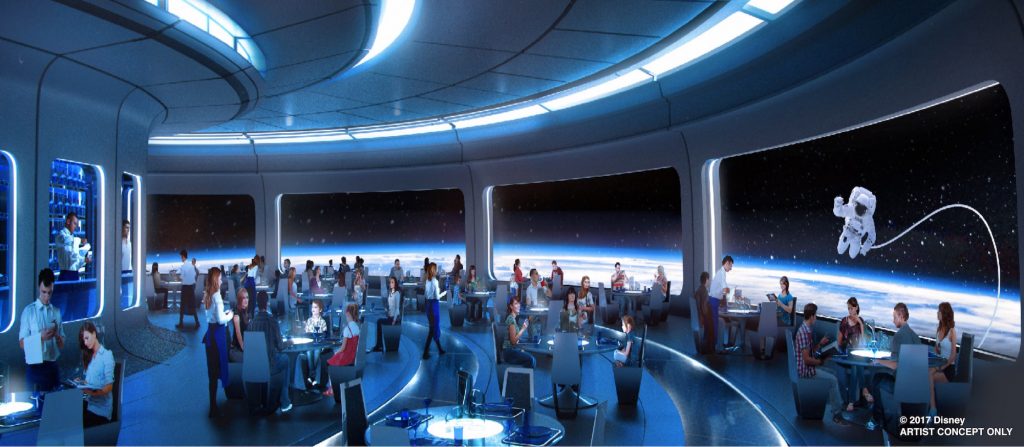 "The new table-service experience will open later this year adjacent the Mission: Space attraction," according to the Disney Parks Blog. "No dining experience on Earth can match what's in store…."
The menu will be "internationally-inspired" and will include drinking choices from more than 1,000 bottles of wine and craft beers.
Here's more:
Once completed, the restaurant will invite guests to travel to space for an amazing dining experience in the stars. The new restaurant will be operated by the Patina Restaurant Group, led by Nick Valenti, which operates several other restaurants around Walt Disney World Resort, including Tutto Italia and Via Napoli at Epcot and Morimoto Asia and Maria & Enzo's Ristorante at Disney Springs.