Well, well, well! A couple of Walt Disney World permits, both rumored to be potentially related to new rides at Epcot, support the notion that Disney has shifted its focus to freshening up that theme park.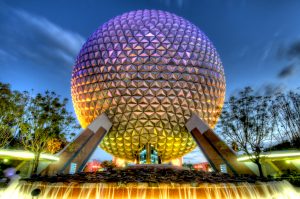 Epcot is generally the company's second most-visited park — trailing Magic Kingdom's 20.3 million visitors with its own 11.7 million visitors last year— but there's no doubt even it needs a shot in the arm to keep its spot among Orlando's top theme parks.
That's why these two permit filings have sparked renewed fan fervor that it could be the sign that Disney is adopting two rides from other Disney overseas parks and building them here in orlando. A permit for a canal modification behind Epcot's Universe of Energy pavilion has sparked rumors that it could be a new Guardians of the Galaxy ride or an adoption of the Tron Lightcycle Power Run coaster in Shanghai Disneyland.
Another permit for a backstage modification for land behind and between the France pavilion and Morocco pavilion at Epcot's World Showcase hint at the adoption of the Ratatouille: The Adventure ride at Disneyland Paris.
Of course Disney has not yet confirmed nor denied the validity of both rumors, but it has said in the past that there would be improvements coming to Epcot and the overall Walt Disney World Resort. We shall have to wait and see!
 [ult_buttons btn_title="BUY DISNEY TICKETS" btn_link="url:https%3A%2F%2Fwww.orlandoattractions.com%2Forlandoattractiontickets%2F|title:Book%20Now|target:%20_blank|" btn_title_color="#ffffff" btn_bg_color="#e524c2″ btn_hover="ubtn-top-bg" btn_bg_color_hover="#c0f1f7″ btn_title_color_hover="#358ee8″ icon="none" icon_size="32″ btn_icon_pos="ubtn-sep-icon-at-left" btn_border_style="solid" btn_color_border="#d023e0″ btn_color_border_hover="#26b9de" btn_border_size="1″ btn_radius="5″ btn_font_family="font_family:Nunito|font_call:Nunito|variant:700″ btn_font_style="font-weight:700;"]