2021 is in full effect, and if you're anything like us, you're excited to get out and visit your favorite I-Drive attractions! Luckily, the attractions along I-Drive have been hard at work over the past year, implementing new safety protocols and procedures to keep guests safe; and if you ask us, they've done a remarkable job. Below is all you need to know about enjoying I-Drive in 2021.
Next time you visit, you'll be met with temporary abnormal; experiences that are just as exciting as always, and more importantly, safe! Find peace of mind as we go over some of the changes you can expect during your next visit to these popular I-Drive attractions.
SeaWorld Orlando

SeaWorld Orlando is and has always been, committed to the health and safety of their guests, employees, and of course the beautiful animals that are in their care. They have worked together with state and local health officials, as well as outside consultants and attraction industry leaders to enhance their health, safety, and cleanliness standards. Here are some things you can expect during your next visit:
Employee & Guest Temperature Screening, using the CDC temperature recommendation of 100.4 degrees Fahrenheit.
Face Coverings, for employees and guests 2 years old and up must wear a mask while in the park, with the exception of eating, drinking, and designated relaxation areas of the park.
Physical Distancing; from reminders via signage and markings throughout the park, as well as Plexiglas barriers installed in high-traffic, close contact areas. Lounge chairs and other seating areas have been situated with social distancing in mind, and contactless payments are highly encouraged.
Cleaning & Sanitation has been significantly increased, from the frequency of cleaning for all key areas of the park, as well as the number of hands sanitizing stations throughout the park.
Covid-19 Training for employees, to cover all new enhanced park operating procedures, as well as the most current guidance from the CDC and other health advisors.
You can read more about new health protocols in place at SeaWorld Orlando, as well as how new precautions will affect specific park experiences here. Get ready to enjoy the same fun, inspiring, and memorable experiences during your next visit to SeaWorld. Enjoying I-Drive in 2021 starts here.
Universal Orlando Resort
Ready. Set. Wow! Get ready for the same universally loved experience, while remaining safe. Check out some of the new protocols that 
Universal Orlando
 has implemented:
Beyond these new protocols, they are also:
Limiting capacity and following social distancing guidelines throughout the park.
Increasing their already-aggressive cleaning and disinfection procedures, and frequently cleaning all high touch surfaces.
Temperature checking all Team members and requiring face masks as well.
Training team members on new procedures.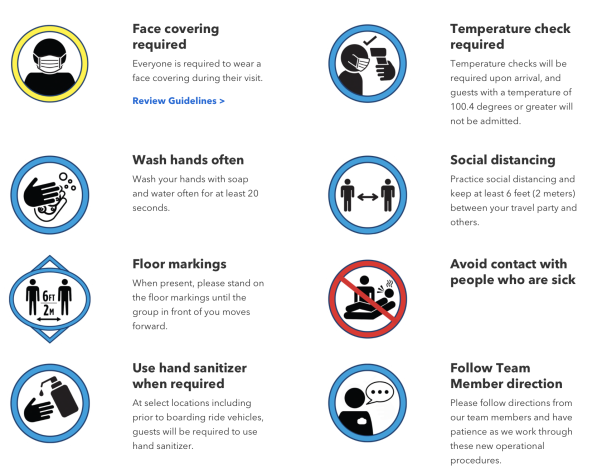 Heading out to Universal? Access contact-free features to enjoy during your visit by downloading the Official Universal Orlando Resort App, which helps you stay connected with free WiFi throughout the park, as well as:
Place mobile food & drink orders from select restaurants.
Get virtual line return time.
Purchase tickets in the app and scan at the turnstile.
Learn more about what Universal Orlando is doing to keep you safe, and what to expect during your next visit, here.
Fun Spot America: Safe. Clean. Fun!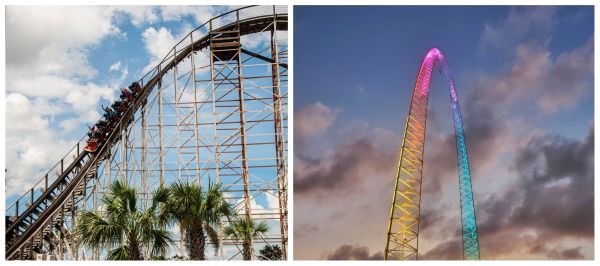 Helping their guests and team members maintain their health is Fun Spot America's first priority, and in order to do this and keep the good times rolling, they've implemented some new safety protocols as well.
Team members will be required to complete a temperature check before the start of their shift, wear masks at all times, and have been trained on new safety procedures that have an enhanced focus on sanitation; from railing surfaces to high-touch areas being cleaned regularly.
All food & beverage, and cash-handling team members will be required to wear both a face mask and gloves.
Social distancing is required, and many areas of the park have been reconfigured to support a safe social distance of 6 feet apart.
70% alcohol-based hand sanitizer will be located within eyesight through the entirety of the park
Condiments, sides, and single use utensils will be available upon request.
The team at Fun Spot America has been trained on the latest safety protocols and safety recommendations from the CDC and will be happy to assist you during your visit. See more details about the new safety protocols in place at Fun Spot America here, and get ready for an unforgettable day of fun at one of Orlando's favorite attractions.
ICON Park Orlando
It only makes sense that your safety at ICON Park Orlando starts with The Wheel, and ICON Park knows that. That's why they are offering complimentary upgrades to private capsules for all parties, cleaning every capsule between each party, and of course, their air conditioning system in each capsule draws fresh air during your ride.
If you're looking to enjoy the many dining spots, live entertainment, and other attractions that call the beloved open-air entertainment complex, ICON Park, home, the restaurants, and attractions are open and have each introduced enhanced safety and cleaning protocols for visitors. You can find a directory of these locations, as well as direct links to their websites to view detailed safety information here. As you're walking around ICON Park, enjoying the beautiful courtyard, and exploring the inside of The Wheelhouse, here is what to expect:
Face coverings must be worn by all guests over two years old while visiting ICON Park
Masks will be available for purchase within The Wheelhouse during operating hours.
Masks must be worn when entering any establishment but may be removed while eating or drinking.
Social distancing is being enforced within each establishment in accordance with local regulations.
Signage has been placed across the property to encourage guests to maintain 6 feet between each party in all public areas.
ICON Park has taken safety measures to new heights so that you can take your next day of fun in Orlando to new heights as well! You can learn more about what they are doing to keep you and your group safe here while enjoying I-Drive in 2021
WonderWorks Orlando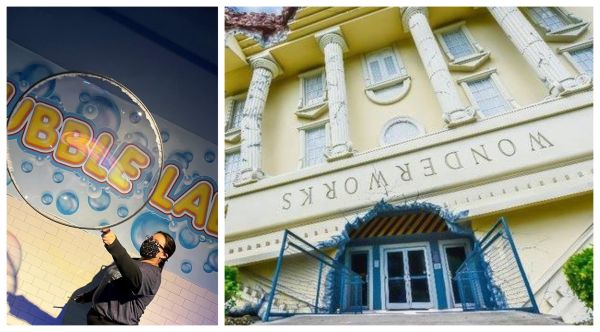 You won't have to wonder about the safety measures in place at WonderWorks Orlando. WHat better place to spend time enjoying I-Drive in 2021.
Social distancing of 6 feet is required, with benches and various other structures throughout the attraction being resituated to promote a safe 6 feet distance between parties.
Guests and employees are required to wear masks unless dining while on the 1st-floor cafe.
They are not accepting cash transactions*
Water fountains have been closed.
Sanitizer stations have been placed throughout the attraction.
Employees will receive health screenings daily.
Note that due to the increased focus on social distancing, wait times for entry to certain exhibits may be longer than usual, but after all, who couldn't use more time to wonder at WonderWorks Orlando? Get all the details about what to expect during your next visit here, and enjoy a mind-boggling day of hands-on learning.
Ripley's Believe it or Not

Upon entering Ripley's, you will immediately notice changes—from the precisely placed social distancing markers in line to reduced contact. Their staff has also been extensively educated to provide you with a safe experience.
Here's what you'll find during your next visit to the weirdest place in Orlando:
Face coverings required in line with the state mandate.
Limited capacity and protective barriers throughout to promote social distancing – cashless payments are also encouraged.
Employees will undergo daily screening.
Consistent sanitation of all kiosks, interactive's, restrooms, and frequently touched surfaces.
Sanitation stations have been added through the attractions.
Gloves are required at Ripley's Mirror Mazes and Moving Theaters.
At Ripley's you can be sure that you can get weird, and relish at all things odd and bizarre while staying safe.
The attractions along I-Drive have, and continue, to operate with a stringent focus on safety and cleanliness, while offering guests the same experiences they know and love! Through communication with local and state officials, the CDC, and other health advisors, I-Drive attractions have come together to create processes and procedures that will keep their guests, and our community, safe. All that is left is for guests to continue to do their part:
Washing hands frequently for more than 20 seconds.
Keeping interactions with others to a minimum.
Following all guidelines during your visit … and of course, staying home if you're feeling ill.
If you're hitting the attractions on I-Drive sometime soon, there is no doubt that you'll notice differences as Central Florida adjusts to a temporary abnormal; but, you can still enjoy the same unmatched attraction experiences you love. Find a full list of attractions that are now-open on I-Drive, and start making plans to jump back into the fun in the heart of Orlando wile enjoying I-Drive in 2021.