Will you be heading to Orlando's Most Dynamic Neighborhood for some Easter fun this year? If so, hop over to these egg-citing Easter events happening on I-Drive for your hoppiest Easter yet!
Eat, Drink & Be Hoppy
What's Easter without a delicious meal? Whether you're looking for some classic Easter items or want to try something a little more unique this year – if you're dining on I-Drive for Easter this year, check out these restaurants which have put together special Easter menus and offerings for your family to enjoy!
Keep it Classic: Easter With Rosen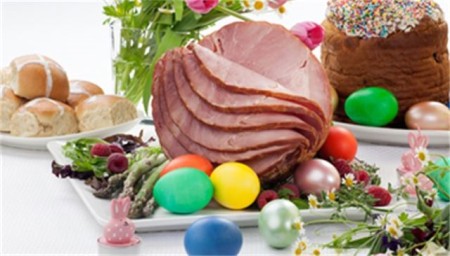 The many Rosen Hotels along International Drive are each known for offering guests serene accommodations and luxurious amenities in an unbeatable location. For most major holidays, Rosen's talented culinary team works hard to put together a buffet for everyone to enjoy. So, whether you'll be treating yourself to a stay at one of the Rosen properties or simply want to enjoy a world-class offering at their special buffets, everyone is welcome at Rosen.
Easter Dinner at Rosen Inn at Pointe Orlando: Join family and friends at Rosen Inn at Pointe Orlando for a bountiful Easter buffet, featuring fresh flavors and springtime specialties.
Where: Plaza Garden Restaurant
When: Sunday, April 9 | 4 pm – 9 pm
Admission: Adults: $26.95 | Children (10 and under): $19.95
Children (5 and under): Free with paying adult (limit one child per paying adult)
Easter Brunch at Rosen Shingle Creek: A delicious brunch to start the day and an egg hunt for the whole family! The Easter egg hunt starts with a visit by the Easter Bunny and kicks off at 10 am! One golden egg will be hidden with a special gift certificate for a stay at Rosen Shingle Creek. Oh, and for the adults, admission includes bottomless champagne and mimosas.
When: Sunday, April 9 – 11 am – 6 pm
Admission: Adults: $89.95 | Children (Ages 4-11): $37.95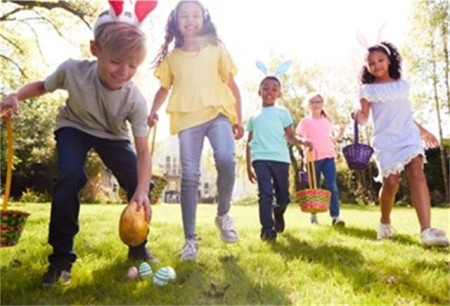 Easter Brunch at Rosen Plaza: Fill your Easter plate with wonderful, delicious treats from Rosen Plaza's decadent Easter brunch. Choose from a delightful spread of savory and sweet treats. This Easter Sunday, celebrate blessings of hope, joy, peace, and great company.
When: Sunday, April 9, 2023 | 11:00 am – 3:00 pm
Admission: Adults: $55.95 | Children (4 to 11): $23.95
Easter Brunch at Rosen Centre: Treat your family to a delicious Easter brunch at the Rosen Centre hotel. This year's buffet features an incredible spread of savory eats and sweet treats. Check out the carving station which will feature a roast leg of lamb. Hit up the hot buffet for honey-glazed salmon, chicken osso buco, and sous vide short ribs with wild mushrooms and pearl onions.
Love breakfast? What stands out at this buffet is the breakfast station. Here you can order your omelet just the way you like it. Dig into a bounty of buttermilk waffles, candied-pecan pancakes, and eggs benedict. Plus, this year, enjoy favorites from Banshoo Sushi and 98Forty Tapas & Tequilas. But be sure to save room for dessert, because the dessert bar this year will boast pastries, chocolates, cupcakes, tarts, cakes and cookies, and even a large variety of no-sugar-added treats.
Where: Café Gauguin
When: April 9, 2023 | 11:00 am – 4:30 pm
A Unique Easter Meal
I-Drive is a unique place, so if you're hoping to mark your Easter in Orlando with an equally-unique meal – check out these popular dining spots that are offering Easter specials this year.
Go Greek at Taverna Opa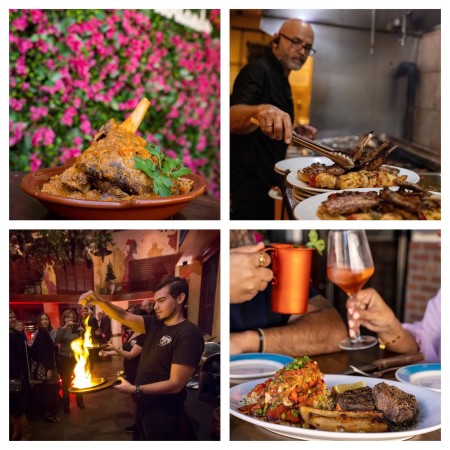 Taverna Opa is known year-round as Orlando's best Greek restaurant, and their Easter brunch and Easter dinners are even better, including special dishes that would even make the Easter bunny hop with joy.
Celebrate this Easter with a Mediterranean feast featuring authentic Middle Eastern cuisine – for a dining experience straight from the Holy Land. On Easter, they'll be open during their regular hours, and there will be live traditional Greek entertainment and belly dancing beginning at 7 pm. Enjoy a free glass of house wine with the purchase of a lamb entree! Get all the details and see a full menu here.
Easter Dining at Tapa Toro Orlando

On April 9th from 10:30 am to 3 pm, head to Tapa Toro, Orlando's best-loved Spanish restaurant, to enjoy either a brunch or dinner menu – both equally special, featuring Spanish-inspired dishes that will have your mouthwatering.
The brunch buffet is $49 per adult and $18 per child under 10, plus gratuity and tax. Or if dinner is more your thing, enjoy their full menu of favorites la carte, plus live flamenco dancing! See full menus for each dining option, and head to Tapa Toro to enjoy delicious, authentic Spanish cuisine this Easter!
A trip to Old Havana at Cuba Libre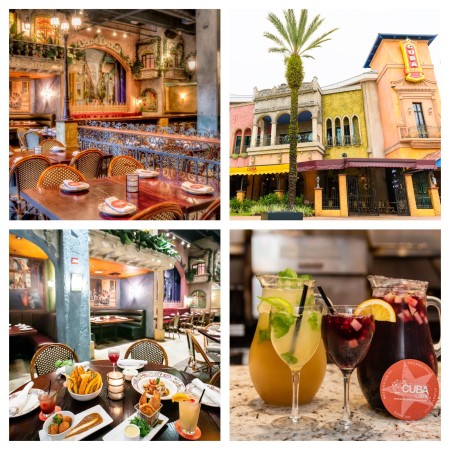 Take to Old Havana this Easter with an Easter Buffet at Cuba Libre!
Their Easter buffet will be available all day starting at 11 am, with the last seating at 6 pm. Admission is just $39.95 for adults and $16.95 for kids (12 and under), and includes non-alcoholic drinks.
This Easter buffet will feature delicious savory and sweet Latin dishes like Cuba Libre's Ropa Vieja Hash, Salmón Relleno, homemade Latin pastries, Huevo en Cazuela, and so much more! Plus, stations to create-your-own waffles and omelets!
Drink specials include $8 bloody marys and mimosas, plus their all-new Espresso Rumtini for $13.50! In addition to their full drink menu is available for a la carte ordering.
See the full menu and make your reservation to take your taste buds on a trip to Cuba this Easter.
Breakfast with the Bunny at Hard Rock Orlando!
On April 7th, Good Friday, round up the family and head to Hard Rock Orlando between 10 am and 11:30 am for a rockin' breakfast. Enjoy a delicious meal, pictures with the Easter Bunny at the World's Largest Hard Rock Cafe, plus cookie decorating kits with the kiddos, and other festive Easter activities! If you're looking for a memorable Orlando Easter experience, this is it! Get all the details and make your reservation today.
A Special Easter Treat JoJo's ShakeBAR Orlando

JoJo's ShakeBAR keeps the booze flowin' and the fun hoppin' on Easter! If you're looking for a sweet Easter treat, head to the newly-opened JoJo's Shake Bar at Pointe Orlando to order-up one of their limited-time Easter-inspired shakes available through April 16th.
Family favorites:
Peeps & Cream Biggie Shake
Peep Show Hot Chocolate
Funfetti Baked Hot Chocolate
For the adults kids:
Spirit of Gonzo
Trix are 4 Kids
Sundae Funday
Guests are invited to indulge in Easter treats, and dig into a full menu of diner classics at this next-generation restaurant and bar serving 80s and 90s nostalgia, diner fare, hand-crafted cocktails, and decadent desserts. Learn more today!
Easter Fine Dining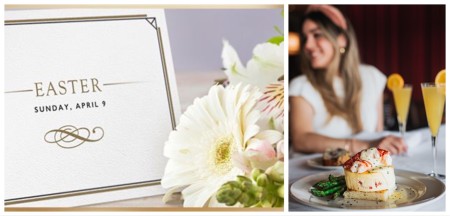 Hoping to indulge in some fine dining with the family for Easter this year? Elevate this special holiday with a delicious meal at one of Orlando's favorite steakhouses.
Capital Grille: Head to Capital Grille from 10 am to 2 pm on Easter Sunday to enjoy Capital One's full menu of chef-crafted seasonal items in addition to four special brunch features!
Rodizio Grill: On Easter Sunday, Rodizio Grill will be offering an expanded menu featuring shrimp, lamb chops, salmon, and more! Plus, every family will receive a special buy one dinner get one free offer for a future visit. Admission: $54.99 per person; Salad Bar Only price: $44.99 per person – Kids ages 7-11 $14.99 per person; kids ages 3-6 yrs. $7.99 Elevate your Easter with a true Brazilian steakhouse experience. See the menu and make your reservations today.
Del Frisco's: Celebrate Easter with elegance at Del Frisco's Double Eagle Steakhouse. From April 6th through April 9th, head to Del Frisco's to enjoy a Chef's Special, featuring a 12 oz Prime Delmonico Steak with Roasted Maitake Mushroom, and Fresh Shaved Black Truffle, in addition, their full menu of favorites including their extensive wine list and dessert menu will also be available. Get all the details and make your reservation for an elegant Easter meal in the heart of Orlando!
Easter Experiences on I-Drive
The Easter Bunny Experience at ICON Park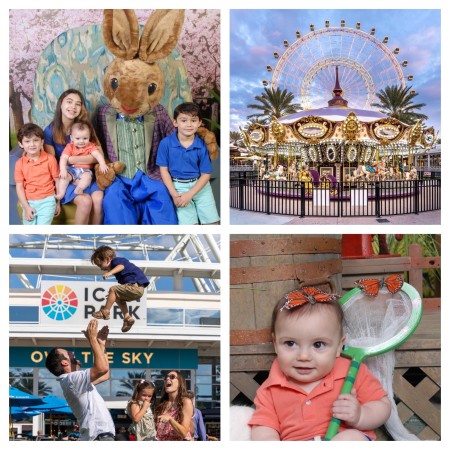 If you want the ultimate piece of memorabilia to remember your Easter spent in Orlando's Most Dynamic Neighborhood, a trip to ICON Park to visit the Easter Bunny Experience is a must! Through April 8th, head to The Wheelhouse at ICON Park to enjoy snapping the perfect spring candid portraits and pictures with everyone's favorite little brown bunny. This is one of Orlando's best Bunny photo ops so reservations are required.
The butterflies and baby bunnies are ready, the giant eggs have been dyed, and the Easter bunny is excited to visit with you and your family! Get all the details here.
Easter Sunrise Service at SeaWorld Orlando

Start your holiday with a special Easter Sunday Service at SeaWorld Orlando as the sun rises above Orlando at this free event! Hop over to SeaWorld Orlando's Bayside Stadium or Orca Stadium on Sunday, April 9th. The gates open at 5:30 am and the service begins at 6:30 am, (note that seating is first-come, first-serve).
Z Artist Evan Craft will be leading the worship. You might even know his song Be Alright and his latest song Fight on My Knees. Can't make it? You can also hear Evan Craft on SeaWorld's sister stations LaZ 102.5 and HOT95.9! Then Tedashiia Christian, Hip Hop Artist and Public Speaker will bring the Easter Message. Tedashiiis the founder of Chase Foundation. The foundation is in honor of his 1-year-old son who passed away and offers resources for families who have had the same experience. He has a powerful testimony and is ready to share his message and the Gospel with you and your family.
There's something special about being together to watch the sunrise on Easter morning, and this is sure to be a memorable service. Get all the details and plan on starting your Easter Sunday at SeaWorld Orlando this year!
If you're celebrating Easter on I-Drive, there's no doubt you'll be hopping with delight! Browse a calendar of events happening during your visit, and start planning a memorable Easter celebration in Orlando's Most Dynamic Neighborhood!