An hour east of Orlando lies an experience you'll never forget – in a state famous for things that are NOT real this is about as real as it gets! You can drive your own tank for pete's sake! You can take the controls over a challenging all terrain course – Tank America was recently featured on the BBC and the presenter had a blast! Maybe getting to drive over and crush a car was on his bucket list? Maybe it needs to be on yours!
There's a variety of options to choose from – all of which are thrill a minute! No theme park lines here & no virtual reality required!
Basic Training – Terrain Course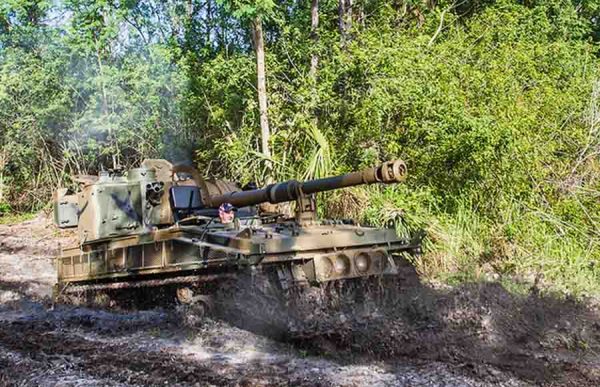 Once you're briefed by the platoon Commander at Headquarters, your Team will board an Armored Personnel Carrier tank (APC Green Dragon), where you'll be escorted to the Battle Front. Once there, you'll slide into the drivers seat of the FV433 Abbot tank and receive mission instructions from the Commander. Now, get ready for the thrill of a lifetime as you control a 17 ton monster, raw energy pumping through your veins.The massive tank beneath you will obliterate every barrier blocking its path.
Commander Package – Terrain Course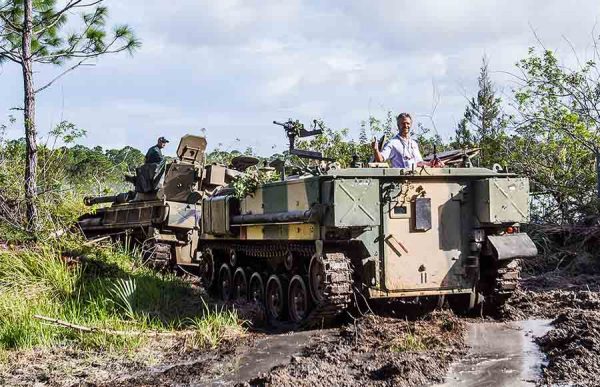 The Commander Package gives you the opportunity to feel the exhilaration of driving both vehicles in our fleet.  After navigating your way around our course in the FV433 Tank you will also experience the challenge and thrill of driving our APC in combat lock up.  In combat lock up you will experience what it is like to drive with all of the hatches closed as if you are really driving into battle!
Advanced Tank Package – Terrain Course & Car Crush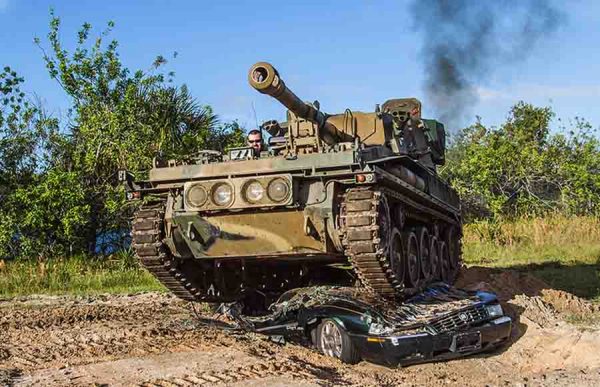 Advanced Troops include everything in Basic Training PLUS even more destructive fun. After crashing through the forest in the FV433 and laying waste to everything in your path, you'll head out for your next adrenaline laced adventure: annihilating a car. Attempt to hang on as the Abbot ascends and rumbles across the vehicles hood, crushing it underneath with a roaring crunch. Afterwards, whipped into a flurry of excitement, motortriumphantly back to headquarters grinning ear to ear.
Ultimate Combat Experience – Drive Combat Locked Up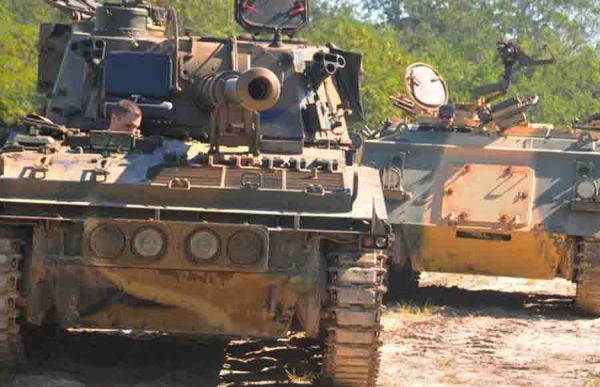 The Ultimate Combat Experience package includes everything in the Advanced Troop package PLUS experience the unique opportunity to drive COMBAT LOCKED UP! Navigate your way around our tank course completely locked up with the hatch closed! In addition to driving the FV433 you will also traverse our course through the obstacles using only the periscope and guidance from your tank commander.
So – mount up and lets get to it!
9150 Ellis Rd.
Melbourne, Florida, FL 32904
General Inquiries
Phone: 321.241.1122
Email: info@tankamerica.com