A version of Super Nintendo World now under development at Universal Studios Japan is likely on the cards for Universal Orlando and Universal Studios Hollywood. That attraction is expected to take guests into the world of video game characters Mario and friends, with many fans speculating one of the attractions will be based off of the Donkey Kong character.
To that end, the eagle eyed staff over at the Orlando Business Journal reported this week that "there may be proof that the iconic Donkey Kong actually is getting a ride made for Nintendo land — something we eventually may see in Orlando.
A post on Reddit by user, GlutenAttack02, includes a video of a test coaster that resembles the rumored description of a Donkey Kong coaster idea.
While there's no way to authenticate the video, what is shown is staggeringly close to a design in a patent Universal filed in 2016. The patent, dubbed "Boom coaster," was an approach to ride design that had a ride car elevated above a track using a support arm.
Images with the patent showed the ride car would be able to be elevated high enough that a fake track could be placed underneath it with the actual arm connected to an actual track system further down.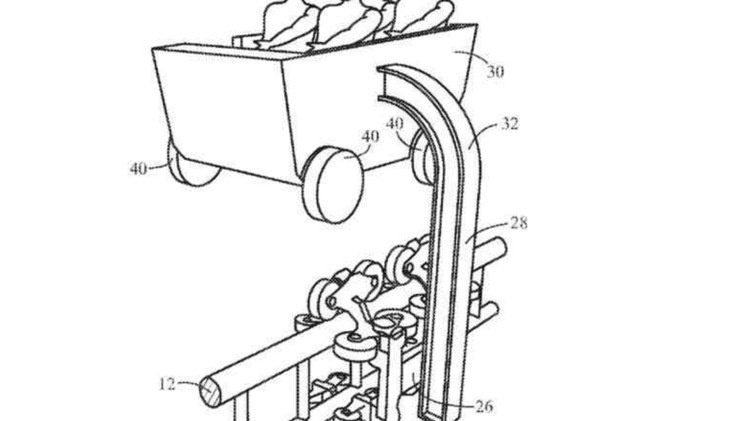 The similarities between this patent and the video shared online support theories that Universal is in the process of using this for a future attraction — most likely one themed after the Donkey Kong character.
In the Donkey Kong Country video game series, the player has to navigate Donkey Kong through mines aboard a mine cart. The cart adventure includes dips and turns and even sections where the track ends and the cart is required to jump to another nearby track to continue progress forward.
The boom coaster patent would allow a theme park designer to mimic that type of experience by building a fake track underneath that simulates the perilous jumps, but still has riders safely attached to a track system underneath.
Executives with Universal Orlando Resort declined to comment."
So for now Orlando's theme park watchers maybe take this 'nugget' onboard for consideration as the video doesn't confirm one way or another that this project is actually for Universal Orlando resort. That being said the company have definitely raised their game as they continue to compete with the Mouse, so these theme park detectives may not be so far away from a scoop we can all look forward to.