"Crookedology" may not be a design style you've heard of before, but it's certainly a major influence at Disney's new Ratatouille ride under construction at Epcot. That quite unique look is what Disney's Imagineers say visitors will see when they dive headlong into the world of little chef Remy the rat.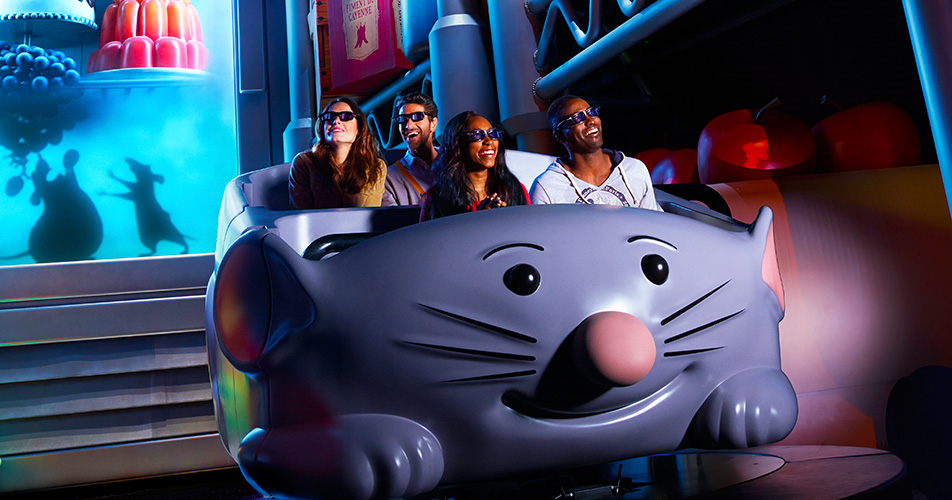 On the new Epcot ride, dubbed Remy's Ratatouille Adventure, guests will shrink to the size of rats — Parisian rats, to be exact — and then they hop into rodent-shaped ride cars for a trip through the kitchen of Gusteau's, one of the top restaurants in Remy's version of Paris. The attraction opens at Epcot's French pavilion next summer in Orlando.
The architecture throughout the ride has the same artistic, odd and crooked look from the film, said Mike Davie, project manager on the ride with Disney Imagineering.
The whole bizarre look is throughout the ride, even when you enter Gusteau's pantry, which features massive recreations of foods ranging from a 2.7-ton ham to a fish the size and length of a pick-up truck, basketball-sized peas and … you get the idea.
Early settings of the ride show a rooftop with pipes, gutters and railings — some twisted — to recreate the Pixar film. It truly looks like you've been transported into that world.
The attraction mixes several ride mechanics seen before such as 4-D experiences that include scents as guests race through the kitchen. Plus, each ride car is expected to behave differently, making each ride unique.
The new ride is part of an overall massive transformation of Epcot that includes other attractions, areas, shows and more.