Orlando Attractions Update — It must be something in the water!  Five baby bottlenose dolphins were born at Discovery Cove within one month of each other.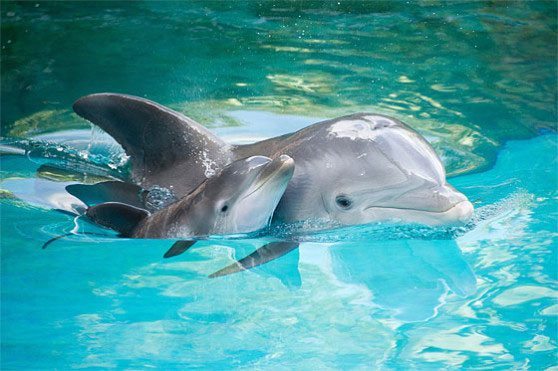 Kona, a girl, was born August 3 to mom Roxy;
Titan, a boy, was born August 6 to mom Calypso;
Nero, a boy, was born August 7 to mom Nueces;
Star, a girl, was born August 14 to mom Stella; and
Storm, born September 2 to mom Hailey.
Storm's gender has not yet been determined.
At birth, each calf weighed approximately 35 pounds and measured about 43 inches in length. The babies each nurse for several minutes every hour and get 100% of their nutrition from their mothers' milk.
"An animal birth is a very special time for our team, and having five babies at once is remarkable," said
Animal Trainer Gina McDaniel. "The last time we had this many new babies was 2009, so this is an exciting time for our dolphins and our animal care team."
The new moms are attentive, keeping their babies close and swimming constantly to create a "slip stream," or wake, in which the calves can swim easily, exerting as little energy as possible. Within hours of their arrival, the calves' tails and dorsal fins — soft and pliable at birth — gradually stiffen, which helps them learn to swim on their own.
"Calypso, Nueces, Stella and Hailey are all first-time moms, so Roxy has been a great role model for them," said McDaniel. "Dolphins are highly social animals, so it's common for new moms to get assistance from experienced moms, who are known in the dolphin world as 'aunties.'"
The babies will stay close to their mothers for some time and will soon have the opportunity to interact and play with one another, meet the other moms and eventually be introduced to social groups within the park.