On your next holiday to Tampa, Florida, be sure to include two attractions that showcase creatures great and small from Florida and beyond: ZooTampa at Lowry Park and The Florida Aquarium! Discover something new at Tampa's Zooquarium.
ZooTampa at Lowry Park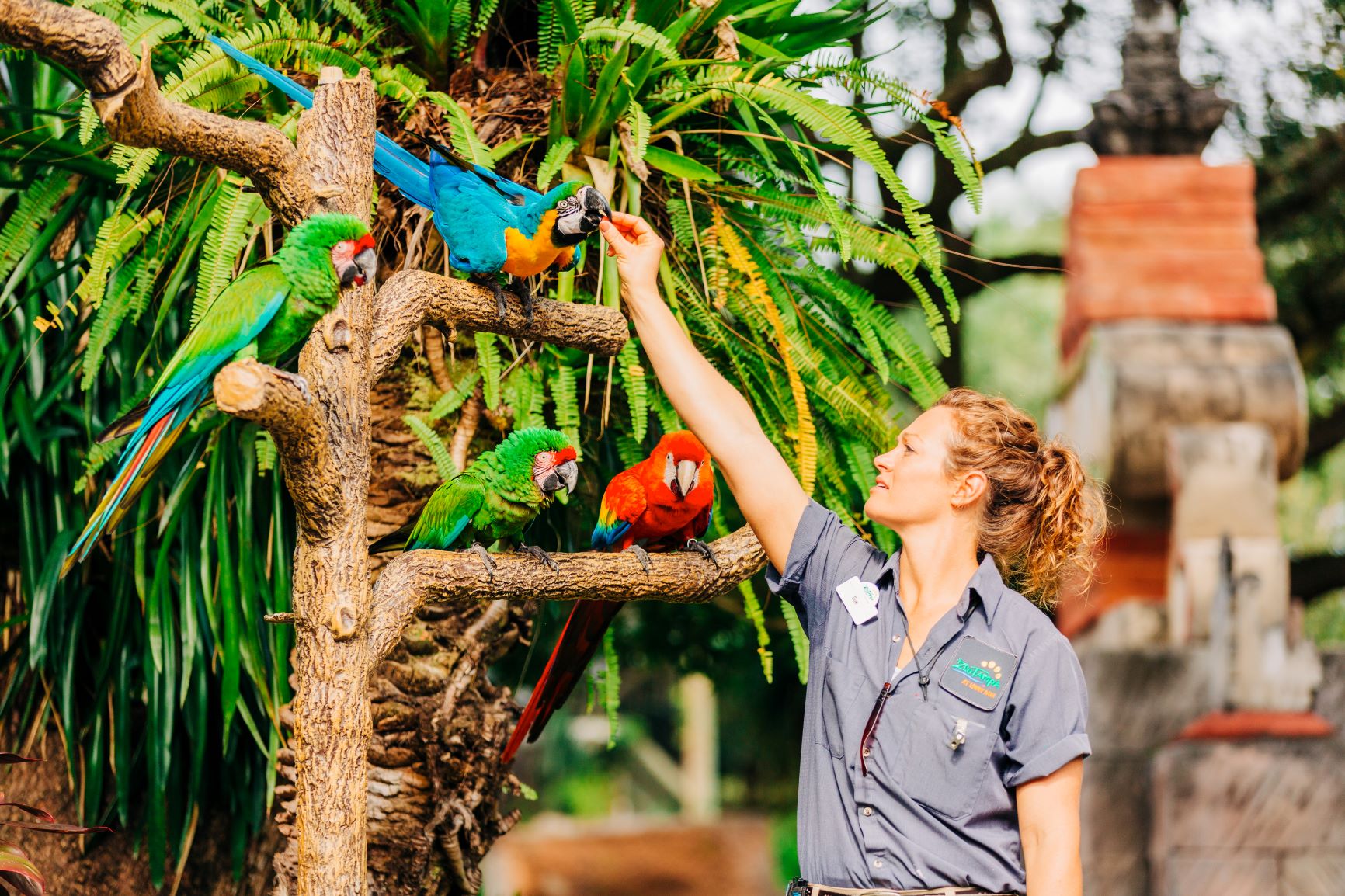 ZooTampa at Lowry Park has been a popular attraction for decades, entertaining and educating almost one million visitors annually with enjoyable and immersive animal adventures. This spring, the Zoo is unveiling new habitats with rare and unique species and a safari experience aimed at the goal of connecting guests with amazing wildlife. We are thrilled to be able to introduce new experiences that will re-set the anticipation of what the Tampa Bay area can expect from their Zoo. Many people will never get the chance to take a trip across the world to see a rare shoebill stork in its native habitat or to be close enough to a binturong to catch a whiff of its unique scent which many compare to buttered popcorn. This is just the beginning of the exciting plans we have for the fiscal year 2021. We want our guests to walk away inspired and empowered by experiences that show the uniqueness of the animal world and join us on our mission to save these amazing species. Check out what's coming to ZooTampa and discover something new at Tampa's Zooquarium .
Shoebill Storks Aviary (Opening March 13)
ZooTampa is home to three of only four shoebill storks in the United States. These fascinating birds can reach five feet in height and are classified as vulnerable, with only 3,300 to 3,500 mature shoebills still living in the wild. In 2009, ZooTampa became the first wildlife institution in North America to hatch one of these rare avians. Their new habitat is located in the Africa realm of the zoo and will provide guests their first glimpse of these incredible animals in more than a decade.
Binturongs Habitat (Opening March 13)
ZooTampa's beloved binturong family—Sully, Melati, and baby Kartika—will be relocating from their behind-the-scenes living space to the Asia realm of the Zoo. Also known as Asian bearcats, these animals spend most of their time in trees using their padded paws and long claws to expertly grasp branches and explore treetops. Their distinctive scent, which is said to resemble buttered popcorn or corn chips. Listed as vulnerable, binturongs are currently at risk due to habitat destruction, poaching, and the fur and pet trade.
Expedition Wild Africa (Opening May 2021)
In this newly designed safari experience, guests will have the opportunity to play the role of research interns visiting Africa's Pampu Preserve.
They will enjoy solving clues and visiting virtual base camps and research stations while onboard a safari truck during their journey. Animal adventures abound, including up-close introductions to the best predators on the Savanah, a view of the largest land mammal in the world, a close encounter with a crash of White Rhinos, and much more!
In addition to these new adventures, we have also revamped our membership special event series to include Speakers of the Wild, Fitness in the Wild, and Breakfast with the Animals. We are dedicated to continuing to find ways for families to get wild safely to ensure that members of our community have a place to experience the much-needed mental health benefits and comfort that being outdoors and connecting with nature provides."
Curiosity is Rewarded at The Florida Aquarium
The Florida Aquarium offers various fun activities for visitors of all ages. Inquisitive children and adults alike will be educated and entertained. When planning a visit, allow at least one hour for the casual visitor and closer to two hours for anyone with a strong interest in animals. For an additional fee and available for purchase on-site, there's a 75 minute Wild Dolphin Cruise. This add-on includes an educator on board who shares Tampa's port history along with fascinating local wildlife information. There is over 80% chance of a dolphin sighting, and even if one is not seen, the cruise is still an enjoyable time on the water so it's worth considering when coordinating your schedule and discover something new at Tampa's Zooquarium.
If the cruise is not an option for you, there is plenty to experience on dry land with a general admission ticket. Included is access to Splash Pad (an outdoor play area with wet and dry zones for young children) as well as 4-D Theater (for 3-D movies with added sensory effects such as rumbling seats or misting water). Also included (and experiences that many guests find to be the most memorable of their visit) is the Aquarium's three interactive touch pools. At the front lobby is Moon Bay where guests may learn about the striking Moon Jellies popularly called jellyfish– one of only four such touch exhibits in the United States. On the Aquarium's second floor are two touch pools: the ever-popular Stingray Beach with Cownose Rays and bamboo sharks as well as the adjacent cool water pool known as No Bone Zone. Here the water temperature is a chilly 52˚F (11˚C) — very different from what's found along Florida's coasts.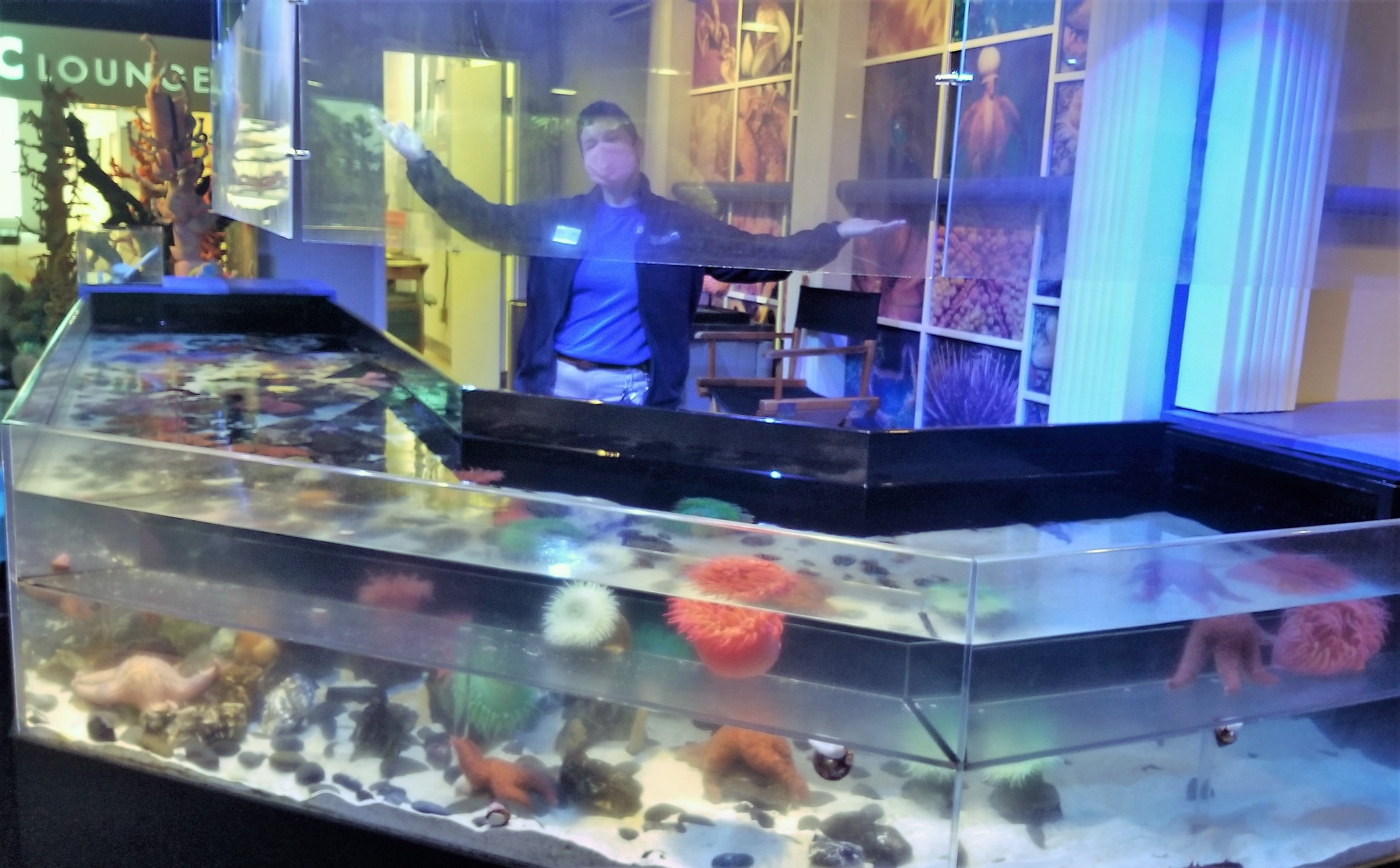 The No Bone Zone presents aquatic animals that are invertebrates, meaning they have no backbone. New residents to the No Bone Zone include Moon Snails, Giant Sea Cucumber, Painted Anemone, Black Katy Chiton, and Red Turban Snail. Interested in learning more about these unique creatures? Then keep reading!
The anemone may be best known as providing a home for a certain animated clownfish named Nemo. Most people think anemones (normally found stationary with their tentacles flowing with the current) are a type of sea plant. Rather they are colorful aquatic animals!
The Painted Anemone is found from Alaska to central California and its diet includes sea urchins, mussels, fish, and crabs.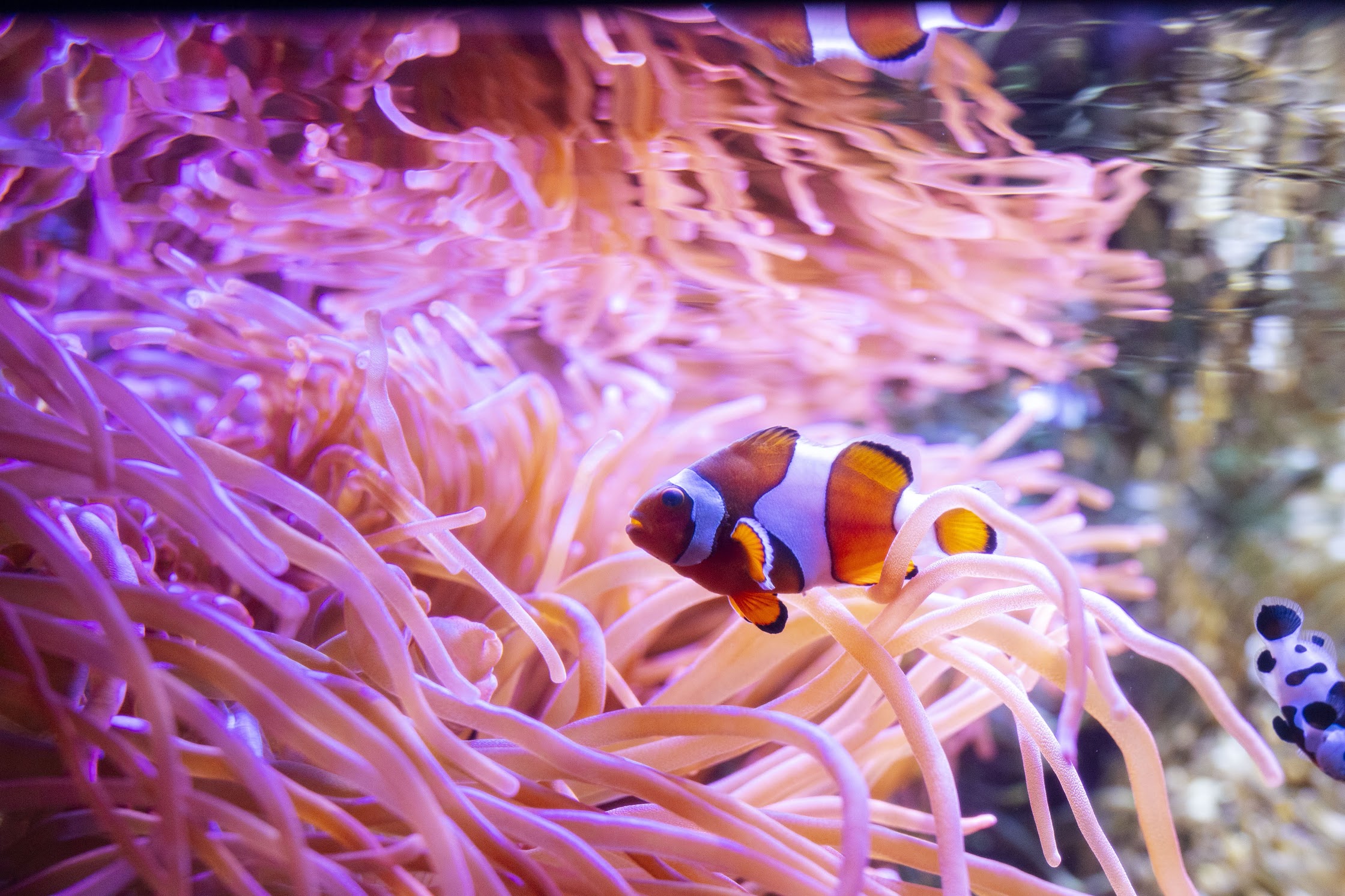 The Giant Sea Cucumber can grow up to twenty inches (50 centimeters) and is found from the Aleutian Islands of Alaska to Mexico. These curious creatures can actually expel their internal organs when under stress, which distracts predators while the sea cucumber escapes. They're able to regenerate once it is safe to do so. Furthermore, on a seasonal basis, they experience visceral atrophy, absorbing their internal organs.
Lewis's Moon Snails are also found along the Pacific coast of North America from Alaska to Mexico. Their population has been depleted as they are threatened by ocean acidification, which hinders the growth of their shells. Predators include sunflower sea stars and humans. They prefer cold water so will dive into deeper waters during warm days and make their way towards the surface after the sun sets.
At The Florida Aquarium, we make it much easier to discover and appreciate these captivating creatures. Our touch pools are an important element to help us fulfill the education portion of our mission.
And we take great care in offering touch experiences that are interactive yet safe for animals and guests alike. A gentle two-finger touch method is supervised by trained staff. The Florida Aquarium is a member of the Association of Zoos & Aquariums (AZA), a network committed to animal care, conservation, education, and science. AZA-accredited organizations must meet the highest standards in animal welfare including rigorous reviews and multi-day site inspections. As a non-profit, mission-based attraction, every ticket purchased helps support our mission: to entertain, educate and inspire stewardship of the natural environment.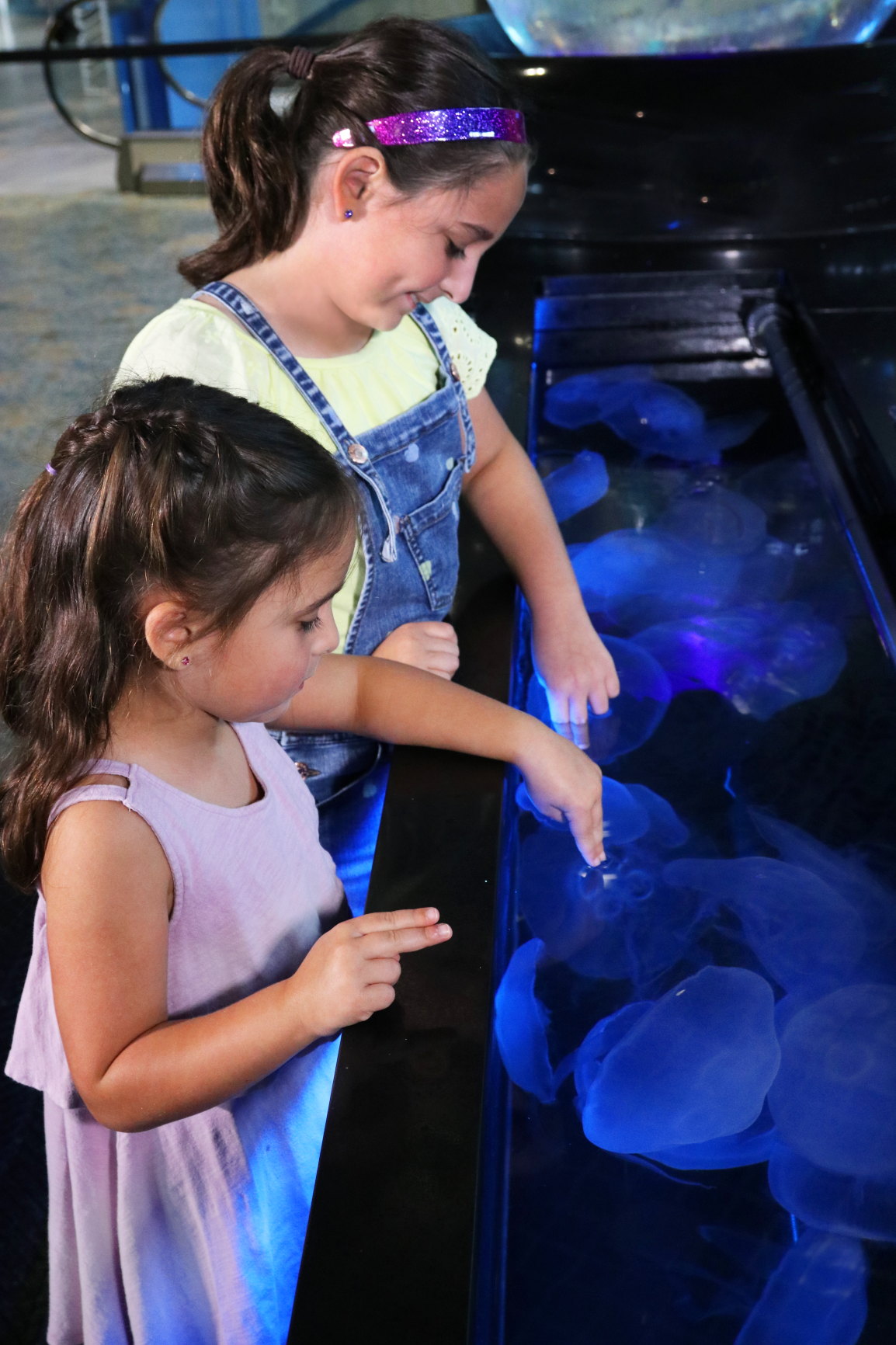 There is always something new and amazing to discover at ZooTampa at Lowry Park and The Florida Aquarium, and you'll appreciate the great value when you purchase a ZooQuarium pass. To discover something new at Tampa's Zooquarium and experience a whole new level of fun.