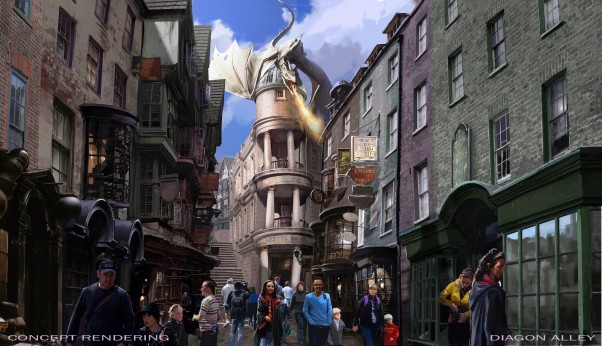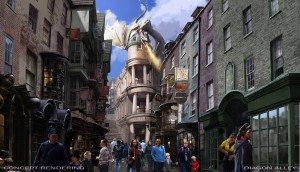 Orlando Attractions Update  – Things are falling into place in a big scaly, fire breathing way for Universal Studios' Wizarding World of Harry Potter — Diagon Alley. Just this week a very large crane put a very large dragon on top of the main showcase attraction, Harry Potter and the Escape From Gringotts.
The scaly figure was soon surrounded by scaffolding and material that keeps curious muggles from getting a clear view. It can though easily be seen from a handful of vantage points if you stand on tippy toes!
By Sunday, the dragon was somewhat under wraps at Universal Studios' under-construction Wizarding World of Harry Potter — Diagon Alley. (Photo courtesy of Dewayne Bevil, Orlando Sentinel / May 27, 2014)
There's still no official opening date for the attraction from the Universal Orlando camp, so may as well take the time time to review what we suspect is going down:
That dragon is designed to breath fire  – and you thought sunburn was bad!
Harry Potter and the Escape From Gringotts is a "multi-dimensional, mulit-sensory attraction," according to Universal press releases. And it's not a roller coaster. It's 3-D. Expect to see Harry and friends, goblins, the Gringotts vaults, the Death Eater and He Who Must Not Be Named. Eventually someone will have to say it out loud…
Inside Diagon Alley, aside from the Gringotts ride, will be the Leaky Cauldron, Florean Fortescue's Ice-Cream Shop, Weasleys' Wizard Wheezes store, Borgin and Burkes , Magical Menagerie, Madam Malkin's Robes for All Occasions, Wiseacre's Wizarding Equipment and another Ollivaders wand shop. Expect to leave the new attraction with a lighter wallet unless you 'petrify' your kids before entering…
The Hogwarts Express train will carry paying customers (those who have purchased  two-park tickets) — between the original Wizarding World at Islands of Adventure and Universal Studios' new Diagon Alley. Expect steam and a whistle as that's what trains do, even magical ones!
Here's the latest Universal Potter Preview Video: