International Drive is Orlando's Most Dynamic destination, and one of the reasons for that is the wide variety of dining options that visitors are met with while here! We've got authentic cuisine from across the globe right here, and finely prepared at that! So, it shouldn't come as a surprise that we've got an unrivaled dessert scene too! If you're a dessert fanatic, you've come to the right place! Check out these dessert destinations next time you're in the district because it's ALWAYS dessert month on I-Drive!
Take your tastebuds on a trip!

I-Drive is known for its wide offering of International Cuisine, and dessert is no exception! Brazilian dessert is… absolutely delicious, and we've got two authentic Brazilian bakeries right in our backyard! Head to Gostoso Bakery for everything from snacks, sweets, cakes and many other delights that you may have never even heard of! Try something different from their menu like their Brigadeiros or Brazilian fudge balls, or take your fudge in a cup with sprinkles, a bolo de role, roll cake… and one of their countless other dessert offerings! And depending on where you are when that sweet craving unhinges itself, you can also check out their other bakery, Pão Gostoso Bakery, which has all of these offerings and more, as well!
Or, also known for their scrumptious pastries and desserts is Paris, and iCafe De Paris, located in Icon Park at the heart of I-Drive, is always serving up delicious, fresh-baked desserts similar to what you would find if you were strolling the streets of Paris, France.
You'll find everything on their menu from your favorite cake flavors like, red velvet, fudge, and key lime pie, and a variety of cheesecakes, as well as other items that are not as common to come across while in Orlando! Try their french macaroons, pistachio baklava, or kunefe to add some rich flavor to your dessert experience!
And if something both decadent and refreshing is more your speed, J-Petal is a Japanese restaurant that has just the sweet treats to hit the spot! Their sweet crepes are light and often paired with fresh fruit combinations like strawberries, blueberries, raspberries, bananas, and mangoes! Or, give their Thai rolled ice cream a try… we promise you won't regret it! Their Thai rolled ice cream is always fresh, light, and will hit the sweet spot without any guilt!
BJ's Brewhouse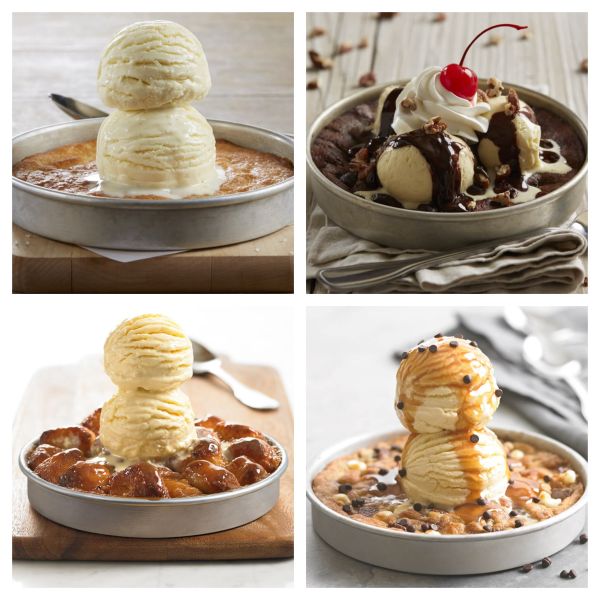 With a menu featuring over 100 items of all your favorites with their very own twist, BJ's Brewhouse is a go-to dining destination and has something for everyone in your group; but, many don't know that they are also known for their dessert! Since they started in 1978 they've been adding to their menu and refining their brews to ensure an amazing experience for anyone who comes to them to enjoy a meal, and a meal is never quite finished without the perfect dessert, which brings us to their world-renowned pizookies!
A pizookie is a dessert featuring a warm baked cake topped with an ice-cold scoop (or two) of ice cream, and no matter the craving, a pizookie will satisfy; just some of the pizookie flavors you'll find on your dessert menu at BJ's include: hot fudge brownie, chocolate chunk, cookies and cream, monkey bread, salted caramel, white chocolate macadamia nut, peanut butter and sugar cookie! Every month HAS to be dessert month on I-Drive to try them all!
Sugar Factory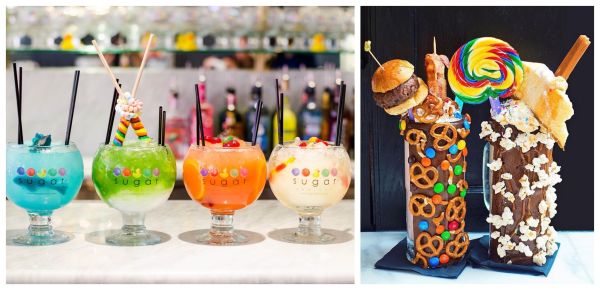 Everyone loves Sugar Factory, traveling almost any distance to indulge in their one-of-a-kind sweet treats! Their dessert menu features traditional milkshakes of various flavors, insane milkshakes… traditional but topped with almost every fixing you can think of, from waffles and candied bacon to gummy worms, burgers to name a few! Then, of course, we can't forget about their ice cream sandwiches, cakes, cheesecakes, and unbelievable takes on the classic, "ice cream sundae." But, the menu items that they're most known for are their goblets!
Their goblets are their signature sugary drinks and can be served with or without alcohol. And no matter what flavor you're looking for, we're sure you can find the perfect goblet. Some goblets you'll see on their menu are; The Watermelon Patch, Fuzzy Peach Penguin Mango, Hot and Wild Spicy 305 Pineapple and Virginia Strawberry Lemonade… but these are just a few! Check out their whole selection of goblets here.
International Drive is Orlando's Most Dynamic destination, and the desserts you'll find while here are no exception! With desserts inspired from around the globe, and delicious takes on some of our all-time favorite classic dessert options… you'll find everything you're looking for in a dessert and some things you didn't even know you were looking for! From your drink and appetizer to your entree, and the perfect sweet treat to top it all off; dining on I-Drive is sure to exceed expectations! Enjoy dessert month on I-Drive