December is upon us and whether you're looking to celebrate the holiday season with fun and festive events, get the family together for unforgettable memories, hit some of Orlando's most popular annual events, or simply want to escape the hustle and bustle of the holiday season with world-class entertainment and a one-of-a-kind night out on the town – I-Drive is the place to be.
If you'll be taking on Orlando's Most Dynamic Neighborhood this December, be sure to check out these exciting events and start making plans!
Car Enthusiasts

If you love cars, you're in luck! Central Florida's International Auto Show will return to the Orange County Convention Center from December 3rd to the 5th. Enjoy browsing over 500 new models, enjoy driving experiences, see unique and custom-modified vehicles, take test drives and so much more! It is sure to be a good time for everyone, so bring the whole family and enjoy this International Auto Show that is sure to blow your mind.
Immersive Yourself in the Works of Van Gogh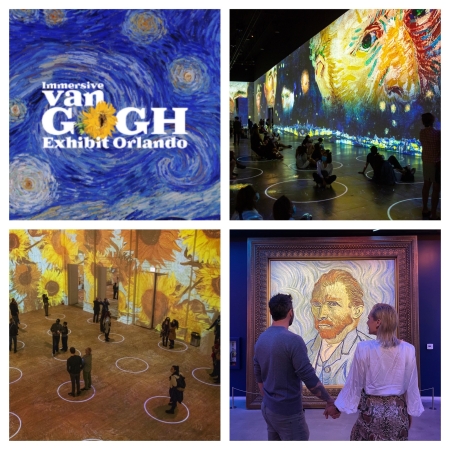 The immersive Van Gogh Exhibit Orlando is the ultimate immersive art experience, and is a can't miss! From his sunny landscapes and night scenes to his portraits and still life paintings, be immersed in it all as you are surrounded by over 500,000 cubic feet of monumental projections animating Vincent Van Gogh's oeuvre.
The installation includes the Mangeurs de pommes de terre (The Potato Eaters, 1885), the Nuit étoilée (Starry Night, 1889), Les Tournesols (Sunflowers, 1888), La Chambre à coucher (The Bedroom, 1889), and so much more. The creator of the Immersive Van Gogh exhibition is Italian installation artist Massimiliano Siccardi, whose work was seen by over 2 million visitors in Paris and was featured on Netflix's Emily in Paris.
Wander through entrancing, moving images that highlight brushstrokes, detail, and color – truly illuminating the mind of the genius. This ultimate, not-to-be-missed immersive art exhibit is perfect for the whole family – kids love it! So bring the whole family along for this one-of-a-kind experience on I-Drive!
Be Well Con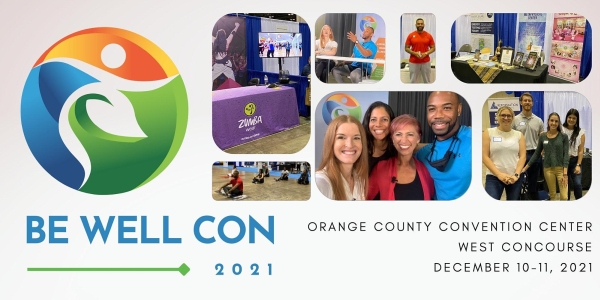 Are you already thinking of what resolutions you'll be setting for the new year? The Be Well Con Orlando 2021 is the inaugural event that invites you into the next generation of health for your mind, body, and spirit! You'll find presentations by industry experts on a wide range of wellness topics that support your personal development, from experts who understand that overall wellness is a personal journey for every individual, and encompasses your emotional and spiritual well-being in addition to your physical state.
The Be Well Con is the perfect place to start picking up the tools you'll need to live a healthier life and Be Well.
This event will be happening at the Orange County Convention Center on I-Drive on December 10th and 11th. Get the details today!
Live Entertainment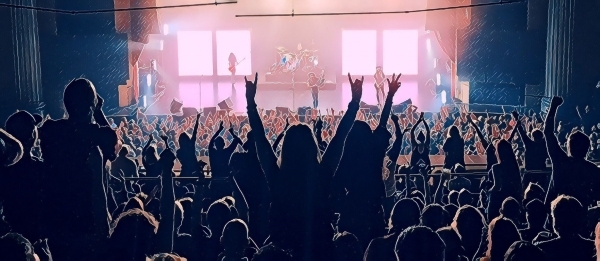 Are you a fan of The Guess Who!? Don't miss your chance to see rock singer Carl Dixon – formerly of The Guess Who, perform an acoustic and festive show live in the lobby of the Hard Rock Hotel at Universal Orlando this holiday season!
Performing hits like "American Woman," and "These Eyes," in addition to other rock n' roll and holiday favorites, this performance will take place on December 17th.
Hard Rock Live Velvet Unplugged Session is the perfect vibe for music lovers of all kinds and ages looking for a great way to enjoy a date night, friends night or just a night out with the family. Get the details today!
Here are some other can't-miss live performances happening this month on I-Drive:
Hard Rock Live
December 4th: Whose Live Anyway; 90 minutes of hilarious improvised comedy and song all based on audience suggestions.
December 11th: George Lopez OMG HI! Comedy Tour
December 13th: Dream Theater: Top of World with Arch Echo
December 17th: Daughtry the Dearly Beloved Tour
December 19th: Cristian Castro Hits Tour
December 27th: Christmas with the Countess: Countess Luann
December 29th: Patton Oswalt Live: Who's Ready to Laugh
Orlando Improv
If you're looking for a good laugh this month, be sure to check out the comedians taking the stage at Orlando Improv this month, with headliners like Damon Wayans taking the stage on December 3rd and 4th, FL Homecoming Tour Ft. Ben Brainard, & Jeff Horste on December 9th, Columbus Ohio stand up comedian Jason Banks on December 10th, ISMO on December 11th, host Doug Benson from the Doug Loves Movies podcast on December 14th, TV Personality, comedian, and podcast host Cristina P on December 16th – 18th, real and relatable stand up comedian Anthony Rodia on December 30th, and a special New Year's Eve performance with Benji Brown.
See all of the performances happening at Orlando Improv this month here.
And of course, nightly entertainment at Tin Roof Orlando, with a special Who's Bad: Michael Jackson Experience on December 10th that is described as a "jaw-dropping, musical must-see."
See a full list of nightly entertainment happening at Tin Roof Orlando this month, here.
Dezerland Park Toy Drives!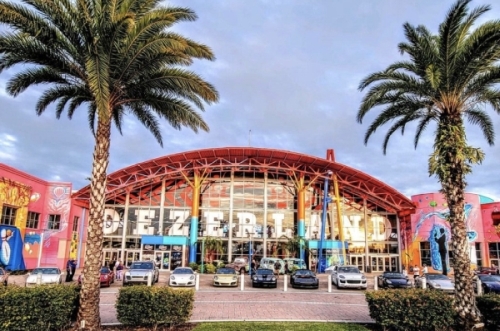 Tis' the season for giving.
If you're looking to get involved in the community with toy drives, Dezerland Park will have a few opportunities to do so this month.
On December 4th, head to Dezerland Park for their Toy Run with the Ghostbusters. Meet the Ghostbusters and drop off a new and unwrapped toy for your community. There will be events, raffles, and family fun for everyone!
Then on December 10th, they'll be hosting their 7th Annual Toy Drive event. Kids in attendance will receive free gifts, get pictures with Santa, and enjoy live performances by local Caribbean artists.
And finally, on December 12th enjoy their 5th Annual Toy Drive Car, BIKE, 18 Wheeler Truck Show. Be sure to bring along an unopened toy to donate to the Central Florida Children's Home.
Holiday Season

SeaWorld Orlando's Christmas Celebration is in full swing and will run through the new year. Details
Universal Orlando's Holiday Celebrations will also be going on all month long, offering one-of-a-kind experiences in both Universal Studios and Islands of Adventure. Get all the details here.
The Santa Workshop Experience is back at ICON Park Orlando bringing you picture-perfect Santa photos, as well as various other holiday offerings for those who participate. Get all the details and reserve a spot for your child to see Santa soon though, because reservations fill up fast.
If you'll be taking on Orlando's Most Dynamic Neighborhood this December, be sure to check out these exciting events, and get in on all of the festive holiday fun with the family!
Stay tuned for a post about all of the holiday celebrations going down on I-Drive this month, and have an amazing visit!