With sunny days followed by warm nights and hundreds of experiences you can't have anywhere else, it's no wonder that Florida's Space Coast is the ideal getaway. While the sun's rays are one of the main attractions of the Sunshine State, sometimes it can be a bit too much. If you've had too much of a good thing, check out these great ways to beat the heat on your Florida Space Coast Vacation.
Stop and Splash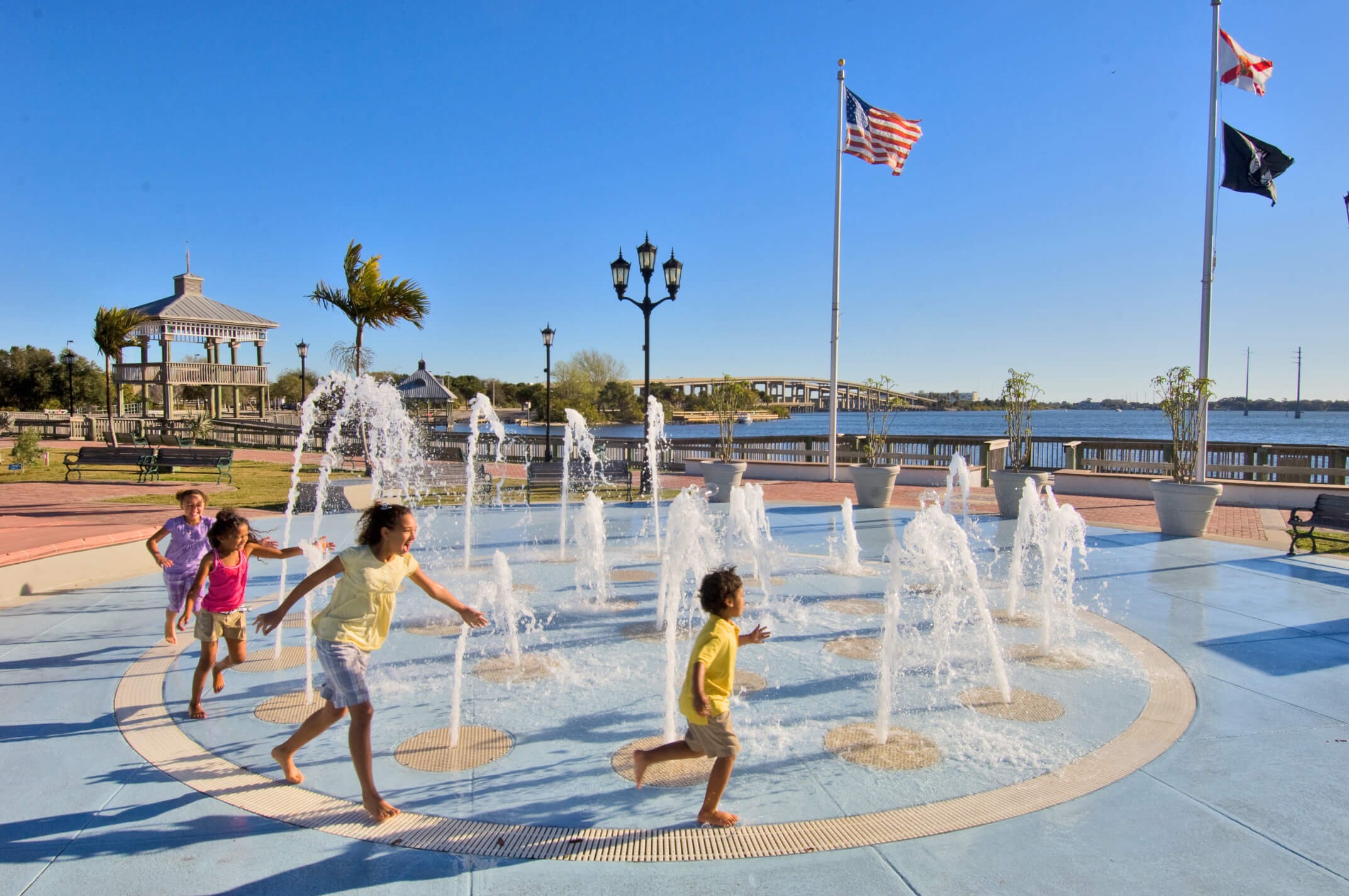 Splash pads are popular all over the Space Coast and are the perfect place for little ones to cool down on hot summer days.
Cocoa Riverfront Park Splash Pad
401 Riveredge Blvd, Cocoa, FL 32922
Cool down in Historic Cocoa Village when you head to the Riverfront Park Splashpad. It's an incredible place to play and cool down after a day in Cocoa Beach or perusing the shops of Cocoa Village. It's free to play in, water shoes and swim attire are recommended, and there are public restrooms located in the park, next to the playground area.
Brevard Zoo – Indian River Play Lagoon
8225 N Wickham Rd, Melbourne, FL 32940
The Paws On an area of the Brevard Zoo is one of the reasons our zoo is rated one of the best in the country year after year. in the Indian River Play Lagoon toddlers and school-aged kids can cool down, splash around, and swim right next to stingrays, redfish, and other Indian River Lagoon natives, all safely tucked away in their open-view aquarium. Admission to the Indian River Play Lagoon is included in Zoo admission. Swimsuits and swim diapers are required, a lifeguard is on duty.
The Avenues Splash Pad in Viera
2261 Town Center Avenue, Viera, FL 32940
Right in front of the AMC Theater at The Avenues in Viera is a great little splash pad you and your kids can enjoy after a day of shopping or playing ball at the USSSA Space Coast Stadium. It's free to splash, water shoes and swim attire are recommended, and there are public restrooms conveniently located near the splash pad.
Doubles Beachside Water Court
1612 Florida A1A, Satellite Beach, FL 32937
Doubles Beachside is an incredible place to grab some lunch while enjoying Satellite Beach, but your your kids can also have some fun at their Water Court! Cooldown while you fill up and enjoy this unique restaurant on the Space Coast .
West Melbourne Community Park
3053 Fell Rd, West Melbourne, FL 32904
West Melbourne Community Park is on the south end of the Space Coast and is an incredible, accessible park with a 12-feature splash pad. Let the kids run off some steam, cruise in the skate park, and then splash the evening away!
Beachside Hotel Lazy River Resort Pass
3901 N Atlantic Ave Cocoa Beach, FL. 32931
The Beachside Hotel in Cocoa Beach has one of the best pools in town. Their oceanfront lazy river is an incredible way to cool down and enjoy a hot summer day. Not staying at the Beachside Hotel this time around, you can purchase a Resort Pass for daily access to the lazy river here to enjoy some relaxation time in the coolest pool on the Space Coast.
Scream for Ice Cream!
And, of course, you can't forget the best way to stay cool, a local ice cream joint. For a late night treat on a warm summer evening, The Fat Donkey in Cocoa Beach and Indian Harbor Beach are located close to the beach. Or check out Del's Freeze in Melbourne, a local institution dishing up soft serve and frozen treats since the Space Race in 1956. For a scratch-made shaved ice experience, saunter over to Oasis Shave Ice in Cocoa Beach. Each of these stops will ensure your sweet tooth is satisfied while cooling you down from the heat of the day. Want to see ALL the ice cream you can scream for on the Space Coast? Check out the Ice Cream Trail .
Cool Down Downtown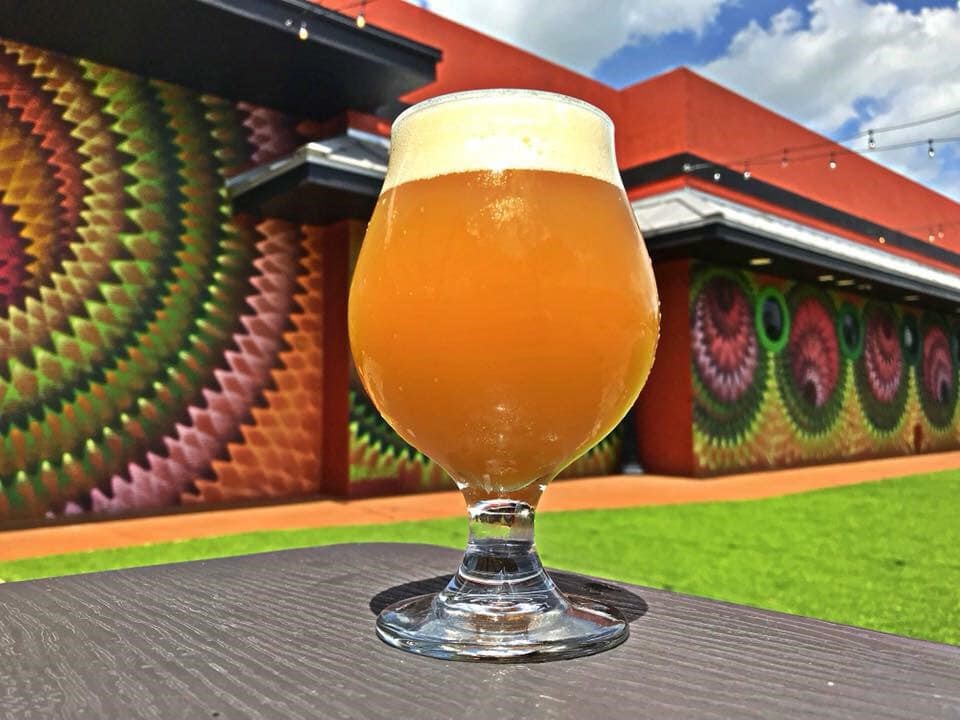 When the sun goes down the lights go up in the downtown districts of the Space Coast.
Eau Gallie Arts District
The Eau Gallie Arts District in Melbourne is a creative community where art makes its way into every experience. Chill out in indoor art galleries or laugh the night away with a show by the Not Quite Right Improv Troupe located at the Funky Dog. Cool down at Intracoastal Brewing Company with a rotating collection of innovative, artistic beers and live music on their spacious patio. Looking to enjoy a nice meal with a breeze, Frigate's Waterfront Bar & Grill offers indoor and outdoor, waterfront dining or you can order online and pick up by boat for dockside delivery. And for "beachside" happy hour to die for, head over to Squid Lips Overwater Grill and enjoy a meal outside on the riverfront beach along the Indian River. Here you'll find live music, cold drinks, and get to watch the sunset while dolphins frolic in the waves!
Downtown Melbourne
Downtown Melbourne is ideal for a cool, leisurely stroll where lighted tree-lined streets provide the plenty of places to dine outside with a cool drink. Ember and Oak offers a unique, starlit wine tasting opportunity in their Wine Room and enjoy a fine meal on their patio. For a rooftop breeze and eclectic tap list, head over to The Mansion. Or check out Hell'n Blazes Brewing Company for frosty beer and brisket poutine.
Downtown Titusville
After a long day of walking the grounds at Kennedy Space Center Visitor Complex, Playalinda Beach, or the Merritt Island Wildlife Refuge, head to Downtown Titusville for a cool beer at one or both of Playalinda Breweries. The Hardware Store is a modern taproom located in one of the city's oldest buildings that serves artfully crafted beers, wine, and sharable, snackable pub fare. The Brix Project has a more industrial vibe and offers an expanded food and drink menu along with a full bar that serves up creative cocktails along with their comprehensive beer and wine menu. It's the perfect way too cool down after a long day touring the Space Coast.
Cool Down with a Curtain Call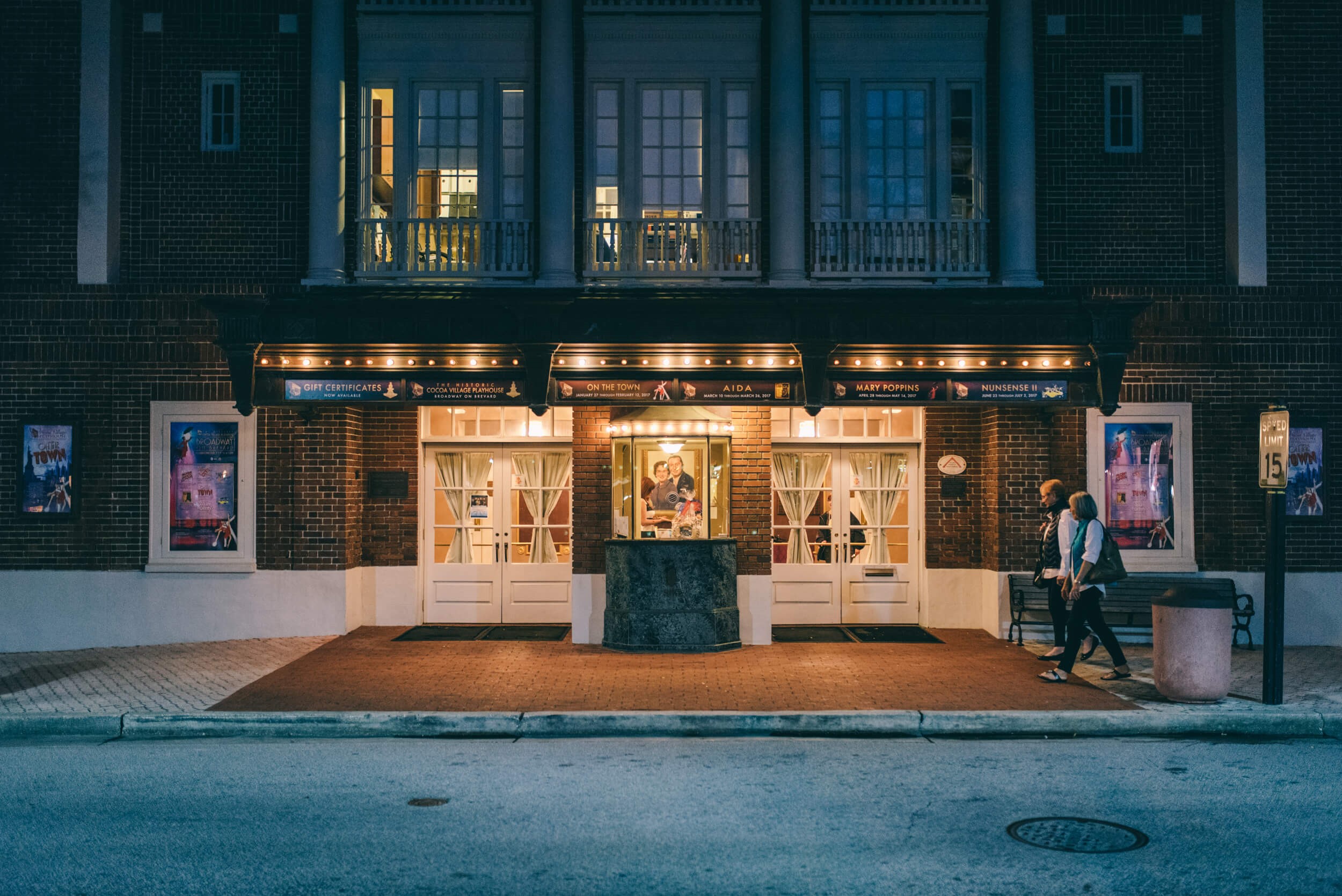 The Space Coast is also home to several theaters and concert venues that host local and national performances. For live theater, Broadway productions, and musicals, Cocoa Village Playhouse (Located in Cocoa, Florida), Titusville Playhouse, and The Henegar Center (located in Melbourne, FL) have a fabulous list of performances that help you beat the heat while enjoying local talent. The King Center for the Performing Arts in Melbourne, is your hot spot for cool concerts, suitable for all ages and music genre preferences.
Space Coast Nature Nights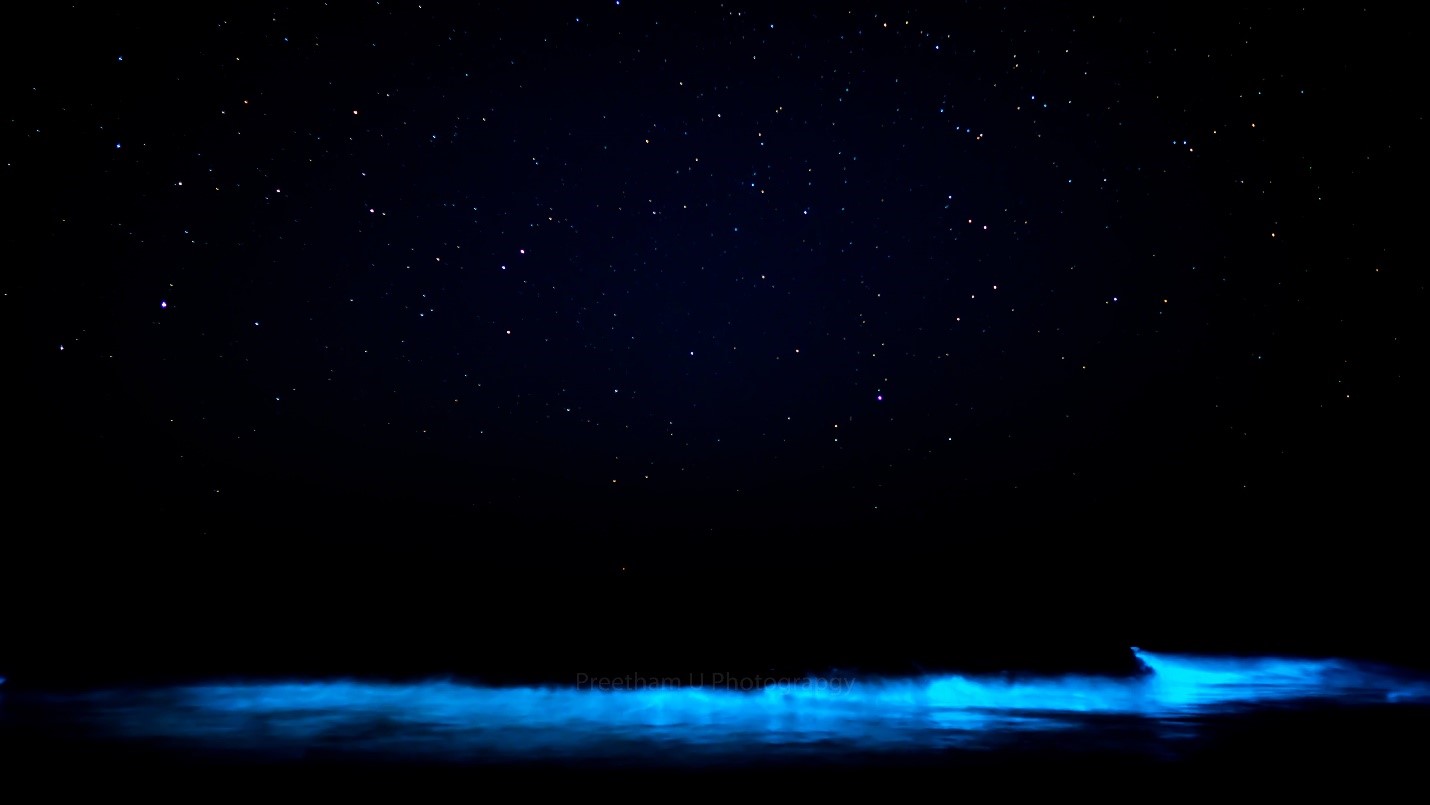 The Space Coast is known for its unique natural wonders, cool down with a moonlit nature tour. Bioluminescence illuminates the waters of the Indian River and Mosquito Lagoons in the summer. You can take a kayak tour from one of the many kayak tour operators and paddle through these organisms, watching them light up the water as you disturb the stillness. These guided tours will teach you all about the unique conditions that foster natural phenomenon and send you home with a magical memory.
Sea turtle walks are another fun way to cool down and experience nature and wildlife at its finest. Enjoy the ocean breeze as you carefully walk the beach to see these creatures nest and, if you're lucky, new hatchings emerge. It's truly fascinating as you watch these sea turtles in their natural habitat and is a one-of-a-kind experience that everyone will enjoy.
Just because the heat's on in the Space Coast doesn't mean you can't cool down! For more experiences and other ways to keep cool on the Space Coast, the Space Coast Vacation Planner is another go-to guide for where you can sleep, eat, and play, or check out the links below for all things Space Coast.