Stephanie Roberts gave her husband Jordan a fishing trip for his 30th birthday to Naples & Marco Island on Florida's west coast. They wanted to eat what they caught.
It's good they chose Naples. The city and nearby Marco Island are not only flush with fishing charter operators, but several restaurants in the destination will "cook your catch": prep, cook and serve (with sides) filets of just-caught fish to anglers who just experienced the thrill of fishing the Paradise Coast [http://www.paradisecoast.com/].
What a terrific bonus — one you don't often find in upscale destinations. Imagine you're visiting from out of town, staying at a resort, and book a fishing trip to go along with golf outings, lounging on the beach or other diversions. You hook and haul in a keeper, a highly delectable one so common off the waters of Naples/Marco Island. You salivate. What now? Buy a hibachi and cook it on the balcony of your suite? Uh … don't think so.
That's where restaurants like The Dock at Crayton Cove [http://www.dockcraytoncove.com/], Riverwalk at Tin City [http://www.riverwalktincity.com/], Bay House [http://www.bayhousenaples.com/], Snook Inn, [http://www.snookinn.com/] Kelly's Fish House [http://kellysfishhousediningroom.com/] and others come in. These eateries work together with fishing captains to offer visitors the opportunity to eat the freshest fish possible — fish that came off their own hooks.
The launch
The above scenario is precisely what Stephanie had in mind. While still in Michigan, she contacted Captain Mike Bailey of Ms.B.Haven Fishing & Eco Charters [https://www.facebook.com/MsBHavenFishing/], who informed them that they could, in fact, eat their catch. He arranged the feast with the Dock at Crayton Cove, located on the downtown Naples waterfront and outfitted with boat slips.
There was, of course, a catch: no fish, no meal.
It was a November morning fit for postcards when the Roberts' arrived at Ms.B.Haven at 6:30 a.m. A cool front had moved through and the air was crisp and fragrant, the breeze brisk, the sun gleaming. The Michiganders were in shorts and matching gray Sperry Topsiders. Both 30, they had celebrated their first anniversary in the summer.
The couple boarded the 25-foot center-console. Captain Mike and his mate, Robert Holzinger, eased them toward the Gulf. Jordan and Stephanie basked in the ride, hugging close, taking in magnificent views.
Robert applied his deft net-casting skills to haul in some baitfish. Stephanie helped scoop them off the deck and throw them in the compartment. After awhile, Captain Mike barked, "Wanna go fishin'?"
Uh … yeah!
The catch
A few miles offshore, Capt. Mike and Robert anchored at an artificial reef, a habitat for dozens of fish species. That's all well and good, Stephanie said, but what is the catch we really want? After some discussion, it was decided: Snook. The state of Florida does not permit commercial harvest or sale of Snook, but it's legal for sport fishers to catch. And, man, it's some good eatin'.
Mike and Robert set up the fishing rigs; Jordan and Stephanie casted into water that was 34 feet deep. Hope abounded. They waited. Waited some more. "Come on, fish, come on," Capt. Mike murmured. A rod bent, the reel zzzzzzzz'd. Stephanie brought in the day's first catch, a little mangrove snapper. Well short of being a keeper, but it broke the seal.
A while later, a rod bowed with a sudden jerk. Robert wrestled with it for a bit. An urgent energy kicked in, all eyes on the water. "This could be our fish," he exclaimed, then handed the rod to Jordan. With a little coaching, the birthday boy reeled a beauty to the side of the boat, where Robert scooped it into the net.
A big, gorgeous Snook. But big enough? It had to fall into the "slot" of 28 to 33 inches. After a quick measurement, Capt. Mike announced, "Twenty nine point five inches!"
Cheers erupted. The couple had their keeper.
"I'm very excited to eat that," Jordan said dryly. Then it was back to fishing.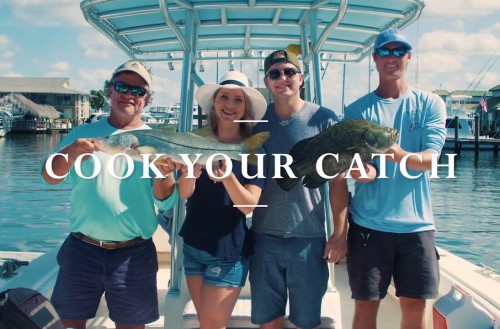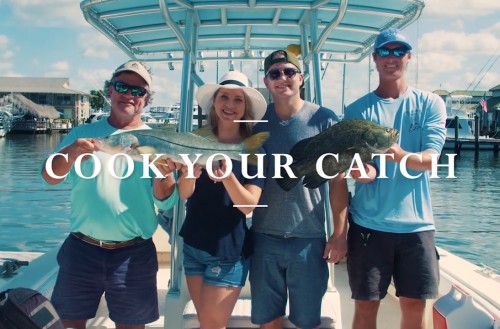 The meal
After stopping at the Ms.B.Haven dock and watching Robert carve up the Snook and a Tripletail, our Michigan couple showed up at the Dock with fish-filet-filled plastic baggies in hand. The restaurant staff was waiting for them.
The Dock offers cook-your-catch three ways: fried, grilled or blackened. Stephanie and Jordan tried all three. Chef Corey Heath cooked up the gorgeous filets. His kitchen sidekick prepared the plates, added coleslaw, vegetables and fries. The server presented three heaping platters. Stephanie and Jordan looked at their bounty and beamed.
There was only one thing left to do: Dive in and eat their catch.
"It doesn't get better than this right here," Stephanie said between bites.
Story by Eric Snider